2nd Annual 'Red Scarves Across the River' Event & Capitol Lighting Planned for World AIDS Day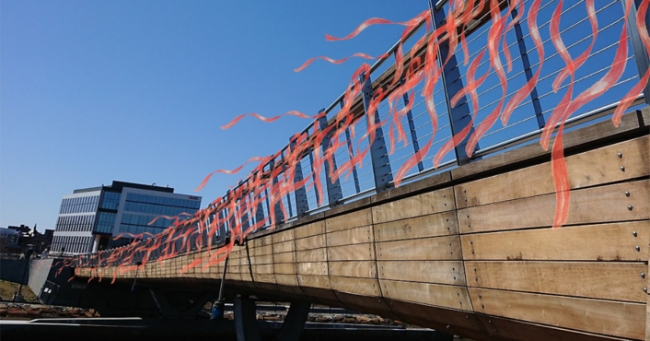 Providence, RI—In the more than 30 years since the founding of AIDS Project Rhode Island (APRI), the World Health Organization estimates that there are currently about 38,400,000 people living with HIV across the globe.
To bring attention to the continued epidemic and remember those lost, APRI is hosting its 2nd Annual Red Scarves Across the River community art event in honor of World AIDS Day, on Thursday, December 1, 2022. The annual event provides a way for the community to come together in a show of support for those living with and affected by HIV in an impactful way. In addition to the scarf event, APRI will illuminate the State House in red to mark World AIDS Day later that evening.
"Started in 1988, at the height of the AIDS epidemic, World AIDS Day initially served as a day to honor family, friends, and loved ones who lost their lives to HIV/AIDS. In 2022, it is still a day of remembrance, but it's also a time to reflect on how far we have come," said Anthony Faccenda, APRI's Director. "Thankfully, due to advancements in treatment, people living with HIV now live long, healthy lives. Unfortunately, HIV stigma and discrimination persist. That's why we hope that our annual 'Red Scarves Across the River' art event raises awareness about HIV and serves as a reminder that there's still work to be done to combat misinformation that breeds stigma."
Red scarves can be sponsored by members of the community for a $20 donation to APRI, which can be done online here. Those who would like to participate with their own red scarf can leave them at one of two drop-box locations, the APRI offices at 55 Hope Street in Providence, or inside Plant City on South Water Street, by November 30th. Scarves can also be donated on-site for display between 11 AM-1 PM on December 1 at the South Water Street end of the bridge.
"As the owner of Plant City, a business adjacent to the PVD Pedestrian Bridge, and as an advocate for underserved communities, I'm proud to again support APRI's Red Scarves Across the River event," said Kim Anderson, Creator, and Co-Founder of Plant City. "It serves as a dignified reminder on World AIDS Day that there is still work to be done, and highlights the diversity of our Providence community."
All sponsorships and donations will directly benefit APRI programs and their clients. Scarves will be saved by APRI for repeated display each year for World AIDS Day.