Rhode Island Police Chiefs' Association Joins Law Enforcement Partners in Asking Please 'Slow Down New England'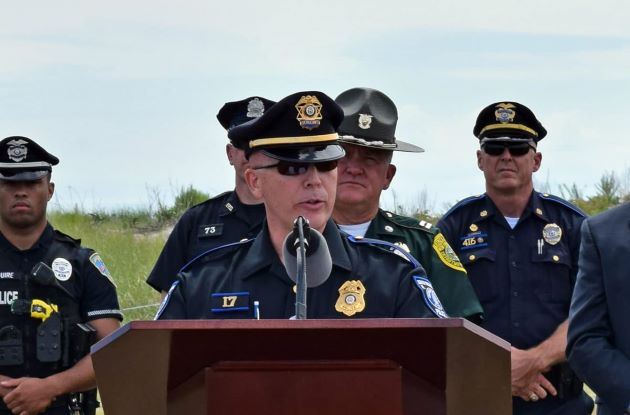 HAMPTON BEACH, N.H. — The Rhode Island Police Chiefs' Association joined law enforcement partners from across New England and the National Highway Traffic Safety Administration (NHTSA) Tuesday as they launched Slow Down New England — a months-long campaign to save lives by getting drivers to slow down.
In 2020, there were 11,258 people killed in speeding-related crashes, accounting for 29% of all fatal crashes in the United States, and several speakers at the Slow Down New England kickoff noted that the COVID-19 pandemic has only increased the number of people speeding in the years since.
"Especially before and after the pandemic, we've seen dramatic increases in speeding, which has led to fatalities," said NHTSA Regional Administrator Arthur Kinsman.
RIPCA Executive Director Sidney Wordell was joined at the kickoff of the New England wide campaign by team members from the Rhode Island Department of Transportation's Office on Highway Safety, and Rhode Island police departments in Johnston, Cranston, Lincoln, Warwick, Central Falls, Providence, Scituate, Pawtucket, Portsmouth, South Kingstown, and the University of Rhode Island, as well as by Youth Voices Rhode Island Executive Director Peter Chung.
Executive Director Chung spoke specifically about the increased danger that speeding poses to young people in particular, and said that NHTSA data shows that while drivers of all ages exceed posted speed limits, young people are the most likely to be involved in speeding-related fatal crashes.
Young people and motorcyclists are especially susceptible to high speeds, and they represent the largest demographic involved in speeding-related vehicle crashes. In 2020, 27% of male drivers ages 18-44 and 16% of female drivers ages 18-44 involved in fatal crashes in 2020 were speeding.
Executive Director Chung said Young Voices has teamed with the Rhode Island Department of Transportation and law enforcement partners to create educational programming to help youth learn about safe driving even before they are old enough to get behind the wheel.
"Driving is a learned behavior, so we need to have an urgency in educating our young people even before they think about taking drivers education courses and their road tests," Chung said, noting that the influence that peer pressure has on young people makes education especially important. "This work is a communal effort that requires consistent and meaningful education before, during and after youth are eligible to receive their licenses."
South Kingstown Police Department Sgt. Gary Marquis spoke as well, saying that even in his community of only about 30,000 residents, there have been two fatal crashes and 23 serious injuries suffered as a result of crashes already this year.
While many may think of speeding as something that occurs mostly on highways, NHTSA data shows that local roads are more dangerous than highways for speeders: In 2020, 87% of all speeding-related traffic fatalities on American roads occurred on non-interstate roadways.
"Crash rates rise with every mile driven over the speed limit, and crashes can be violent and deadly. We see it far too often. As a police officer, there's nothing worse than having to notify a family member that they have lost a loved one in a fatal crash," Sgt. Marquis said. "If our work raising awareness about speeding saves one family from that pain, it will be well worth it."
Education will be a part of the Slow Down New England campaign, but so will enforcement of posted speed limits by local police departments across New England.
"I would like to thank Rhode Island Chief of Highway Safety Gaby Abbate and the Rhode Island Department of Transportation's entire team in the Office on Highway Safety, who are providing funding for directed enforcement patrols to local departments across Rhode Island," said Executive Director Wordell. "Police officers have seen far too many of the consequences of speeding, and we are eager to continue and enhance our work to prevent such tragedies."
Massachusetts Highway Safety Division Director Jeff Larason said that from 2017 to 2021, there was a 66 percent increase in the number of speeding violations issued in Massachusetts, along with an 18 percent decrease in fatal crashes during the same time span.
"That speaks to the importance and the benefit of speed-related activities to keep our roads safe," said Director Larason.
Speeding reduces a driver's ability to steer safely around another vehicle, a hazardous object, or an unexpected curve. A speeding driver also affects stopping distances: As speed increases, so do the odds of a vehicle crash. Even the safest cars with the newest technologies are limited in how much they can help reduce the odds of a crash.
"Excuses like I'm late, I'm tired, I have somewhere to be or I was just trying to pass that vehicle is no comfort to loved ones or friends when you or a loved one is killed in a motor vehicle crash," said New Hampshire State Police Capt. Christopher Vetter.