AAA HONORS RHODE ISLAND STATE POLICE LEADERS FOR OUTSTANDING TRAFFIC SAFETY ACHIEVEMENTS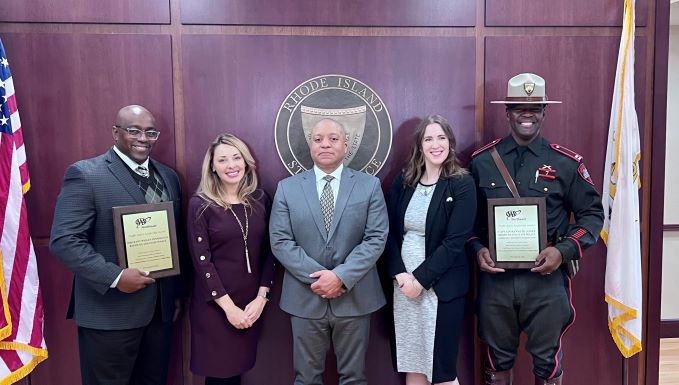 In Photo L-R: Sgt. Wesley Pennington, Diana Gugliotta, Director of Public Affairs, AAA Northeast, Colonel Darnell Weaver, RI State Police Superintendent,Joanna Frageorgia, Public Affairs Specialist, AAA Northeast, Captain Kenneth Jones
Providence, RI- AAA Northeast recognized two "Traffic Safety Heroes" from Rhode Island State Police for their outstanding efforts in 2022 through the annual AAA Northeast Community Traffic Safety Award program. The awards honor individuals who work to foster safety on our state's highways and roadways and educate citizens on matters of traffic safety.
Captain Kenneth Jones, a 25-year veteran of the Rhode Island State Police leads the Community, Diversity and Equity Unit, a unit created to formalize communication between citizens and the Superintendent and develop partnerships with the private sector. Under Captain Jones' leadership, troopers serving this unit have conducted outreach that includes education on a variety of traffic safety issues.
Sergeant Wesley Pennington is a 28-year veteran of the department and has been working with the Rhode Island Department of Transportation for 9 years to address impaired driving, occupant protection, and behavioral interventions aimed to improve road safety through community education. Earlier this year, Sergeant Pennington was awarded a national Public Service award from the National Highway Traffic Safety Administration for his work in Rhode Island and in delivering implicit bias training to municipal departments.
"Captain Jones and Sergeant Pennington continue to find creative ways to reach and educate citizens. Due to their dedication, thousands of Rhode Island's high school students have been educated about impaired driving. Under their leadership, troopers certified as child passenger safety technicians have provided parents, including refugees coming into our state, with car seats and instruction on how to install them properly. There are infinite examples of their good work as communities have welcomed troopers into their classrooms and businesses; they have built positive relationships which will hopefully change behaviors.  Our organizations share the common goal to keep educating the public until we reach zero fatalities on our roadways," said Diana Gugliotta, AAA's Director of Public Affairs.