Ahead of Earth Day, Reed & Smiley Join WRWC for Tree Planting & Highlight Efforts to Help RI's Urban Forests Branch Out, Absorb More Carbon Dioxide, & Combat Pollution and Climate Change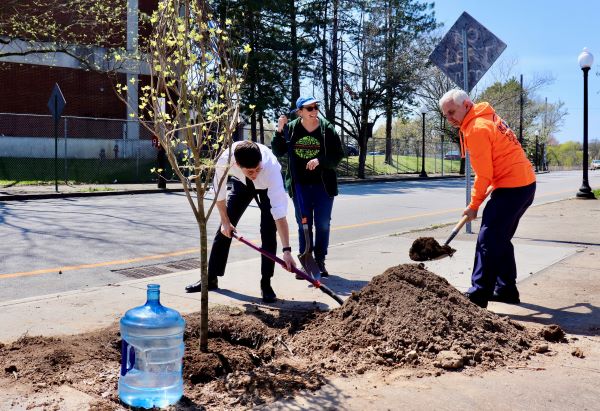 $1.2 million in new federal funding will help RI plant more trees in urban areas;
Lots of opportunities for RIers to volunteer for Earth Day cleanups in their community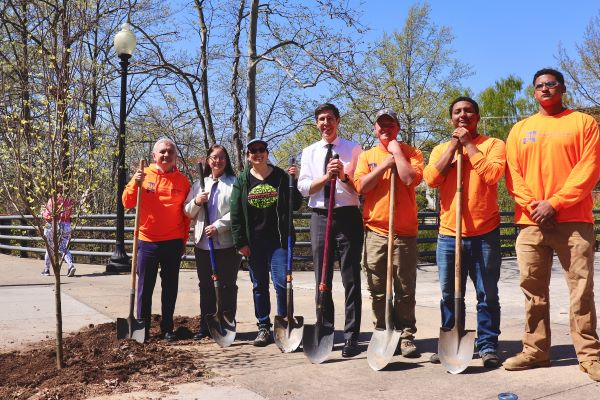 PROVIDENCE, RI — With the ceremonial planting of a new dogwood tree along the Woonasquatucket River, U.S. Senator Jack Reed and Providence Mayor Brett Smiley celebrated a major boost for Providence's 'green infrastructure' as a new infusion of federal funds begins flowing to Rhode Island to help urban areas expand their tree canopies, increase shade, reduce stormwater runoff, and improve air quality.
Ahead of Earth Day, Reed and Smiley joined Alicia Lehrer of the Woonasquatucket River Watershed Council (WRWC), WRWC River Rangers, and USDA officials and local volunteers near the Bath Street Pedestrian Bridge in Providence to promote Earth Day community cleanup opportunities and tree planting.
Planting new trees and growing Providence's tree canopy cover has lots of potential economic, environmental, and public health benefits – and more federal funding to plant trees is now flowing to Rhode Island thanks to the Inflation Reduction Act (P.L. 117-169).
The Inflation Reduction Act, which President Biden signed into law last August, included a $1.5 billion investment in the U.S. Department of Agriculture's Forest Service Urban & Community Forestry (U&CF) Program.  This month, the Biden Administration made $250 million available to states nationwide to further local efforts to support tree planting in urban communities, including $1.2 million for Rhode Island.
The Biden Administration also announced the availability of $1 billion in competitive federal grants to help plant and care for trees in cities and towns to help curb the impacts of climate change.  The federal grants, which will require a match from recipients in most cases, will also come through the USDA's Forest Service Urban & Community Forestry Program.
The $1 billion in federal funding to support the planting of trees is a major investment.  In past years, Congress has appropriated a fraction of that amount, providing just $36 million in fiscal year 2022.
"I am grateful to the Woonasquatucket River Watershed Council for the incredible work they do to make Providence a better place for all.  By mobilizing a diverse coalition of volunteers they are making the city cleaner and greener," said Senator Reed, a senior member of the Appropriations Committee.  "This new federal funding will help plant more trees in urban areas across the state, expanding tree cover and improving air quality, shade, and the aesthetic beauty of our natural landscape.  It will also help curb the impacts of climate change.  Planting these trees is a smart investment in the health and wellness of people and it's nice to see progress taking root right here in Providence."
"The trees on our streets and in our parks play a vital role in building healthier, more connected communities," said Mayor Brett Smiley. "The Woonasquatucket River Watershed Council's work to preserve the natural beauty of our City is creating a healthier, more resilient Providence for everyone in the community."
"WRWC is thrilled to join Senator Reed and Mayor Smiley to celebrate this investment in more urban forests. Over the last two years, we have planted more than 250 trees along the Woonasquatucket River right in urban Providence. We are also partners with Building Futures Rhode Island on establishing a local tree farm and training young people to plant and care for trees. When planted with space and protection, strong trees absorb and clean stormwater runoff, create wildlife habitat, cool our neighborhoods and just make us all feel better. We have plans to plant hundreds more every year," said WRWC Executive Director Alicia Lehrer.
The historic level of federal investment in tree planting will enable the U.S. Forest Service to support local projects that improve public health, increase access to nature, and deliver real economic and ecological benefits to cities, towns, and communities across the country.
Trees, like all plants, store and immobilize carbon dioxide, helping with climate change and air pollution.
To help eligible applicants apply for a share of the $1 billion, the U.S. Forest Service is holding a series of webinars on their website.  The open application period runs through June 1.  For more information on how to apply for federal Urban & Community Forestry grants, visit the 
Forest Service website
, or 
www.grants.gov
 using the opportunity number USDA-FS-2023-UCF-IRA-01.
WRWC holds tree planting and community cleanup events on a regular basis – including one on 
Saturday, April 22 at Merino Park
 (volunteers can 
register
 today) — to help create positive environmental, social, and economic change and make Providence a better place for everyone in the community.
The event was held with the Woonasquatucket River Watershed Council, which has received $6.3 million in federal earmarks over the last two years that Senator Reed secured to make improvements to the Greenway in Providence and build out new bike paths.