Artist Spotlight: Sidy Maiga Announces Afrika Nyaga Drum & Dance Festival Lineup Celebrating African Culture at PVDFest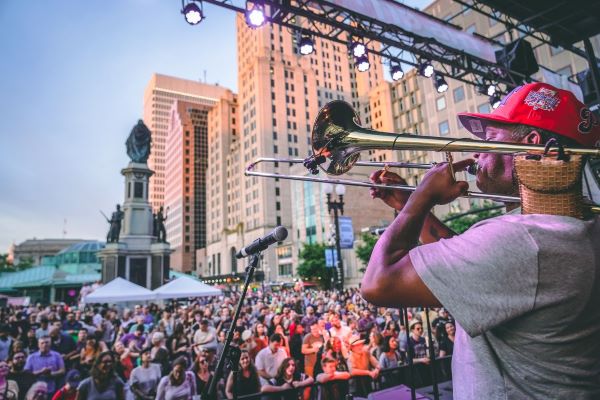 New Opportunity Announced for Downtown Activation on Friday, September 8 
PROVIDENCE, RI— Mayor Brett P. Smiley today announced the Afrika Nyaga Drum and Dance Festival, a series of African-culture performances curated by local artist Sidy Maiga for Sunday afternoon at PVDFest on September 10, and a new opportunity for Downtown businesses to activate street spaces for block parties on Friday, September 8.  
"I am thrilled to announce an incredible lineup for Sunday afternoon at PVDFest, as well as new opportunities for local businesses to get involved in this year's festival," said Mayor Brett Smiley. "We want to make this festival something that everyone can participate in and enjoy. Whether you're a small business looking to welcome extra guests to your space, a local artist and curator like Sidy, or a festival-goer ready to experience new music, performances, and good food—there truly is something for everyone. The Afrika Nyaga Drum Festival is a must-see, bringing once-in-a-lifetime performances to our mainstage." 
On Sunday, September 10, Malian Djembe Master Sidy Maiga is producing his eleventh annual Afrika Nyaga Drum and Dance Festival in collaboration with the Providence Foundation from 2PM-6PM in Providence's 195 District Park. Maiga has made music at PVDFest since its inception in 2015. This year he is bringing an extraordinary range of artists including some of the biggest names in Malian music to celebrate the African Diaspora that thrives throughout Providence and Rhode Island.  
Joining Maiga's curated performances will be Oumou Sangaré, a Grammy-award winning artist who holds some of the most definitive recordings in the history of contemporary African music. Wunmi is another festival performer joining the line up, often recognized as a major catalyst in bringing Afrobeat to mainstream America. Master Soumy is one of the biggest names in Malian hip-hop and will bring his unique engineering and compositions to his performance. Festival goers will also be able to enjoy performances by Manolo Mairena & La Pura Vida, a New England-based salsa singer and conguero that uniquely fuses together contemporary commercial salsa to Cuban timba, old school charanga and son montuno. The festival will also feature performances by Projetu Batuku, a local, traditional Cape Verdean percussion and dance group, and Haus of Glitter Dance Company, a Providence-based group that performs Contemporary and Traditional West-African/Afrobeats, House, Vogue, Breakdance, Hip Hop, Drag, and more.  
"Celebrating each other is elevating each other," said Sidy Maiga. "I am excited to be uplifting the stories of the African Diaspora with the Providence community." 
In addition to the Sunday lineup, Smiley also announced more opportunities during the PVDFest weekend, including Friday night activations for Downtown businesses. Businesses may now apply for a Special Event permit to host block parties and activate parking lots during PVDFest on Friday, September 8. Applications will be accepted now through August 7 and permits will be granted to businesses under public safety guidelines. The permit allows businesses to remain open until 2AM, with music shut off by 1AM. 
"Whether it's throwing a block party, coming to enjoy the exciting line up of award-winning and local artists that we have curated, or celebrating Providence in a new way, this festival is about uplifting our community, and making it shine," said Director of Arts, Culture and Tourism Joe Wilson Jr. "I encourage everyone to make plans to be here on September 8th, 9th, and 10th." 
PVDFest is made possible in large part by the generous sponsors who continue to support Providence's creative culture year-round, including the Providence Tourism Council, RI Commerce, The Boston Globe Rhode Island, Waste Management, Breeze Airways, ProvPort, Waterson Terminal Services LLC, WPRI, iHeart Media, Delta Dental, Dimeo Construction Company, Rhode Island Energy, RISD, Amica, Fidelity Investments, Coca-Cola Beverages Northeast, Cornish Associates, Evolis, First Bristol Corporation/Hampton Inn and Homewood Suites, Johnson & Wales University, The Foundry, PLDO Strategies, Withum, Verizon, South Street Landing Parking Garage, AARP Rhode Island, Bird Rides, Half Street Group, Matunuck Oyster Bar, Providence Monthly, Public's Radio, Regency Plaza/Chestnut Hill Realty, RI Monthly, RIPTA. In addition to sponsors, PVDFest relies on the contributions of the hard-working volunteers to make the event a memorable experience for everyone. If you can volunteer for a few hours or a whole day, please sign up here. 
More information about PVDFest will be released in the coming weeks leading up to the waterfront celebration. For more information about PVDFest, please visit PVDFest.com and follow the festival on Facebook, Instagram, and Twitter.