BCBSRI 2022 Five-Star Medicare Advantage plans offer $0 benefits and enhanced features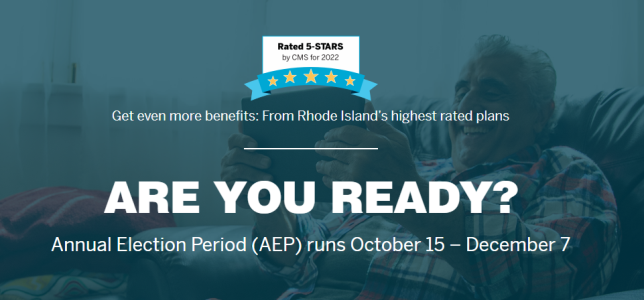 Enhanced insulin savings program, new in-home daily living assistance, and select $0 tests support Medicare members alongside new plan for Rhode Islanders eligible for both Medicare and Medicaid
PROVIDENCE, RI (October 26, 2021) – Blue Cross & Blue Shield of Rhode Island (BCBSRI) is bringing the value of $0 to Medicare-eligible Rhode Islanders by offering enhanced Medicare Advantage plans featuring convenient ways to save money, stay active and healthy and feel supported and connected. Recently BCBSRI became the only Rhode Island health insurer to receive five-out-of-five Stars, the highest designation from the Centers for Medicare & Medicaid Services, for all of its 2022 Medicare Advantage plans.
In addition to bringing back its two feature plans – BlueCHiP for Medicare Value (HMO-POS) with $0 premium and a number of additional no cost benefits and HealthMate for Medicare (PPO), which provides a wide national network and no referral requirements – BCBSRI is launching BlueRI for Duals (HMO D-SNP), a new dual-eligible special needs plan for Rhode Islanders who qualify for both Medicare and Medicaid.
"The past 19 months have taught us the importance of having a team in place to help address every aspect of health and well-being," said Melissa Cummings, BCBSRI executive vice president and chief customer officer. "That's why our 5-Star Medicare offerings meet Rhode Islanders where they are, with the accessible, affordable, high-quality care they have asked for. I invite Rhode Islanders to check out BCBSRI's interactive website – bcbsri.com/medicare – to learn more about BCBSRI plans and benefits."
For added convenience, members already enrolled in a BCBSRI Medicare Advantage plan don't have to take any action to keep the same plan and receive the new and enhanced benefits. Current members' plan coverage will automatically renew on January 1, 2022.
All BCBSRI Medicare Advantage plans include several new and enhanced benefits in 2022 including:
New daily living assistance – Get hands-on help seven days/week. Papa Pals pairs older adults with an in-home "Pal" for assistance with everyday tasks like household chores, home computers/apps, food shopping, transportation, and companionship.
Enhanced insulin savings program – Low $35 monthly insulin copay that remains consistent through the coverage gap. Now available on all formulary insulins. (available with all plans except BlueCHiP for Medicare Core)
Enhanced volunteer and social opportunities – Members who are looking for ways to get (and stay) connected have the opportunity to meet others, learn, have fun, give back and do some good through Amava Circles and volunteer program. Opportunities are available for in-person and virtual volunteering through local, regional and national nonprofit organizations.
Enhanced $0 national gym benefit and home fitness kits – Silver&Fit program allows members to choose from more than 16,500 fitness centers across the country as well as a selection of home fitness kits.
These benefits join a robust group of existing benefits in the BCBSRI Medicare Advantage portfolio, including benefits like caregiver and wellness reimbursements; meal deliveries; $0 mail order drugs; dental coverage and an over-the-counter benefit to purchase health-related items at several national retailers.
Rhode Islanders can learn more about BCBSRI's Medicare Advantage offerings for 2022 through the following experiences:
Attend a virtual or in-person informational meeting: Visit bcbsri.com/medicareevents to schedule an appointment or register for a meeting to learn more about BCBSRI's Medicare Advantage offerings for 2022.
Visit Your Blue Store℠:

Cowesett Corners, 300 Quaker Lane, Warwick
Highland Commons, 71 Highland Avenue, East Providence
Lincoln Mall Shopping Center, 622 George Washington Highway, Lincoln
Marshalls Plaza, 1400 Oaklawn Avenue, Cranston
During the Medicare Annual Election Period (AEP), between October 15 and December 7, 2021, eligible adults can enroll or make changes to their Medicare plan, which goes into effect on January 1, 2022. If members are currently enrolled in any BCBSRI Medicare Advantage plan and don't want to make changes, no action is needed to keep the same plan for 2022.
Those considering a new Blue Cross plan may call BCBSRI's Medicare Sales team at 1-844-422-7064 (TTY: 711.) From October 1 through March 31, the hours are 8 a.m. to 8 p.m., seven days a week.
Existing members may call BCBSRI's Medicare Concierge team at (401) 277-2958 or 1-844-423-2911 (TTY: 711). October 1 through March 31, the hours are 8 a.m. to 8 p.m., seven days a week.
For more information about all new and enhanced offerings for Medicare-eligible Rhode Islanders, please visit bcbsri.com/medicare.
You must continue to pay your Part B premium. Blue Cross & Blue Shield of Rhode Island is an HMO and PPO plan with a Medicare contract. Enrollment in Blue Cross & Blue Shield of Rhode Island depends on contract renewal.