BCBSRI, in partnership with the Brown University School of Public Health, unveils results of 2020 RI Life Index, second annual statewide survey measuring Rhode Islanders' perceptions of health and well-being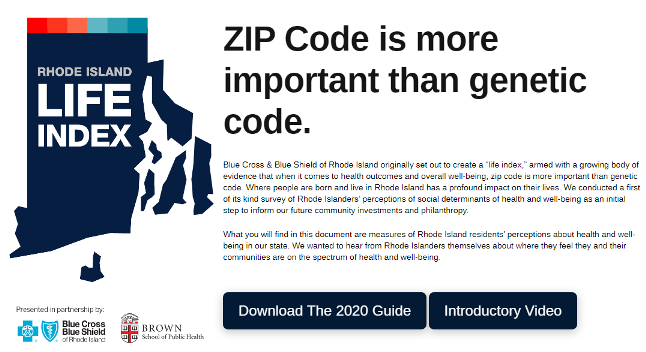 Results will influence policy and inform strategy for systemic change
PROVIDENCE, RI (November 16, 2020) – Blue Cross & Blue Shield of Rhode Island (BCBSRI), in partnership with the Brown University School of Public Health (Brown), today announced the results of the 2020 RI Life Index, the second annual statewide survey based on interviews with more than 2,100 Rhode Islanders about several life factors that influence health and well-being in our state. BCBSRI and Brown introduced the Index in 2019 with an intent to conduct the survey annually to measure community perceptions of health and well-being.
Rhode Islanders cited access to affordable, nutritious food; availability and quality of civic, social and healthcare services for older adults; and programs and services available for children as strengths. In contrast, respondents saw the availability of quality affordable housing, job opportunities and job training programs as areas for improvement; and noted that the cost of living was a burden.
"The Index is much more than a rich data resource," said Kim Keck, BCBSRI president and CEO. "It is a driver for shaping policy and strategy that in turn can lead to sweeping systemic changes that will benefit Rhode Islanders."
As a result of the 2019 survey, BCBSRI redirected its philanthropy to focus on affordable and safe housing; the company has made grants of more than $800,000 to date to organizations working at the intersection of housing and health.
In 2020, BCBSRI convened the RI Life Index Coalition, a group of community partners from across the state. The group shaped the direction of the 2020 survey, and members have offered thought leadership on viable solutions to the challenges identified. Coalition member organizations include: BCBSRI; United Way of Rhode Island; the Rhode Island Department of Health; Rhode Island Community Food Bank; Brown University School of Public Health; HousingWorks RI; Rhode Island Kids Count; Age-Friendly Rhode Island; The Economic Progress Institute; Rhode Island Foundation; Lifespan Community Health Institute and Medical Legal Partnership Boston.
The 2020 RI Life Index was unveiled at a virtual event featuring remarks from Keck and Dr. Ashish Jha, dean of the Brown University School of Public Health. Melissa Clark, Ph.D., professor of health service, policy and practice, and director of the Survey Research Center at the School of Public Health, presented the survey results, followed by a panel discussion featuring RI Life Index Coalition members.
"Hearing directly from the community about their health is not only important but it is essential if we want to lead change in public health," noted Dr. Jha. "The RI Life Index survey asks important questions that aim to improve population health and ultimately advance health equity."
This year's survey asked Rhode Islanders, with an oversample of Black and Latinx residents, about their communities and their experiences within those communities. Scoring also breaks out results by core and non-core cities. Core cities are those in which 25 percent or more of children are living below the federal poverty level. They include Central Falls, Pawtucket, Providence and Woonsocket. Scoring was based on the percent of the possible with 100 being the highest possible score for each component. Scoring examples include:
Community life, which represents a summary of how residents perceive the lived experience of people in the community, earned a score of 69 (63 in core cities and 72 in non-core.)
Quality of community, which is a summary of how residents rate social and economic aspects of their community, earned a score of 56 (51 in core cities and 58 in non-core cities.)
Affordable and safe housing earned a score of 44 (40 in core cities and 45 in non-core cities.)
"While it's been well established that 'zip code matters,' this year's results starkly highlight that Black and Latinx Rhode Islanders perceive greater challenges in their pursuit of health and well-being," noted Keck. "COVID-19 has made such inequities impossible to ignore. If there's anything we've learned from the tumultuous year we're still living through, it's this: We must be accountable for turning the tide on systemic racism and inequity in our state and our country. Poverty and racism have an enormous and devastating impact on health. And that is why we will continue to lean in with our philanthropy to fund organizations that address critical housing needs and supports for Rhode Islanders."
Keck also called for stronger public private partnerships, citing The Rhode Island Foundation's Long-term Health Planning Committee as an example of how these partnerships "can push us past talking and convening to actually doing."
For more information on the RI Life Index, the RI Life Index Coalition, and frequently asked questions, please visit RILifeIndex.org.