BCBSRI reaffirms commitment to addressing health inequities through grants targeted at improving access to safe and affordable housing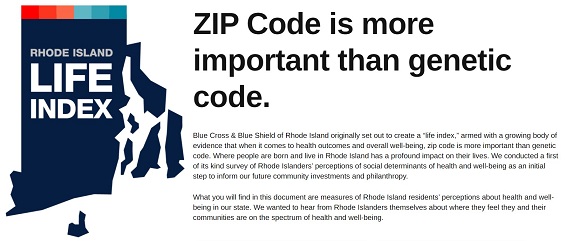 The 2021 BlueAngel Community Health Grant program makes $500K investment in nine Rhode Island organizations; second round of funding brings total to $1 million
PROVIDENCE, RI (March 1, 2021) – In a targeted effort to address some of the most basic health inequities for Rhode Islanders, Blue Cross & Blue Shield of Rhode Island (BCBSRI) has – for the second year now – directed the focus of its BlueAngel Community Health Grant program (BACHG) toward improving access to safe and affordable housing. Building on an initial grant of $500,000 in 2020, BCBSRI has now awarded an additional $500,000 in a second round of funding to nine local organizations aimed at closing the gap for Rhode Islanders whose health outcomes are directly tied to housing quality.
"Too many Rhode Islanders can't begin to address physical and behavioral health needs, chronic conditions or access to healthcare without a safe place to call home," said Carolyn Belisle, BCBSRI managing director of corporate social responsibility. "The organizations receiving a continuation of funding in 2021 contribute significantly to improving access to healthy and affordable housing by addressing the inequities that hold many Rhode Islanders back from this most basic need."
This funding support comes as BCBSRI prepares to launch the 2021 RI Life Index, a data source that focuses on the life factors that influence health and well-being. This will be the third year of the RI Life Index survey and the previous two years identified access to safe and affordable housing as a significant challenge for many Rhode Islanders.
"We know that selective housing interventions can improve health outcomes and quality of life, which is our ultimate goal for Rhode Islanders. Yet, for many Rhode Islanders, the basic need of safe and affordable housing remains out of reach or increasingly unstable, especially exacerbated by the COVID-19 pandemic," said Michele Lederberg, BCBSRI interim president and CEO. "The initial $500,000 investment across nine organizations has facilitated a variety of important housing interventions, which in turn helped roughly 12,000 Rhode Islanders access or maintain housing and housing related supports. We are committed to continuing to support these organizations in their critical work through this second round of funding."
The organizations receiving a total of $500,000 in year-two BACHG funding are:
In addition to $200,000 BCBSRI awarded to five housing-related agencies at the end of 2019, total BACHG funding directed toward housing security now totals $1.2 million. Since the BlueAngel Community Health Grant program's inception in 2002, BCBSRI has donated more than $4.6 million to support local nonprofit organizations, impacting more than 315,000 Rhode Islanders. The BACHG program is BCBSRI's cornerstone grant program, supporting nonprofit organizations working to address critical health issues in Rhode Island. BACHG funding is made available through the Blue Cross & Blue Shield of Rhode Island Community Health Fund maintained at the Rhode Island Foundation.