Biden tries to close ranks in his party around the right to vote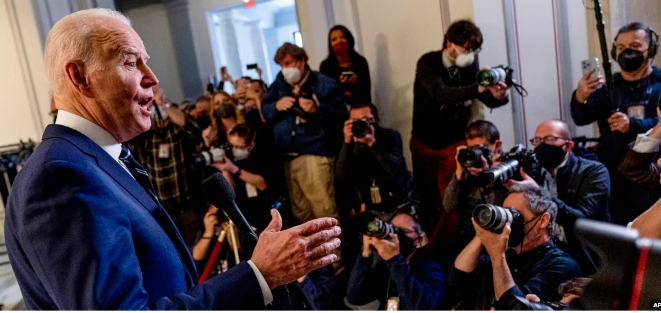 Ken Bredemeier
The bills would eliminate the most restrictive regulations adopted by Republican-controlled legislatures in at least 19 states, but the president has faced opposition within the Democratic caucus on the issue.
WASHINGTON DC—
US President Joe Biden met with Senate Democrats on Thursday in a last-minute request to review the country's electoral laws, even as one of his co-religionists assured that he would not support changing the legislative rules of the Upper House to circumvent the Republican opposition, contrary to establishing electoral rules at the national level.During the meeting, Biden met with a majority of the Senate Democratic caucus to express support for two measures that would greatly increase federal oversight of congressional and presidential elections and establish uniform voting rules across the country.
Also, the bills would eliminate the most restrictive regulations adopted by Republican-controlled legislatures in at least 19 states.
Leaving the meeting, however, Biden expressed little optimism about his chances of getting the legislation passed, telling reporters.
"I hope we can make it. The honest answer to God is, I don't know if we can do this."
Since all 50 Republicans – in a 100-member Senate – oppose the two bills Biden supports, Democrats can only pass them by changing the Senate's filibuster rule, which forces proponents of certain weighty legislation to count on a supermajority. of 60 votes.
Democrats want to pass the legislation by a simple majority of 51 to 50, with Vice President Kamala Harris voting as speaker of the upper house.
internal opposition
But shortly before Biden arrived on Capitol Hill to meet with lawmakers, Democratic Sen. Kyrsten Sinema of Arizona said in a Senate speech that she supports voting rights but would not support changing House filibuster, not even for the right to vote.
Another centrist Democratic lawmaker, Sen. Joe Manchin of West Virginia, has also consistently voiced his opposition to changing the filibuster rule.
"These bills help treat the symptoms of the disease, but they don't fully address the disease itself. And while I continue to support these bills, I will not support separate actions that worsen the underlying disease of division that infects our country," he stated in a clear reference to obstructionism.
His view on the law, while not new, is a serious blow to Biden's efforts to advance an important part of his legislative agenda.
change of mind
The president, who was a senator for 36 years before serving as vice president and eventually winning the White House, had expressed reservations during his run for president about abandoning filibuster in the Senate.
But Tuesday in Atlanta, he said that "to protect democracy, I support changing the Senate rules in any way necessary to prevent a minority of senators from blocking action on voting rights."
Democrats say the legislation is needed to curb voting rules adopted in Republican-led states that restrict suffrage, such as reducing voting by mail or limiting the number of days allowed to cast early ballots before the election. election day, traditionally in the first days of November.
Former President Donald Trump falsely claimed that the more lenient voting rules employed in 2020 led to fraud that cost him re-election, even though those responsible for the electoral process for more than a year have concluded that any irregularities that might have occurred would not have changed the election result .
Republican Senate Minority Leader Mitch McConnell has been adamantly opposed to Democrats' efforts to pass the voting changes and has attacked Biden's speech in Atlanta. McConnell has said the changes would amount to federal overreach for Democrats to control the election.
On Thursday, as the legislative maneuvering came to a head, McConnell noted that "no one in this country is buying into the false hysteria that democracy will die unless the Democrats gain total control."
"There is a way forward for my fellow Democrats to respond to the country they have let down so much, but it is not to try to break up the Senate and rewrite election laws, it is to start addressing the issues that American families need to address," he said.