Biden Wins Arizona, Widening Electoral College Lead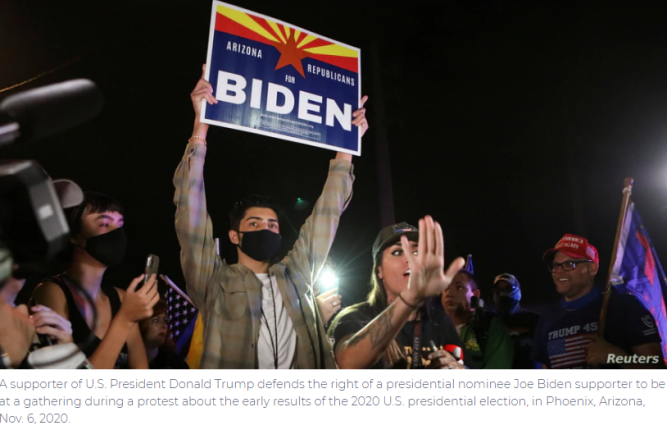 By VOA News
U.S. President-elect Joe Biden is the winner in the southwestern state of Arizona, according to major U.S. news outlets, adding to his electoral victory even as President Donald Trump refuses to acknowledge defeat.

With more than 99 percent of the votes counted in the state, Biden leads President Donald Trump by about 11,000 votes.
The New York Times, CNN, NBC News and The Washington Post were among the news organizations Thursday that projected Biden the winner in Arizona, historically a Republican stronghold. Fox News and Associated Press called Arizona for Biden last week.

Edison Research also has projected Biden the winner in Arizona, giving him 290 electoral votes in the state-by-state Electoral College that determines the outcome of the election.

Biden had previously cleared the 270 vote threshold to win the White House, paving the way for his inauguration on Jan. 20.

Trump, a Republican, has repeatedly made unfounded claims that he was defeated by widespread election fraud. But a statement released Thursday by the federal Cybersecurity and Infrastructure Security Agency, established by Trump in 2018, said the Nov. 3 election was the most secure in U.S. history. The agency's declaration was the most direct rejection to date of Trump's campaign to undermine the integrity of the election.

State election officials also report no serious irregularities while Trump's legal challenges have failed in court.

While Biden is the projected winner of the presidential election, results are subject to legal challenges and recounts.

States are required to meet a Dec. 8 deadline to certify their vote counts and pick electors for the Electoral College, which will officially select the new president on Dec. 14.