Bill Middleton, Owner of Jealous Monk, Donates Five Percent of Igloo Proceeds to Mystic Aquarium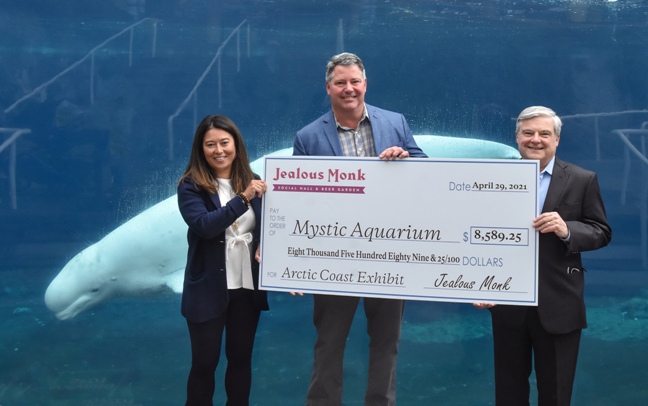 MYSTIC, CT– Owner Bill Middleton of Jealous Monk donated $8,589.25 to Mystic Aquarium from the restaurant's igloo outdoor dining during November 2020 – April 2021, a percentage of proceeds. The donation supports the Arctic Coast exhibit.
Each igloo was set up for guest comfort, including a heater, along with vents and doors that could be opened while they were occupied. The igloos fit up to eight guests and were booked through email reservations. Between each party, the inside was deep cleaned. To enhance the experience, fire pits were available for dining outside of the igloos.
"We're excited to be able to contribute to the amazing work that Mystic Aquarium does, in particular, at its Arctic Coast exhibit, where essential research is conducted to help endangered wild beluga populations," stated Bill Middleton of Jealous Monk.
Mystic Aquarium's Arctic Coast exhibit is an acre of glacial streams, northern evergreens, and the largest outdoor beluga whale exhibit in the United States. The 750,00-gallon exhibit includes three 20-foot-long underwater viewing windows and is home to three beluga whales.
"Mystic is an amazing community of businesses that all work to support each other," Tina Couch, VP of Development at Mystic Aquarium, remarked. "We're so thankful for this contribution from Jealous Monk, which will help us further our research."
Jealous Monk is a locally owned and operated beer garden in Mystic, CT. The beer garden and Bill Middleton have a long relationship and partnership with Mystic Aquarium. As the only beer garden in the area, it provides craft beers and other alcoholic beverages, a diverse menu, an outdoor patio, events, and indoor seating to customers.