Biotherm complete the leg 4 podium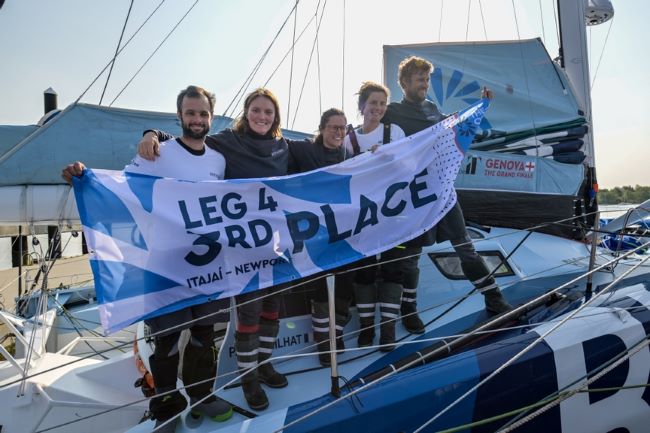 Skipper Paul Meilhat and his Biotherm team had a long wait to get to the finish on Thursday morning in Newport, Rhode Island.
With an initial ETA of 0530 local time, the light overnight winds nearly died completely with the sunrise, leaving the team to battle adverse conditions for a few more hours before they finally glided across the finish line at 08:04 in the morning local time in Newport, 12:04:38 UTC, for a leg 4 time of 17 days 19 hours 49 minutes and 38 seconds.
It's a third place finish for Meilhat, and leaves his team in fourth spot on the overall race leaderboard, five points behind of Team Malizia and 11th Hour Racing Team, who sit equal on 18 points, just a single point adrift of the race leader, Team Holcim-PRB.
"The Ocean Race is still quite open heading into the race across the Atlantic, which counts for double-points," said Meilhat. "After our good start on this leg we would have liked to have been able to fight with the top guys a bit more but we are happy looking ahead to the next part of the race."
The leg from Itajaí to Newport started well for Biotherm, who were in the lead, or very close to it, for most of the race up the coast of Brazil. An unfortunate few hours in the doldrums saw the team completely becalmed, while the others raced away, effectively ending their chances of competing for a leg win.
"That's sail boat racing. That's the way it goes sometimes," said Alan Roberts. "You can get mad or frustrated, but it doesn't help."
Roberts was one of three new crew members to join Meilhat for this leg, who said the new group gelled quickly to become a strong crew.
"It's not easy to bring a completely new group on board, but I'm happy with how everyone worked together to become a team."
Meilhat said the team suffered minor damage across several areas during the storm three days ago that saw their rivals on GUYOT environnement – Team Europe dismasted. The Biotherm team will focus on getting the boat ready ahead of the Newport In Port Race, scheduled for Saturday 20 May ahead of the leg start on Sunday 21 May.
Leg 4 positions / points
1. 11th Hour Racing Team – 5 points
2. Team Malizia – 4 points
3. Biotherm – 3 points
4. GUYOT environnement – Team Europe – suspended racing
5. Team Holcim-PRB – retired from leg – 0 points
The Ocean Race Leaderboard (through leg 4)
1. Team Holcim-PRB — 19 points
2. 11th Hour Racing Team — 18 points
3. Team Malizia — 18 points (tie is broken by In Port series standings)
4. Biotherm — 13 points
5. GUYOT envrionnement – Team Europe — 2 points