Blue Cross & Blue Shield of Rhode Island health risk assessment findings underscore issue of food insecurity for older adults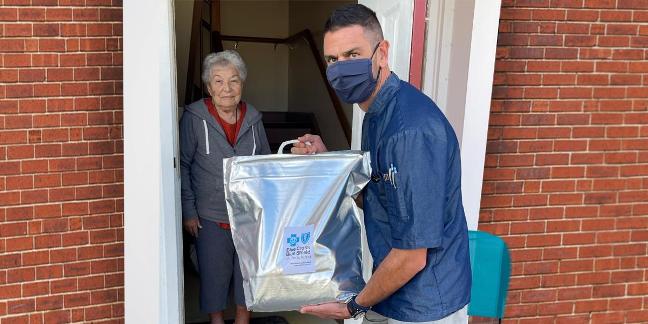 Christina Pitney, senior vice president of government programs, Blue Cross & Blue Shield of Rhode Island, and board member, Meals on Wheels Rhode Island
How did Blue Cross & Blue Shield of Rhode Island, the state's largest health insurer, get into the grocery delivery business?
Several months ago, we surveyed all of our Blue Cross & Blue Shield of Rhode Island (BCBSRI) Medicare Advantage members (largely, those 65+ in age) to gain better insight into their health status, their own perceptions of their health issues, and to identify and close any gaps in care.
Questions in the survey were designed to address common issues in older adults such as physical and mental health, falls, dizziness, bladder control and levels of physical activity. The survey also dug into health-related social needs that impact a person's health status and outcomes, like access to an adequate supply of healthy food, access to transportation, loneliness and internet connectivity.
With nearly 22,000 members responding to the survey, one of the most eye-opening findings was the prevalence of challenges related to food. Twenty-two percent of respondents identified food security as a concern, and more than 500 of those we spoke with said they needed help getting enough food to eat on a consistent and predictable basis. The issue was certainly exacerbated by the COVID-19 pandemic. Particularly, seniors living in nutrition deserts, who often rely on caregivers, neighbors, friends or public transportation to get their groceries, were disproportionately affected by the coronavirus, as even a grocery hand-off or short bus ride could be a risk to this vulnerable population.
In response, our Medicare segment team, care management team, health advocates, accreditation specialists, community relations and network performance teams created an internal workgroup that collaborated with our health system partners to directly connect with these members to better understand the causes. Those conversations led to connecting members with their primary care providers, local community partners like Meals on Wheels, municipal senior centers and other community-based resources.
BCBSRI heard our members loud and clear when they said they needed help with food security, and so this past fall we launched another round of weekly contactless grocery deliveries to our Medicare members (we initiated our first round of grocery deliveries in 2020). In 2021, more than 4,200 members in towns across Rhode Island received staples like milk, eggs, fruit, vegetables, cheese, pasta, bread, toilet paper, paper towels, hand sanitizer and other essentials, sourced from local farms and vendors in an effort to bring fresh and healthy foods to our Medicare members while supporting Rhode Island's small business community.
We're thankful for our partnership with West Warwick-based Millonzi Fine Catering, whose staff includes those previously laid off or furloughed as a result of COVID-19, as well as newly hired staff to support our grocery deliveries.
While the findings of our survey came directly from BCBSRI members, they represent a broader issue affecting many Rhode Islanders. The Rhode Island Community Food Bank has long been on the front line of this issue, serving as a hub of food security supports, services and advocacy. Their 2020 Status Report on Hunger in Rhode Island illustrates the persistence of food security issues for Rhode Islanders. The Status Report cites data from the RI Life Index, an annual resource created by BCBSRI and the Brown University School of Public Health detailing Rhode Islanders' perceptions of health and well-being in our state, which is built from a survey of Rhode Island residents focused on social factors influencing health and well-being outcomes, including access to quality, affordable housing, nutritious food, and transportation.
A nutritious, adequate diet is critical to health, especially as we age. Poor dietary intake can cause nutrient deficiencies, increase disease risk, or worsen existing diet-related conditions. If you or a friend, neighbor or loved one is struggling with food security, there are resources that can help. Rhode Islanders can call 2-1-1 or the Point at 401.462.4444 for assistance, or connect with: