Blue Cross & Blue Shield of Rhode Island names Jon Fredrickson Vice President and Chief Risk Officer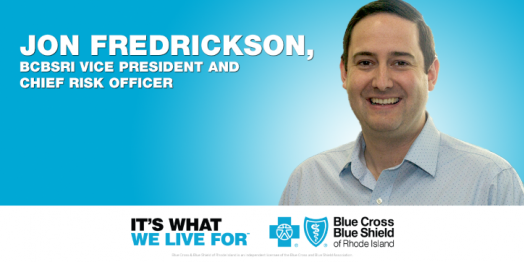 PROVIDENCE, RI — Blue Cross & Blue Shield of Rhode Island (BCBSRI) has named Jon Fredrickson vice president and chief risk officer. In his new role, he will spearhead efforts to safeguard the organization's member, employee and proprietary information against ransomware and other digital threats.
"With the wave of high-profile cybercrimes that have occurred in recent years, having the right person in place for this role is of the utmost importance," said Michele Lederberg, BCBSRI executive vice president and chief administrative officer. "Jon's years of experience have informed an innovative approach to risk management and information security, which is exactly what we need to ensure our data remains secure."
Fredrickson, of Exeter, Rhode Island, is a seasoned IT security professional with a proven track record of creating mature cyber security programs using practical risk management techniques while meeting regulatory requirements and state privacy laws. He has been with BCBSRI since 2017, when he joined the company as information security officer. He has held various positions during his tenure at BCBSRI, most recently serving as the managing director of risk management, information security and privacy.
During his time at BCBSRI, Fredrickson has established a governance model and framework to successfully manage financial, operational, strategic and compliance risks. He also expanded the privacy office to ensure full compliance with HIPAA privacy regulations. In his new role, Fredrickson will continue to build exemplary security and risk programs that protect BCBSRI members and employees.
Beyond his role at BCBSRI, Fredrickson serves on the Rhode Island All-Payer Claims Database Data Release and K Logix Advisory Boards. He is also a member of several associations, including the Association for Executives in Healthcare Information Security; Evanta's CISO Governing Body; the Health Information Sharing and Analysis Center; and InfraGard's Rhode Island Member Alliance. Fredrickson earned his bachelor's degree in economics from the University of Rhode Island and completed Harvard's Managing Risk in the Information Age cybersecurity certification.