Blue Cross & Blue Shield of Rhode Island offers free trial of streaming wellness classes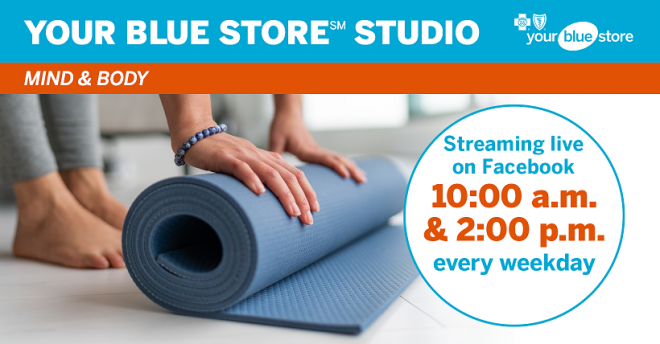 Fitness, nutrition and mindfulness tools are available through Wellbeats
PROVIDENCE, RI (January 25, 2022) – As part of its continued commitment to meeting members where they are, Blue Cross & Blue Shield of Rhode Island (BCBSRI) is expanding its suite of wellness tools with Wellbeats, a premier provider of digital wellness resources. The free trial – available to employers with 50+ employees – runs through March 31, 2022. Members of qualified plans can take advantage of fitness, nutrition and mindfulness tools on mobile devices, computers, streaming devices or tablets.
"With Wellbeats, members can take advantage of wellness resources from wherever they are – and in the way that best fits their life," said Melissa Cummings, BCBSRI executive vice president and chief customer officer. "It's another great example of how we're making physical activity, nutrition and mindfulness programs available in a convenient and personalized way."
Wellbeats offers 1,000+ classes across all fitness levels, led by experienced professionals. Beginners and experienced athletes alike can participate in a wide variety of guided activities with tailored recommendations to maximize each user's fitness journey, including:
More than 30 goal-based programs
Healthy recipes
Personalized guidance and workout plans
Group workouts that allow participants to take classes with friends
Fit tests to help participants track their progress
The expansive, dynamic, flexible, "all-about-you" Wellbeats fitness program helps members create and maintain a fitness routine that fits their lifestyle, schedule, fitness level and personal goals. The more members use Wellbeats, the more the app learns about workout habits and can recommend classes and challenges to support each fitness journey. For members of qualified plans, Wellbeats is already integrated into their Virgin Pulse® app. Simply go to the Virgin Pulse app and start using the Wellbeats features.
Wellbeats joins BCBSRI's enhanced wellness offerings, which include additional features available through the Virgin Pulse app, such as tracking steps, weight, food and sleep as well as challenging friends to healthy competitions. Many members can earn rewards for participation.
BCBSRI's suite of wellness tools also includes:
Discounts on 40+ wellness and lifestyle brands through Blue365
Virtual visits for physical and mental health through Doctors Online
24/7 access to the health benefits portal at myBCBSRI.com
Free virtual exercise classes at Your Blue Store (available to the general public)
BCBSRI's free virtual exercise classes are held Monday through Friday, at 10 a.m. and 2 p.m., on Facebook Live through the Your Blue Store Studio Facebook group. The videos are also available for viewing anytime. To learn more about BCBSRI's wellness offerings, please visit bcbsri.com.