BRINGING HEALTH EDUCATION TO THE HISPANIC COMMUNITY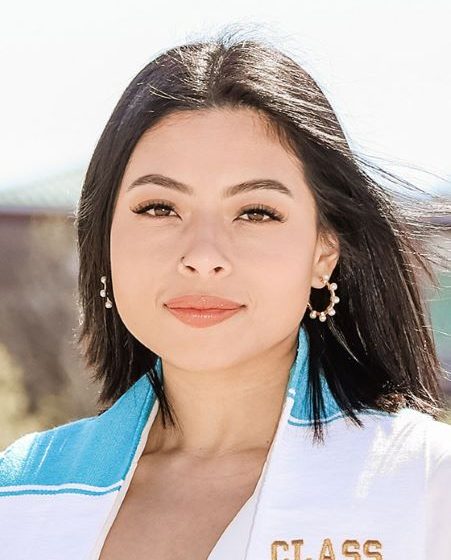 Her bilingualism was crucial in being able to connect with the Latino community
Vanesa Ramos Garcia '22 holds a B.S. degree from RIC in community and public health promotion. This 24-year-old, first-generation, mother of two is of Guatemalan descent and is making use of her bilingualism to increase health literacy in her community.
While in her senior year at RIC last semester, Ramos Garcia held an internship at Federal Hill House, a nonprofit organization that strengthens family and community life through education, opportunities and support. She worked with the elderly to promote health education and to provide information about various chronic conditions. There, she used not only her Spanish but her six years of experience working with the elderly as a CNA to connect with her clients.
After receiving funding to buy blood pressure cuffs to keep on site, Ramos Garcia taught the elderly how to take their own blood pressure and how to identify which levels were okay and which levels they needed to be concerned about. She also created a meal plan for seniors to provide an easy way for them to prepare well-rounded, healthy meals.
Using the tools she learned in her health education courses at RIC, Ramos Garcia created a hypertension workshop that involved creating manuals for participants and workshop leaders in English and Spanish. She also led the workshop activities. Although the project was long and difficult, she felt satisfied with the results and grateful for her supervisor Stefanny DeJesus '19, also a RIC alumna, for guiding her through the process.
Ramos Garcia believes that her time at Federal Hill House was an eye opener and a rewarding learning experience that not only challenged her to be able to make presentations in front of groups, to make connections with people and to be more empathetic, it helped her realize that she wants to keep working with the community, educating them on how to advocate for themselves and to be in control of their own health.
"Since my parents are from Guatemala, they have had to advocate for themselves about their health. My father has diabetes and he is constantly dealing with complications," she says.
Ramos Garcia feels that her bilingualism was crucial in being able to connect with the Latino community, either translating for them or providing them with critical information.
Now, she is looking forward to earning a master's degree in reproductive health. "It took a lot of hard work to graduate from RIC, so I am just hungry for more," she says. "I want to work with the community and keep educating people."