Bristol Signs Learn365RI Municipal Compact, Commits to Increasing Out-of-School Learning Opportunities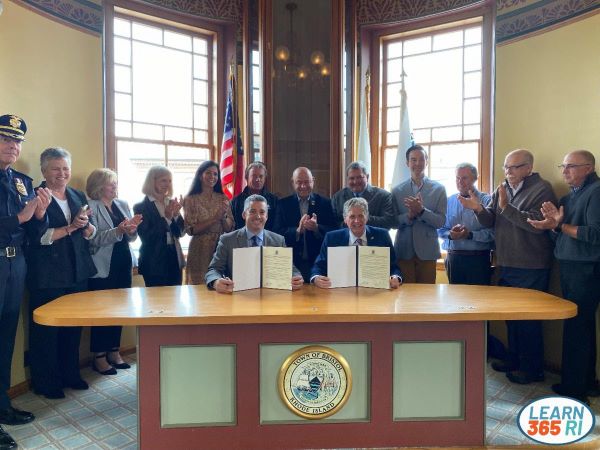 BRISTOL, RI – Governor Dan McKee and Bristol Town Administrator Steven Contente today signed the Learn365RI Municipal Compact, making Bristol the second community to commit to helping the state improve student achievement levels by increasing out-of-school learning time.
"Our goal with Learn365RI is to make a shift in how our students learn – from thinking that learning happens only during a 180-day school year, to embracing a 365-day, year-round learning strategy," Governor McKee said. "I thank Town Administrator Contente, Superintendent of Schools Ana Riley, and the entire Town of Bristol for their commitment to learning."
"With the assistance from talented volunteers from Bristol and Warren we are moving programs forward that fit in with the Governor's Learn365RI initiative," Town Administrator Contente said. "Working with the School District we are looking to help mentor students with work based learning so that what is learned in the classroom can be seen and reinforced outside of the school."
Learn365RI seeks to improve student learning outcomes to reach Massachusetts levels in three key metrics: RICAS math and English Language Arts scores, student attendance, and FAFSA completion.