CCSSO Announces Rhode Island Chief Infante-Green Joins Board of Directors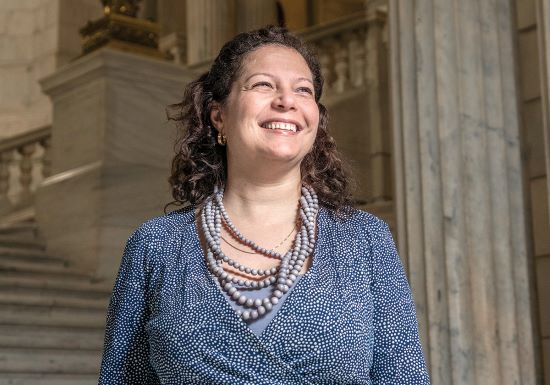 Washington, D.C. (June 9, 2023) – The Council of Chief State School Officers (CCSSO) today announced Rhode Island Commissioner of Elementary and Secondary Education Angélica Infante-Green will join its Board of Directors.
"It is a great honor to have been selected to serve and support the important mission and work of CCSSO," said Commissioner Infante-Green. "I look forward to using my experience and expertise to ensure that the organization can help continue to support education leaders across the country address some of the most pressing issues we face in education in the wake of the pandemic."
CCSSO's Board of Directors manages the overall business affairs of the Council and is the governing body of the organization. The Board is composed of the president, the president-elect, the past president and six directors elected by members of the CCSSO membership.
"In her tenure as a chief, Commissioner Infante-Green has led important work to intervene in low-performing schools and to redesign high school graduation requirements to allow for more flexibility for students while ensuring they have the preparation needed to enter college and career," said CCSSO Chief Executive Officer Carissa Moffat Miller. "She will bring an important expertise and point of view to our Board of Directors as they guide CCSSO's work."
Infante-Green has served as Rhode Island Commissioner since April 2019. In her capacity, she instituted several major efforts to improve K-12 education across the state. Most notably, she led efforts to pass and implement readiness-based high school graduation requirements which were approved by the Rhode Island Council on Elementary and Secondary Education unanimously after a robust 18-month public engagement process where they became the most commented-on set of regulations in Rhode Island K-12 education history. The Commissioner also spearheaded a comprehensive review of the Providence Public School District and is now leading the state intervention in the capital city's schools to overcome decades of neglect and poor performance. In the midst of the pandemic, the Commissioner convened the Learning, Equity & Accelerated Pathways (LEAP) Task Force, which released its report and recommendations in April of 2021 to help guide accelerated learning opportunities to rebuild Rhode Island's educational system post-pandemic. As Commissioner, she also led efforts to reopen schools safely and return to in-person learning statewide. She previously worked in the New York Department of Education, the New York City School Department and as a bilingual classroom teacher.
Infante-Green is the first Latina Rhode Island education chief to be selected to serve in the leadership role for CCSSO.
CCSSO's 2022-2023 Board of Directors is:
President: Kirsten Baesler, North Dakota
President-Elect: Margie Vandeven, Missouri
President Pro Tempore: Sydnee Dickson, Utah
Board Member: Katy Anthes, Colorado
Board Member: Christina Grant, District of Columbia
Board Member: Angélica Infante-Green, Rhode Island
Board Member: Eric Mackey, Alabama
Board Member: Jill Underly, Wisconsin
Board Member: Richard Woods, Georgia
The Council of Chief State School Officers (CCSSO) is a nonpartisan, nationwide, nonprofit organization of public officials who head departments of elementary and secondary education in the states, the District of Columbia, the Department of Defense Education Activity, Bureau of Indian Education, and five U.S. extra-state jurisdictions. CCSSO provides leadership, advocacy, and technical assistance on major educational issues. The Council seeks member consensus on major educational issues and expresses their views to civic and professional organizations, federal agencies, Congress, and the public.