City Council Honors the Life and Legacy of Senator Maryellen Goodwin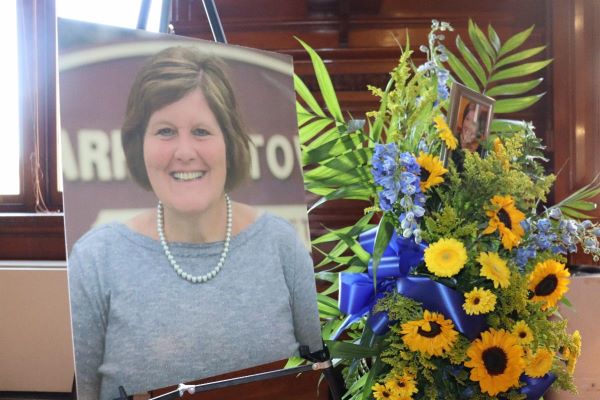 Providence, RI – At Thursday's City Council meeting, councilors honored the life and legacy of the late Senate Majority Whip Maryellen Goodwin, who passed away last week at 58. Goodwin represented the residents of Providence's Smith Hill and North End in the Senate for 36 years.
"Senator Goodwin was a strong advocate for education, healthcare, and the environment and worked tirelessly to protect the rights of all Rhode Islanders. She was a champion for paid sick leave, preventing domestic abusers from possessing firearms, and after years of opposing legislation for same-sex marriage, acknowledged a change of heart and voted 'on the side of love,'" said the resolution.
"Senator Goodwin loved this city and its residents with contagious enthusiasm. She embodied public service in a deep commitment to improving the lives of so many Rhode Islanders," said Council President Rachel Miller (Ward 13). "The senator's courageous battle with cancer was the catalyst for legislative change that now requires colorectal screenings to be fully covered by health insurance. We mourn the tremendous loss of Senator Goodwin, remember her always, and the Council extends our condolences to her family, friends, and many colleagues."
"I miss my dear friend and colleague, Senator Goodwin. Maryellen was not only a trailblazer for women but an ally to the poor and the working class," said Councilwoman Jo-Ann Ryan (Ward 5). She led with her heart, captivated attention with wit, and advocated for the most vulnerable in our city and state. Maryellen and I shared a joyous love of our Irish heritage, and she adored being named the Honorary Grand Marshall for the St. Patrick's Day Parade two years ago. She beamed with pride while walking down Smith Street. We'll forever remember her courage, her fight, and, more importantly, her willingness to compromise for the betterment of all. May she rest in peace."