City of Pawtucket Hosts Black History Month Event Honoring Black Leaders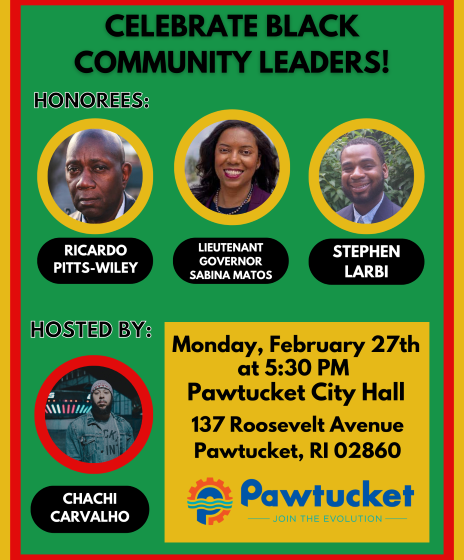 PAWTUCKET – The City of Pawtucket will be holding its first "Celebrate Black Community Leaders" event in honor of Black History Month on Monday, February 27, 2023, at 5:30 PM at Pawtucket City Hall in the City Council Chambers.
The City will recognize Lieutenant Governor Sabina Matos, Ricardo Pitts-Wiley, and Stephen Larbi for their outstanding leadership and service to our city, and the greater state as a whole.
"We are extremely lucky to have so many leaders of color in Rhode Island," said Mayor Donald R. Grebien. "It is important that we recognize their contributions to our community and celebrate these leaders not just this one day, but every day."
Residents of Pawtucket were asked to nominate a community leader they thought should be recognized for their noteworthy accomplishments and service to the community. Over fifteen individuals were nominated. From the overall list of nominees, the three finalists were selected.
The ceremony will be hosted by Pawtucket resident, activist, and rapper, Chachi Carvalho. Chachi will also be sharing a spoken word piece to honor Black History Month.