City of Providence Prepares for Snow, Slippery Conditions Friday and Saturday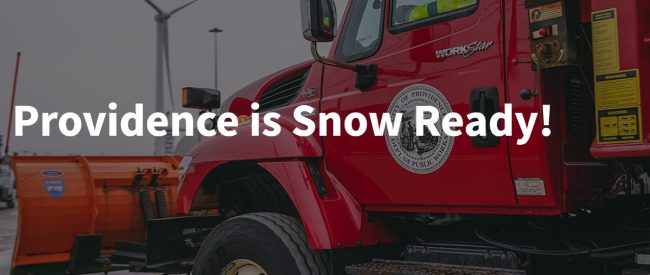 PROVIDENCE, RI- Mayor Brett Smiley, Director of Public Works Patricia Coyne Fague and Providence Emergency Management Agency (PEMA) Director Clara Decerbo are warning residents to take precautions as the Providence-area expects to receive up to 4 inches of snow accumulation overnight on Friday and slippery road conditions throughout Saturday.
"Our team is prepared to clear snow quickly and to ensure roads are safe," said Mayor Brett Smiley. "Residents should exercise caution, sign up for CodeRED alerts and use the PVD311 app to report any nonemergency issue."
In anticipation of the winter weather, the Department of Public Works (DPW) has prepared all equipment and personnel to respond to the storm, and roadways will be pretreated ahead of the expected snowfall. Mattress disposal will be delayed until next weekend. Residents and businesses are responsible for clearing their sidewalks and encouraged to prepare for winter weather by following the guidance on the City of Providence's Snow Ready website.
Additionally, PEMA has identified the following locations that will offer additional shelter capacity for people experiencing homelessness. These locations will be open 24/7 and accepting people beginning Friday night:
Crossroads RI: 160 Broad Street, 401-521-2255
Providence Rescue Mission: 627 Cranston Street, 401-274-8861
Emmanuel House: 239 Public Street, 401-421-7888
Cranston Street Armory, facilitated by Amos House: 310 Cranston Street, 401-272-0220
To report a non-emergency issue, connect to the Mayor's Center for City Services by dialing 3-1-1, visiting www.PVD311.com or by downloading the PVD311 mobile app for 24/7 access. To receive up-to-the-minute alerts and updates, residents are encouraged to register for the CodeRED emergency notification system.
Residents experiencing power outages should contact National Grid at 1-800-465-1212. Individuals are warned never to touch downed power lines and report downed lines to National Grid. In the event of an emergency, dial 911.