CLARK ART INSTITUTE ANNOUNCES SUMMER 2022 EXHIBITIONS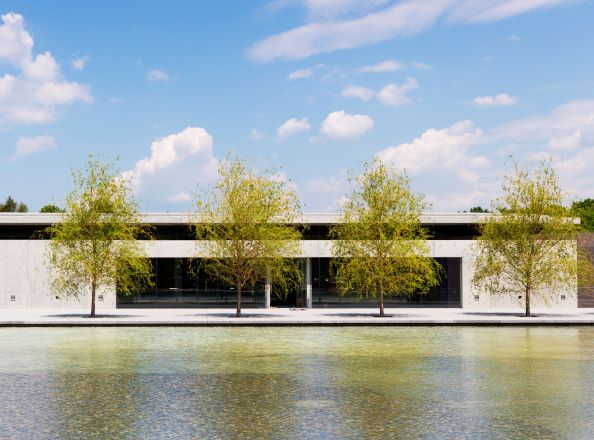 (Williamstown, Massachusetts)— The Clark Art Institute announces its summer 2022 exhibition schedule, featuring a robust program of exhibitions including a major survey of Auguste Rodin's sculpture, presenting important works included in museum collections across the United States in one of the most comprehensive looks at the artist's early reception in America and the influential arts leaders who championed his work.
"Each year, we try to present a range of exhibitions that offer new scholarship, spark new ideas, and introduce new concepts or artists to our audiences. But with every show, we also hope to inspire a moment of delight——pleasure in seeing something beautiful, learning something new, or seeing something different. We think that this year will be a summer full of delights at the Clark," said Olivier Meslay, Hardymon Director of the Clark Art Institute. "We will look at one of the world's great sculptors, Auguste Rodin, but we will be looking at his work through a very specific lens that tells a fascinating story of his early reception in the United States. We are particularly eager to introduce the distinctive prints of the Mexican modernist José Guadalupe Posada and believe they will offer new perspectives on an important period in Mexican history. And we are truly pleased to present an intriguing show that unites the works of two artists, Tauba Auerbach and Yuji Agematsu, under the canopy of a single concept, the meander."
The Clark's summer exhibitions open on a staggered schedule, beginning in June. The program includes:
June 18–September 18, 2022
Rodin in the United States: Confronting the Modern considers the artist's legacy in America from 1893 to the present. While there has been much consideration of Auguste Rodin's (1840–1917) reputation in France and throughout Europe, less attention has been paid to his reception in America. This exhibition tells the story of the collectors, art historians, critics, gallerists, and philanthropists—notably, many of whom were women —who endeavored to make Rodin known in the United States. The nearly 1,300 works by Rodin held in American museums and private collections today testifies to their success.
The exhibition explores shifting perceptions of the sculptor, beginning with the first acquisition of a work by Rodin by an American institution—The Metropolitan Museum of Art in 1893—and Rodin's controversial debut at Chicago's World's Columbian Exposition in the same year. The exhibition examines the collecting frenzy of the early twentieth century, promoted by philanthropist Katherine Seney Simpson, performer Loïe Fuller, and collector Alma de Bretteville Spreckels. The role of museums in promoting and preserving Rodin's work in the 1920s and 1930s is also explored, including the establishment of the Rodin Museum in Philadelphia. The enthusiasm of the early decades of the twentieth century was countered in the 1940s and 1950s, when, in the words of art historian Leo Steinberg, Rodin's reputation was "in full decline." The fervent celebration of Rodin in the 1980s, with blockbuster exhibitions and new scholarship, signaled another shift in the appreciation of Rodin's sculptures and drawings. The exhibition concludes with exceptional works acquired by collectors and institutions from the late twentieth century to today.
Rodin in the United States: Confronting the Modern includes approximately fifty sculptures and twenty-five drawings, presenting both the artist's familiar masterpieces and lesser-known works of the highest quality. By viewing these objects through the lens of various collectors, art historians, and museums—as well as each successive historical moment—visitors will be able to better understand how collections are built, how histories are constructed, and how an artist becomes a household name. The exhibition emphasizes Rodin's expertise across materials and media, with prominent examples of plaster, bronze, marble, graphite, and watercolor.  
The exhibition is organized by the Clark Art Institute and guest curated by independent scholar Antoinette Le Normand-Romain.
José Guadalupe Posada: Symbols, Skeletons, and Satire
July 16–October 10, 2022 
José Guadalupe Posada (1852–1913) was recognized already in 1888 as "the foremost caricaturist, the foremost graphic artist" of his native Mexico. A tireless producer of caricatures and satirical imagery for the penny press, Posada built his career in an era of political repression and lived to see the profound social changes brought by the Mexican Revolution of 1910. His pictorial contributions to broadsides, or ephemeral news sheets, provided a daily diet of information and entertainment to a public for whom images needed to tell the story since literacy was not widely prevalent at that time.  Posada's highly varied images of noticias—lurid crimes, current scandals, and other sensational stories—constitute only a part of his extensive output. Reused and reprinted, sometimes until they wore out, his beloved illustrations also encompass religious subjects, ballads, and children's books and games. Posada is best known for his sheets of calaveras (skeletons), which figured in popular rituals around the Day of the Dead but were also adapted into satires of political figures and other individuals. Whether playful or trenchant, vernacular or surreal, Posada's imagery continues to delight. This exhibition, drawn from the extensive collection of Posada's works at the Amon Carter Museum of American Art in Fort Worth, Texas, showcases the vibrant visual culture of Mexico in the years before its 1910 Revolution.
This exhibition is organized by the Clark Art Institute and curated by Anne Leonard, Manton Curator of Prints, Drawings, and Photographs.
Tauba Auerbach and Yuji Agematsu: Meander 
July 16–October 16, 2022
This exhibition pairs new work by Tauba Auerbach and Yuji Agematsu, across parallel galleries in the Lunder Center at Stone Hill, under the rubric of the meander, as both noun and verb, motif and method. For Auerbach (b. 1981, San Francisco; lives and works in New York), this twisting, self-avoiding line traces global traditions of ornament as much as physical waveforms and space-filling curves in geometry. The artist's restless experimentation in a range of media produces work that is as rigorous as it is visually arresting: calligraphic drawing, infrared imaging, and large-format painting are all part of Auerbach's complex and expanding universe.
For Agematsu (b. 1956, Kanagawa, Japan, lives and works in New York) and his practice of walking, collecting, and archiving, meander implies drift—both his own paths through New York City and those of other people and things. Agematsu's handheld sculptures are like small worlds. The flotsam he finds—a foil wrapper, spent fireworks, a fishbone—interest him both aesthetically and anthropologically. Each one marks the time of the artist's daily ritual, the space of the city, and its movement of people and things.
In plainly different ways, both artists study the rules that govern flows of matter and energy in the universe, between chaos and order, intuition and analysis, the minute and the massive.
This exhibition is organized by the Clark Art Institute and curated by Robert Wiesenberger, associate curator of contemporary projects.
Also on view this summer is Tomm El-Saieh: Imaginary City, presented in public spaces around the Clark. The large-format, abstract paintings of Tomm El-Saieh (b. 1984, Port-au-Prince; lives and works in Miami) teem with dense and dynamic marks that evoke ornament, language, and architecture. By variously layering and erasing his linework and using vibrant color to optically push or pull his pictures, El-Saieh creates rhythmic, all-over compositions from which larger forms appear to emerge—testing both the limits of perception and expectations about abstraction.
The exhibition title comes from one of the works in the show (Vilaj Imaginé) and refers to a cityscape theme common in Haitian art. El-Saieh's paintings, which resemble informal urban plans, likewise develop intuitively, without the use of preparatory studies or outlines. For the artist, who has been unable to return to his birthplace in recent years due to the instability there, Port-au-Prince now also exists mainly as a figure in his memory and imagination—a site of joy and trauma, potential and uncertainty.
This yearlong exhibition, on view through December 31, 2022, is free and open to the public.
This exhibition is organized by the Clark Art Institute and curated by Robert Wiesenberger, associate curator of contemporary projects.