Coming soon: A Your Blue Store in South County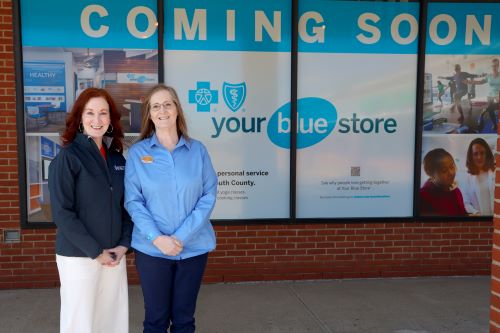 Blue Cross & Blue Shield of Rhode Island will open a Your Blue Store in Narragansett, its fifth store in Rhode Island providing convenient, in-person service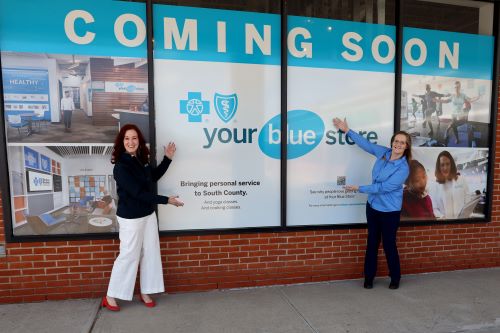 PROVIDENCE, RI —A new Your Blue Store is coming to South County, making it the fifth Blue Cross & Blue Shield of Rhode Island (BCBSRI) store in Rhode Island and once again broadening the community reach of the popular, customer-friendly stores.
Rhode Islanders will soon be able to enjoy the convenience of Your Blue Store's exceptional in-person service at the Salt Pond Shopping Center, 91 Point Judith Rd. in Narragansett. Already under construction, it will be the largest Your Blue Store when it joins existing locations in Cranston, East Providence, Lincoln and Warwick in the fall of 2023.
Like all Your Blue Store locations, the Narragansett site will offer Rhode Islanders a personal touch and neighborhood convenience and is part of BCBSRI's efforts to reach Rhode Islanders where they're most comfortable. Whether it's online, on the phone, in the Your Blue Bus, or at a Your Blue Store, the goal is the same – to help Rhode Islanders stay healthy and make it easy for them to understand and navigate health insurance.
"I am excited to expand the reach of Your Blue Store locations across Rhode Island and into South County, a community of which my family and I are a part. Your Blue Store and its unmatched face-to-face service have redefined the member-health insurer experience," said Melissa Cummings, executive vice president and chief customer officer. "The stores have been so successful that locations now extend from Blackstone Valley to our southern coast. Our Your Blue Store teams are friendly, knowledgeable, and trusted – and they have roots in Rhode Island, just like our members."
The Your Blue Store teams are adept at simplifying the sometimes-complicated aspects of health insurance and can speak to customers in plain language (whether that's English, Spanish, or Portuguese). Members can visit a Your Blue Store with benefit questions, for help finding a doctor, to take a fitness class, or to talk to a nurse about ways to save on medications. Your Blue Store also provides a great way to learn more about BCBSRI health plans, including Medicare Advantage plans that have been rated 5-Stars by the federal government, allowing Rhode Islanders to enroll in a plan year-round.
Like other Your Blue Store locations, Narragansett will offer:
•              One-on-one consultations to review plans and benefits
•              Bill payment for Medicare Advantage and individual plan premiums
•              Fitness classes and well-being workshops
•              Immunizations and screenings
•              Onsite nurse case managers and dieticians to help manage ongoing medical challenges
•              Connections to local resources for housing, transportation, and food insecurity
•              Friendship, support, and a sense of community
All stores feature a community room for fitness classes and other gatherings, as well as private consultation space to discuss care coordination with a staff nurse or nutritionist.
The Narragansett store will provide a convenient location for members who purchase their insurance directly or those who are covered by Blue Cross through area employers. Since 2013, Rhode Islanders have made nearly 350,000 visits to Your Blue Store locations.
The Your Blue Store in Narragansett will join these existing Your Blue Store locations:
Cranston
Marshalls Plaza
1400 Oaklawn Avenue
East Providence
Highland Commons
71 Highland Avenue
Lincoln
Lincoln Commons
622 George Washington Highway
Warwick
Cowesett Corners
300 Quaker Lane
For more information, visit www.bcbsri.com/yourbluestore.