Congressional Candidate Sandra Cano Releases New Campaign Material, Announces Team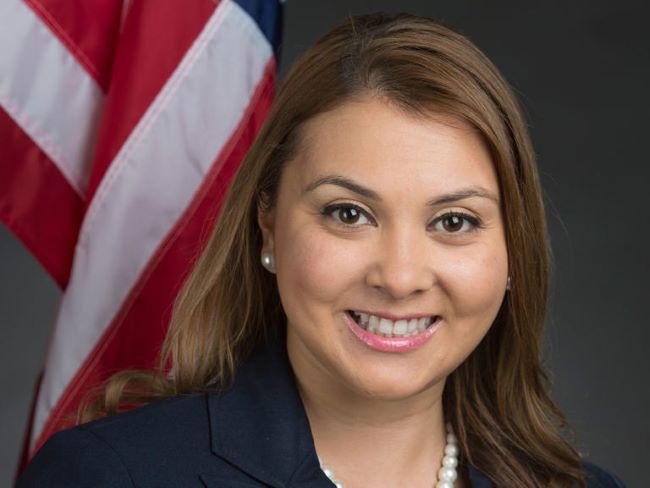 Pawtucket, RI – Congressional candidate Sandra Cano launched a new website and released a new campaign video this morning. "I am excited to share my story and experiences with the voters in congressional district one and look forward to the next several months," said Cano. She has also announced the team that will be leading her campaign, "I am also honored to have assembled a campaign team that has deep Rhode Island roots. I know that together we will work hard to earn the support of the voters."
Sydney Keen will serve as the campaign manager. Keen comes to the campaign with deep organizing skills, having worked with Planned Parenthood Votes! Rhode Island on the successful campaign to codify Roe v. Wade in RI in 2019. In addition to working on legislative campaigns and ballot initiatives, they have worked on several successful general assembly races including former State Representative Deb Ruggiero, and State Representatives Susan Donovan and June Speakman. Keen has intensive campuaign training from organizations like the RI Working Families Party and Movement School, an organization associated with the Justice Democrats and headlined by Congresswoman Alexandria Ocasio-Cortez. They bring a wealth of fundraising experience at the local and national levels, both on campaigns and in the nonprofit sector, having worked on strategy and fundraising for electoral campaigns as well as with organizations such as the Newport Contemporary Ballet (f.k.a. Island Moving Company), the Jamestown Public Library, and Sankofa Community Connection. Previously, they were a digital media consultant for the Center for Competitive Democracy, an organization based in Washington, D.C., with a focus on ballot access law. They have also served as vice chair of the Jamestown Democratic Town Committee, and on the Voter Education Taskforce under former Secretary of State Nellie Gorbea. They were a founding member of a local grassroots social justice group Jamestown for Justice. Sydney is a linguist by training and speaks four languages: English, Spanish, Mandarin Chinese and French.
Checkmate Consulting Group will serve as the campaign's general media consultant focusing on TV, streaming and digital advertising, and direct mail. Founded by Brad Dufault in 2006, Checkmate Consulting Group is a full-service strategic communications firm with decades of experience in the fields of electoral and political advocacy work. They have worked with Sandra Cano on all of her elections beginning with her School Committee race in 2012. Checkmate has worked as a political advocacy and electoral strategy consultant for numerous labor unions throughout Rhode Island. They served as the electoral and media strategist for Rhode Islanders United for Marriage, the successful campaign to win marriage equality in Rhode Island. Last year they were the media consultant for Gregg Amore's successful run for Rhode Island Secretary of State. They are the media consultant for Climate Jobs RI, which fought for the successful passage of the Act on Climate and the 100% Renewable Energy Standard legislation, and they served as the media strategist for Rhode Islanders for Responsible Government, the coalition that defeated the 2014 Constitutional Convention question at the ballot box.
Michael Beauregard of Systems Change Strategies (SCS) will serve as the campaign's field and digital strategy consultant. Beauregard has deep experience in CD-1, most recently managing Congressman David Cicilline's 2022 re-election campaign. Michael and the SCS team bring over two decades of experience working on 30+ winning Democratic campaigns for state and local office across Rhode Island maintaining a +90% win rate. Notable wins working with first-time candidates include: 2018 – Sen. Melissa Murray; 2020 – Sen. Alana DiMario, Sen. Meghan Kallman, Rep. Brandon Potter, Rep. David Morales, and Cranston City Councilor Aniece Germain; and 2022 – Rep. Megan Cotter. Additionally, SCS has provided strategic consulting to the Community Provider Network of RI as the organization has embarked on a transformative statewide advocacy campaign over the last decade to raise wages for direct care workers who support people with disabilities. Beauregard served as the President of the Young Democrats of Rhode Island from 2016 to 2018, and was a founding member and Treasurer of the resident advocacy group Cranston Forward from 2021-2022. Michael has previously served on the board of Millennial RI, and the New Leaders Council of Rhode Island.
Change Research will serve as the campaign's pollster. Change Research was founded in 2017 to enable forward-thinking campaigns and organizations to better understand public opinion and create a more humane, scientific, and just world. In the 2020 and 2022 cycles, over half of Change Research's candidates were women, nearly a third were candidates of color, and 15% were first-time candidates. Change Research is a women-founded, women-led firm, whose co-founder Pat Reilly has deep family roots in Rhode Island. Change Research's clients have included Congresswoman Ilhan Omar, Congresswoman Lauren Underwood, and 2020 Rhode Island Ballot Question 1 which successfully removed "and Providence Plantations" from Rhode Island's state name.
Wilder Arboleda will serve as the campaign treasurer. Arboleda has been working on campaigns in Rhode Island since 2010 and has worked with Sandra Cano since her 2012 school committee election. He has extensive campaign finance experience having served as finance director or treasurer since 2015 for Mayors, State Representatives, State Senators, City Councilors, and School Committee members. Arboleda previously served as the Deputy Director of Administration for the City of Pawtucket. Arboleda's first language is Spanish and he holds his BA in Political Science and his MBA from Providence College.