Congressional LGBTQ+ Equality Caucus Recognizes One-Year Anniversary of House Passage of Equality Act, Urges Senate Action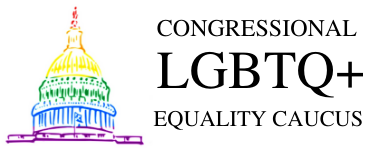 Washington, D.C. – Today, the Congressional LGBTQ+ Equality Caucus marks one year since the historic House passage of H.R.5, the Equality Act, and urges the Senate to take action on this vital legislation. The Equality Act amends the Civil Rights Act of 1964 to extend non-discrimination protections to the LGBTQ+ community.
"On today's one-year anniversary of House passage of the Equality Act, I call on the Senate to take immediate action on this legislation," said Congressman David N. Cicilline (RI-01), Chair of the Equality Caucus and sponsor of the Equality Act. "We are witnessing a horrific wave of local legislation across the country that is targeting LGBTQ+ children and the transgender community. In the first two months of the year, state lawmakers have introduced more than 170 anti-LGBTQ+ bills. This cannot continue. The Equality Act remains the best option to address anti-LGBTQ+ discrimination and ensure that LGBTQ+ Americans are afforded the same rights and responsibilities as all other Americans. We need to act – now."
"We have made so much progress in our fight for equality, but LGBTQ Americans are still discriminated against just because of who we are and who we love," said Equality Caucus Co-Chair Sean Patrick Maloney (NY-18). "Today is the anniversary of the House passing the Equality Act and we cannot afford to wait any longer for this critical bill to become law and finally ensure that LGBTQ Americans have federal protections to live equal and proud lives no matter what state they live in."
"When the House passed the Equality Act a year ago, I said that no person should face discrimination because of their sexual orientation or gender identity—period. That statement still holds today. The Senate needs to act and pass this bill because everyone, regardless of who you are or whom you love, should have the right to live freely and openly in our country," said Equality Caucus Co-Chair Mark Pocan (WI-02).
"Passing the Equality Act was a message to every LGBTQ+ person, to every kid who has felt ignored or overlooked, that their representative sees and hears them and understands the discrimination they've experienced. That was a monumental step—and it's time to finish the job and ensure every American has equal protection under the law, plain and simple," said Equality Caucus Co-Chair Sharice Davids (KS-03).
"One year ago today, the House of Representatives voted to pass historic legislation that stated a simple yet fundamental principle: full equality under the law," said Equality Caucus Co-Chair Chris Pappas (NH-01). "We make America stronger when we recognize our diversity and guarantee equality for all. The Equality Act remains a vital piece of legislation to steer our nation closer to the promise of its founding principles. But one year later, this bill is not law and LGBTQ+ individuals continue to face legal discrimination in housing, employment, public services, and a host of other areas of life. I remain committed to the fight for equality to ensure LGBTQ+ Americans are no longer treated as second-class citizens under the law. This bill will change laws and save lives, and I call on the United States Senate to become a part of history and take up and pass this legislation."
"One year ago today, the House passed the Equality Act to finally affirm the right of all LGBTQ+ people to live free from fear and discrimination. But one year later, this critical legislation is stuck in the Senate due to Republican Senators weaponizing the Jim Crow filibuster," said Equality Caucus Co-Chair Mondaire Jones (NY-17). "Every day that this bill remains stalled, millions of LGBTQ+ Americans are at risk of being evicted, denied credit or jury service, or worse simply because of who they are and who they love. That is unjust and immoral, which is why Senate Democrats must do whatever it takes to pass the Equality Act and finally enshrine LGBTQ+ justice as the law of the land."
"The Equality Act opens the door to what is possible in America: a country where every LGBTQ+ individual is treated equally and with respect under the law. No one should have to fear losing their job, home, or education because of who they are or who they love," said Equality Caucus Co-Chair Ritchie Torres (NY-15). "We cannot be a country where one set of rules applies to one group of people, and a different set applies to another. The House passed this important legislation last year, now the Senate must act. Every day that passes without this federal law on the books, is another day that we allow discrimination to take hold in our country. This can not be tolerated."