Cranston Man Arrested Charged After Accidentally Shooting Four-year-Old Son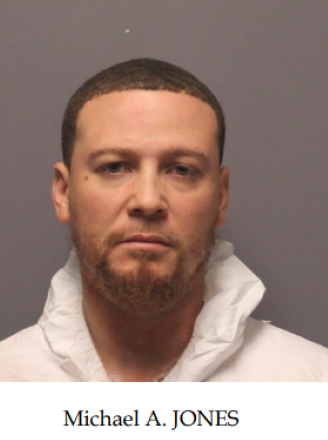 Colonel Michael J. Winquist, Chief of the Cranston Police Department, announces the arrest of a Cranston man who is alleged to have accidentally shot his son at their residence in Cranston.
On 10/31/23, at approximately 10:12 a.m., the Cranston Fire Department received 911 calls that a four-year-old boy had been shot at 25 Queen Street. The caller indicated the father was responsible for the shooting. Patrol Officers arrived to find Michael A. JONES, age 33, holding his son with an apparent gunshot wound to his head. The boy was transported by rescue to Hasbro Children's Hospital, where he remains in critical condition after undergoing emergency surgery.
JONES was taken into custody and returned to Cranston Police Headquarters in furtherance of the investigation.
An investigation conducted by members of the Cranston Police Special Victims Unit revealed that JONES was inside a second-floor bedroom of his apartment handling a loaded firearm described as a 9-millimeter handgun. According to JONES, he accidentally discharged the gun, causing a single round to travel through the wall and strike his son in the head in an adjacent room. The child's grandfather, who resides on the first floor, called 911 for medical help.
A court-authorized search warrant was executed at the residence, resulting in the recovery of a loaded 9-millimeter believed to have been used in the shooting.
JONES was previously convicted of a felony assault and, on June 1, 2022, sentenced to a two year suspended sentence and probation. JONES is, therefore, prohibited from possessing a firearm. How JONES acquired the gun remains under investigation.
JONES will be arraigned at Cranston Police Headquarters on the following charges:
• Felony Assault
• Possession of a Firearm by a Prohibited Person (Convicted of a Crime of Violence)
• Firing in a Compact Area
JONES will also be presented by a prosecutor from the Rhode Island Attorney General's Office for violating a suspended sentence.
Colonel Winquist stated, "This case is particularly difficult for all involved given the age of the victim and highlights the need to keep firearms out of the hands of prohibited individuals. A tragedy like this hits home with our first responders, many of whom have children of their own. Our thoughts are with the young boy and his family as he fights for survival."