CRANSTON POLICE ARREST ATV VANDAL WHO SMASHED POLICE CRUISER WINDOW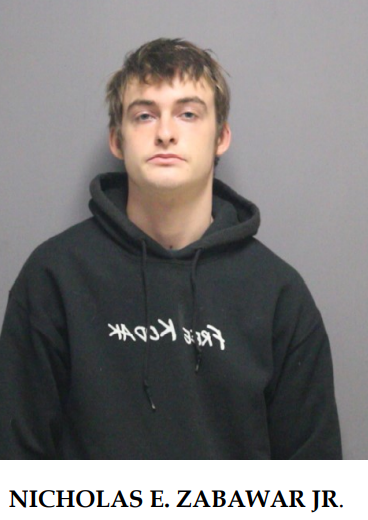 Colonel Michael Winquist, Chief of the Cranston Police Department, announces the arrest of another suspect NICHOLAS E. ZABAWAR JR., age 19, of 21 Sandlewood Avenue, Warwick, RI, who was involved in the illegal, organized and reckless ATV/Motorcycle ride through Cranston streets on New Year's Day, January 1, 2021. During the incident, which was captured on surveillance video an individual is seen smashing out the rear window of a police cruiser with his helmet. The same individual then fled the scene and eluded police officers.
The Cranston Police Department Detective Division developed information that led to the execution of a court authorized search warrant at Zabawar's residence identified as 21 Sandlewood Avenue, Warwick, RI. Detectives seized the red Honda motorcycle that Zabawar was operating during the incident. It was located by detectives in a detached garage on the property along with several pieces of evidence linking him directly to the crimes of vandalism and eluding police. Zabawar was identified in the surveillance video during the arrest of another violator in the same incident, and is seen on surveillance video taking his motorcycle helmet and smashing the rear hatch window
of the cruiser, all while a Cranston Police Officer is attempting to arrest Shyanne Boisvert, 23, of 20 Hurdis St. Apt. 19 North Providence, RI for Reckless Driving/Eluding Police, Simple Assault, Resisting Legal or Illegal Arrest, and Disorderly Conduct.
Major Patalano stated, "These violators continue to deny and pass culpability while showing no signs to cease this dangerous and reckless behavior that continues to endanger the motoring public as well as themselves. We will continue to track down all violators of the law in this case and gradually we will apprehend all involved as we continue to investigate this incident. The Cranston Police has been contacted by many residents and witnesses who are fearful of this activity and have offered their assistance. The Cranston Police plan on making more arrests in this case as the investigation continues."
The Cranston Police were assisted by the Warwick Police Department in the execution of the search warrant at Zabawar's residence in the City of Warwick.

Nicholas E. Zabawar Jr. was charged with Vandalism and Reckless/Eluding