DETECTIVES ARREST CITIZENS BANK ATM SUSPECT AFTER CRASHING INTO A POLICE CRUISER AND FLEEING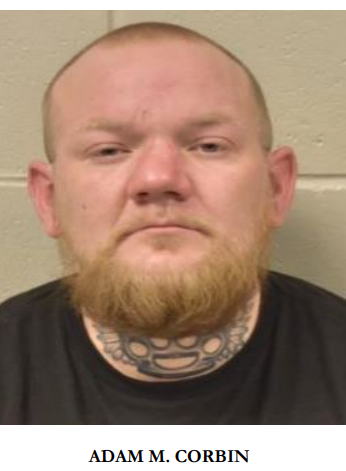 Colonel Michael J. Winquist, Chief of the Cranston Police Department, announces the arrest of Adam M. Corbin, age 35, of 872 Chalkstone Avenue, Providence, for attempted larceny, malicious injury to property, duty to stop accident -damage to attended vehicle and reckless/eluding police.
On 10/18/22 at 2218 hours Citizens Bank Security notified the Cranston Police that a subject appeared to be breaking into the drive-up ATM machine located at the branch of 120 Atwood Avenue.
They described one suspect as a male wearing a ski mask, operating a dark green/blue Dodge Caravan with a green colored plate possibly occupied by a second person. Officers immediately converged in
the area and noticed a possible suspect vehicle fleeing the area traveling east on Park Avenue. Officers attempted a traffic stop and the vehicle failed to stop increasing speed. Several officers were on special detail duty assisting a night crew performing sewer work in the area of 1400-1500 Park Avenue.
The suspect approached the detail officers and construction workers at a high rate of speed and suddenly veered off dangerously onto the bike path. Corbin recklessly travelled northbound onto the bike path where it dumps out onto Dyer Avenue attempting to elude multiple police officers. Additional officers were on Dyer Avenue where the suspect exited the bike path and subsequently struck a police cruiser and continued to flee north on Dyer Avenue. The attempted apprehension was called off due to the dangers being created by Corbin and speed. Officers in the area located the suspect vehicle disabled in the area of Grant Avenue and noticed Corbin scaling a fence through the yards northbound and fleeing toward the City of Providence. Cranston officers along with RI State police and Providence police searched the area and were unable to locate Corbin.
The van that was recovered was registered to Corbin of Providence. He has a lengthy arrest record in RI, Massachusetts and Georgia, which includes similar offenses. Detectives were actively pursuing leads that were to result in Corbin's arrest when he contacted police and turned himself in at Cranston Police HQ on 10/20/22. He provided a confession and was charged with the following violations of Rhode Island General Laws:
• attempted larceny
• malicious injury to property
• duty to stop accident -damage to attended vehicle
• reckless/eluding police
Corbin was arraigned by a Justice of the Peace and released on $1,000 personal recognizance and will appear for a formal arraignment on November in 3rd District Court, Kent County.