Diossa for General Treasurer Campaign Announces Broad Support from State Senators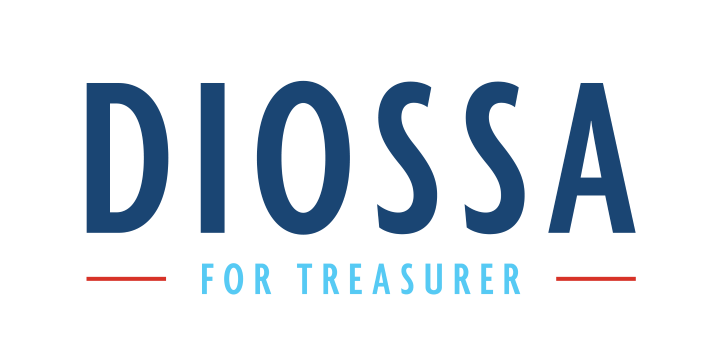 Pawtucket, RI, — James Diossa continues to grow early support in his run for General Treasurer. Today his campaign announced the endorsement of four members of the Rhode Island State Senate including Senator Ana B. Quezada of Providence, the Deputy Senate Majority Whip and Senator Meghan Kallman who is vice-chair of the Committee on Housing & Municipal Government . Also endorsing the Diossa for General Treasurer Campaign are Senator Sandra Cano of Pawtucket, the Chairwoman of Senate Committee on Education, and Senator Alana M. DiMario Co-Chair, Permanent Joint Legislative Commission on Child Care.
"My background as a Mayor who turned around a city after its bankruptcy gives me a unique vision into what Rhode Island's 39 cities and towns need," said Diossa, "and every Rhode Islander deserves to live in a community that has the right resources to help its residents live work and retire with dignity. As the next General Treasurer, I will continue to focus on helping make the office a partner to every community that wants to continue to invest in their infrastructure, rebuild their schools, and make sure their employees have a safe and secure retirement. I could not be more honored to have the endorsement of these four state senators who have been such champions for their communities and such important voices for our shared Democratic values. I am excited to campaign alongside them in the coming weeks and months and am working closely with them to move our state forward."
Last week, the Diossa Campaign announced the endorsement of eight Rhode Island General Assembly members including Democratic Caucus Chair Grace Diaz, House Judiciary Committee Chair Robert Craven Sr., and chair of the Legislative Black and Latino Caucus Karen Alzate.
"James was a great leader for his community and will be a great leader for our state," said Senator Sandra Cano. "He turned around Central Falls after its bankruptcy, and he understands deeply the challenges our cities and towns are facing. He will help build greater resources for financial literacy education, he will continue pushing for greater investment in school construction, and he has a proven track record of sound fiscal management in an executive office. He is exactly the person we need as the next General Treasurer."
Diossa is currently the only candidate in the race. His campaign previously announced the support of Former General Treasurer Paul Tavares, Former Providence Mayor Angel Taveras, Pawtucket Mayor Don Grebien, North Providence Mayor Charles Lombardi, East Providence Mayor Bob DaSilva, and Johnston Mayor Joseph Polisena. Diossa, 36, currently works at The Policy Lab at Brown University.