Doris De Los Santos Joins Blue Cross & Blue Shield of Rhode Island as Supplier Diversity Program Manager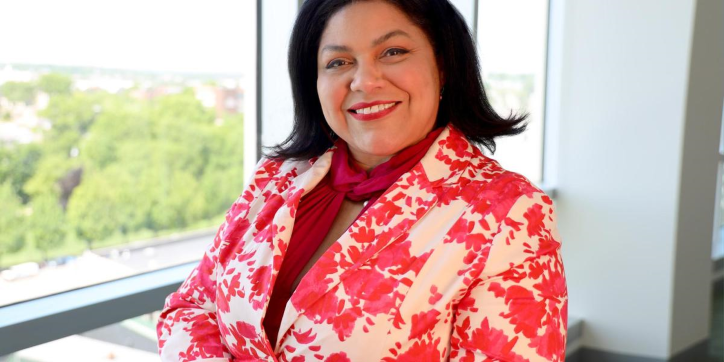 Key role in creating opportunities for diverse Rhode Island businesses
Providence, R.I.  — Reinforcing its ongoing commitment to diversity, equity and inclusion, Blue Cross & Blue Shield of Rhode Island (BCBSRI) has named Doris M. De Los Santos supplier diversity program manager.
In this newly created position, De Los Santos will advocate for supplier diversity within the organization while building relationships with key internal and external stakeholders to facilitate achievement of BCSRI's short- and long-term supplier diversity goals in support of the company's strategic and annual business plans, including business growth and corporate social responsibility.
"Doris brings tremendous experience, expertise, and energy to the role of supplier diversity program manager," said Executive Vice President and CFO Mark Stewart. "We're delighted she has joined the Blue Cross team to execute an equity-centered supplier strategy. I'm confident this strategy will create more opportunities for historically marginalized communities, even as it stimulates the Rhode Island economy."
Michele B. Lederberg, BCBSRI executive vice president, chief legal officer and chief administrative officer added, "Few people in Rhode Island have demonstrated the level of commitment to diversity, equity and inclusion that Doris has advanced in every one of her professional and volunteer roles. Doris was the natural choice for this role, and we are thrilled to have her on the team."
The company's supplier diversity website notes, "Blue Cross & Blue Shield of Rhode Island will increase our procurement of products and services from minority-owned, women owned, LGBTQ-owned, disability-owned, veteran-owned, small disadvantaged, service-disabled veteran-owned, and HUBZone business enterprises as well as local small businesses. Investing in and partnering with a diverse supplier base reflecting our customers and our community advances our vision to lead a state of comprehensive health and well-being for all Rhode Islanders. We are committed to creating opportunities that will have a significant positive economic impact throughout our state."
"I am ready to get to work on the supplier diversity front," noted De Los Santos. "This is the perfect time to support diverse businesses in Rhode Island, as the state continues to recover from the effects of the pandemic. I'm excited to be working at a company that understands the importance of investing in every dimension of diversity and in providing opportunities that will build equity across our state."
De Los Santos' career spans housing and community development, organizational and business process improvement, project management, service delivery, compliance and procurement, as well as fundraising and development.
An established community leader who has served in a wide range of positions across government (federal, state, quasi-public, and local); as well as in the non-profit sector, De Los Santos was most recently director of the Center for Women & Enterprise-RI Women Business Center, where she made investments in communities, small businesses and start- ups, which have historically had limited access to business support and opportunities. During her tenure, the Center increased the percentage of BIPOC-owned ventures in its programs and services by approximately 20 percent. Other leadership positions De Los Santos has held include deputy and chief of staff for the Providence City Council; executive director of external affairs for the Providence Public Schools; director of the Office of Municipal and External Affairs for the state of Rhode Island, serving as the administration's top-ranked Latina; and coordinator of the Office of Healthy Homes of the Rhode Island Housing Resources Commission.
De Los Santos earned a master's degree in community development from Roger Williams University; a bachelor's degree in business administration with a concentration in hotel management, magna cum laude, from Pedro Henriquez Ureña University in the Dominican Republic; and an AA degree in liberal arts, highest honors, from the Community College of Rhode Island.
De Los Santos is a trustee of Roger Williams University; vice president of the Back-to-School Celebration of Rhode Island; co-chair of the Community MusicWorks capital campaign; and a member of the City of Providence Equal Pay Task Force. Additionally, she is a board member of Family Service of Rhode Island; Latino Dollars for Scholars; and the Rhode Island Parent Information Network; a commissioner of the State of Rhode Island Martin Luther King Jr. Commission; and a member of the recently launched Rhode Island Society of Certified Public Accountants-RISCPA Education Advisory Council.