Equality Caucus Marks the Beginning of Pride Month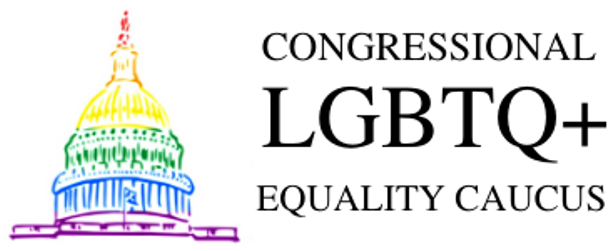 Washington, D.C. – The leadership of the Congressional LGBTQ+ Equality Caucus today celebrates the beginning of Pride Month, highlighting the Caucus's achievements and committing to continuing to fight for LGBTQ+ equality.
"Pride Month is a time for celebration, but it is also a time for action. As we celebrate Pride Month, we must recognize that LGBTQ+ people across the country are under attack by a wave of anti-LGBTQ+ laws being enacted on the state level," said Congressman David N. Cicilline (RI-01), Chair of the Congressional LGBTQ+ Equality Caucus. "The Congressional LGBTQ+ Equality Caucus is committed to bettering the lives of LGBTQ+ people around the country and ensuring everyone can take pride in their identity without fear of discrimination or harassment. The Equality Caucus has passed numerous LGBTQ+-related bills this Congress, including two pieces of legislation that were signed into law by President Biden. Our members are committed to championing LGBTQ+ equality and rights not just this month, but every month."
"Pride is a joyful time to celebrate all members of our incredible community and lift up the fundamental right of LGBTQ+ people to live authentic, proud lives regardless of who they love or how they identify," said Equality Caucus Co-Chair Sean Patrick Maloney (NY-18). "While we've made enormous strides in the fight for a more equal country, we cannot become complacent as radical, intolerant politicians continue to attack LGBTQ+ rights. We can and must keep working to pass federal protections through the Equality Act and combat inhumane attacks on trans people."
"Every June the LGBTQ+ community comes together to celebrate Pride and everything that we have accomplished," said Equality Caucus Co-Chair Mark Pocan (WI-02). "But, at a time when states are actively trying to take our rights away, and going so far as to attack trans children, we are reminded of the work still to come. This June, our community must double our efforts to ensure equality in this country by urging the Senate to pass the Equality Act and enshrine our civil rights in law once and for all."
"Pride month is a joyous occasion and a time to celebrate the beauty and diversity of the LGBTQ+ community," said Equality Caucus Co-Chair Mark Takano (CA-41). "We have the privilege of celebrating thanks to the activism and bravery of Black trans women and queer people of color who fought, marched, and ignited the movement that empowered LGBTQ+ individuals to live as their most authentic selves. However, amid our celebrations, we must also recognize that our work is not nearly done. We still have much work to do, like passing the Equality Act, to ensure full equality for every person in America and across the world, because everyone deserve to live free of hate, fear, and discrimination."
"Pride Month has always been a time of celebration and joy – and it certainly holds a special place in my heart," said Equality Caucus Co-Chair Angie Craig (MN-02). "But especially as state lawmakers continue to enact harmful anti-LGBTQ laws across our country, it's vital that we celebrate those who continue to stand against harassment and discrimination while recognizing that we can never take our feet off the gas pedal in this important fight. Now more than ever, I am proud to be joining my fellow Equality Caucus co-chairs in celebrating this year's Pride Month."
"This year, as we celebrate Pride Month, our nation is at a critical inflection point. We must stand up for what is decent and what is right. We must stand up for our kids and our futures," said Equality Caucus Co-Chair Sharice Davids (KS-03). "Progress has never come easily, but the LGBTQ+ community has a proud history of activism and courage. We are resilient, diverse, and joyful. I am grateful to stand alongside my Equality Caucus Co-Chairs as we contribute to that proud history and progress."
"Pride is an opportunity for all of us to come together in community and celebrate the importance of living as our full authentic selves. As a gay person growing up in New Hampshire, I wasn't always sure there would be a place for me. But my community welcomed me for who I am, and I could not be more proud to serve them in Congress and continue the fight for equality for LGBTQ+ individuals in New Hampshire and across the country," said Equality Caucus Co-Chair Chris Pappas (NH-01). "No one should be a second-class citizen in the United States. But our LGBTQ+ family, friends, neighbors, and colleagues don't have the same legal protections guaranteed to others. And across our country, LGBTQ+ people continue to be the target of hateful legislation that would do lasting harm to our kids, families, and communities. We must stand against these attacks and pass the Equality Act so LGBTQ+ Americans cannot be discriminated against. Enshrining equality into the law is critical considering the Supreme Court is on the verge of overturning a landmark precedent and diminishing the right to privacy. In light of these challenges, I want to say to every member of the LGBTQ+ community who may find themselves wondering what the future holds for them: you are seen, you are supported, and you deserve the chance to be yourself. When we work to create a positive environment that respects everyone and brings people of diverse backgrounds together, we all win. So be proud of who you are. That is how we will continue to change this world for the better."
"Pride is a time to celebrate the LGBTQ+ community and commit to fighting for a world where all LGBTQ+ people—including LGBTQ+ people of color—can be their true selves free of discrimination and harassment. It's a time to lift up the voices of LGBTQ+ people in our communities and recommit to building an inclusive society where all people are welcomed and embraced for who they are. That fight for a better future for our community starts in the neighborhoods we call home," said Equality Caucus Co-Chair Mondaire Jones (NY-17). "We've come a long way since the Stonewall Riots fifty-three years ago, but the past few years have emphasized that the path to equality is not linear. There's so much more work to do—and my colleagues and I in the LGBTQ+ Equality Caucus are more committed to this fight than ever."
"This Pride Month, I reflect on how much closer we are to realizing the vision of equality than ever before," said Equality Caucus Co-Chair Ritchie Torres (NY-15). "However, the mission is far from accomplished as it becomes more and more clear that people across this country remain unprotected against discrimination and hate based violence. While we use this month celebrate, it is also a time to recommit to passing legislation that has meaningful impact on the LGBTQ+ community. I am proud of the work that the Equality Caucus has done this Congress and look forward to continuing that momentum through this month and beyond."
The Congressional LGBTQ+ Equality Caucus, with its 173 Members, is committed to furthering LGBTQ+ equality, working tirelessly this Congress to move numerous bills impacting the LGBTQ+ community and to fight back against attacks on the LGBTQ+ community. The Caucus has endorsed dozens of bills this Congress, with several priority bills having passed the House and two signed into law:
The House passed — and the President signed into law — S. 937, the COVID-19 Hate Crimes Act, which included the Jabara-Heyer NO HATE Act. The Jabara-Heyer NO HATE Act provides for grants to improve data collection of hate crimes — including hate crimes motivated by sexual orientation or gender identity — and for grants for states to create hotlines to assist victims of hate crimes, among other provisions.
The House passed — and the President signed into law — H.R. 49 to designate the Pulse Nightclub as a National Memorial.
The House passed H.R. 5, the Equality Act, to explicitly prohibit discrimination on the basis of sexual orientation and gender identity in key areas of life, including employment, housing, public accommodations, federally funded programs, education, jury selection, and credit.
The House passed H.R. 3485, the Global Respect Act, to deny visas to those who commit human rights abuses against LGBTQI+ people abroad and codify reporting requirements on these issues in the State Department's annual Human Rights Report.
The House passed H.R. 1443, the LGBTQ Business Equal Credit Enforcement and Investment Act, to require the collection of small business loan data related to LGBTQ-owned businesses.
The Equality Caucus is committed to passing legislation that will positively impact the lives of LGBTQ+ people across the country.