Finland Reintroduces State of Emergency Measures as COVID-19 Infections Surge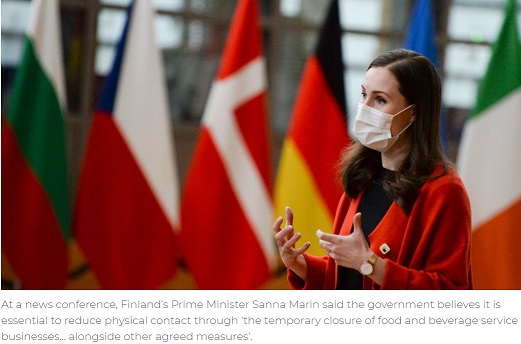 By VOA News
Finland's government has reintroduced a state of emergency, which allows the closure of restaurants and other measures, as COVID-19 infections surge in the Nordic country.
 
At a news conference Monday, Prime Minister Sanna Marin said, "the virus situation is bad and deteriorating," and the government believes it is essential to reduce physical contact through "the temporary closure of food and beverage service businesses… alongside other agreed measures."
 
Marin said the government sees no immediate need to introduce restrictions on basic freedoms at this point, but she did not rule out such measures, depending on the rate of COVID-19 infections. The nation had introduced such restrictions during a state of emergency early in the pandemic last year.
 
Among the new measures, children over the age of 13 will switch to distance learning and halt their in-person leisure activities. There also is a ban on public gatherings of six or more people, and people are urged to avoid private gatherings.
 
People in Finland would still have to work remotely and wear face masks.
 
Finland has maintained one of the lowest incidences of coronavirus in Europe, although infections have risen sharply in recent weeks, reaching 58,064 confirmed cases and 750 associated deaths in the country of 5.5 million.