Former East Side State Senator and Women's Rights Advocate Gayle Goldin Endorses Sandra Cano for Congres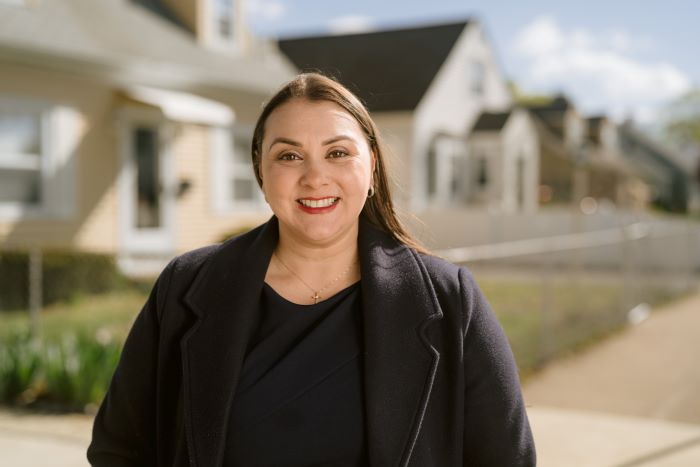 PROVIDENCE, RI – Former East Side State Senator and Women's Rights Advocate Gayle Goldin (SD3 East Side of Providence) today announced her support and endorsement of Sandra Cano in the race for Congressional District One. Goldin joins a powerful list of progressive East Side champions, including Rep. Edie Ajello and Rep. Rebecca Kislak, in supporting Cano. Cano's ever-growing diverse coalition has now reached more than sixty leaders and organizations that have endorsed Sandra Cano for Congress.
On why she is voting for Cano, the Honorable Gayle Goldin, a progressive leader who served in the Senate from 2013-2021 said: "Representation matters. I first met Sandra when she had just won her council seat in Pawtucket. She represented twice as many people as I did in the Senate and I found her can-do spirit, her love for her constituents, and her thoughtful understanding of the issues facing her community to be inspiring. When the Pawtucket senate seat opened up, I – along with many others – reached out to Sandra and asked her to run. And I'm so glad she did.
"Sandra's determination to make good policy a priority influences everything she does at the State House. She fought to raise the minimum wage and improve our education funding. While there were many issues Sandra and I worked on together, what will always stand out is how strong an advocate she is on reproductive rights – taking insults from everywhere, and still forging ahead.
"Over a half a million people live in Congressional District One and more than half of them are women. Nearly twenty percent of the district is foreign-born. About one third of the district are people of color. Yet in the history of this state only one woman has ever represented RI – and that was in Congressional District Two. Additionally, our current Congress only has a handful of people that are immigrants, and yet they are the very people making decisions about the health, wellbeing, and future of our nation's immigrant families.
"But most of all for me, I know the political systems in this country protect the patriarchy. It is the courageous who can change that. I have seen Sandra's courage front and center. I have seen her challenge the status quo. And I know her heart and her values mean she will keep her love for the people of Rhode Island in the forefront when she pushes for change in DC," concluded Goldin.
Sandra Cano said of Goldin's support: "I am so grateful to former Senator Goldin for her hard work and advocacy. She is a pioneer for women and reproductive rights, and I'm so grateful for her support and for believing in me!"
Goldin joins the movement of more than sixty leaders and organizations that have endorsed Sandra Cano for Congress and are working in their communities to get out the vote for Sandra in the Democratic Primary. This includes knocking on doors, making phone calls, sending emails and texts, and hosting events.
Cano has received three major Rhode Island union endorsements, including both teachers unions: Rhode Island Federation of Teachers and Healthcare Professionals (RIFTHP) and National Education Association Rhode Island (NEARI); as well as the United Nurses and Allied Professionals (UNAP).
Cano has also received the endorsement of the Cumberland Democratic Town Committee, Jamestown Democratic Town Committee, Lincoln Democratic Town Committee, and was named a Moms Demand Action Gun Sense Candidate.
Endorsements from local leaders include:
Mayors: Cumberland Mayor Jeff Mutter, Pawtucket Mayor Don Grebien, North Providence Mayor Charlie Lombardi, former Cumberland Mayor Bill Murray, and former Pawtucket Mayor Robert Metivier;
State Senators: Senate President Dominick J. Ruggerio (SD4 North Providence, Providence), Samuel Bell (SD5 Providence), Louis DiPalma (SD12 Little Compton, Middletown, Newport, Tiverton), Dawn Euer (SD13 Newport, Jamestown), Valerie Lawson (SD14 East Providence), Majority Leader Ryan Pearson (SD19 Cumberland, Lincoln), Meghan Kallman (SD15 Pawtucket, Providence), Robert Britto (SD18 East Providence, Pawtucket), Melissa Murray (SD24 Woonsocket, North Smithfield), Mark McKenney (SD30 Warwick), Pamela Lauria (SD32 Barrington, East Providence, Bristol), Alana DiMario (SD36 Narragansett, North Kingstown, New Shoreham); and former State Senator Jim Seveney (SD11 Portsmouth, Bristol, Tiverton);
State Representatives: Edith Ajello (HD1 Providence), Rebecca Kislak (HD4 East Side of Providence), Joshua Giraldo (HD56 Central Falls), Karen Alzate (HD60 Pawtucket, Central Falls ), House Majority Floor Manager John "Jay" Edwards (HD70 Tiverton), and former State Representative and Gun Safety Advocate Linda Finn (HD72 Portsmouth, Middletown);
Municipal Leaders: Pawtucket City Council President Terrence Mercer, Pawtucket City Council At-Large Members Michael Araujo, Roberto Moreno and Yesenia Rubio; Pawtucket City Council Members Mark Wildenhain, Neicy Coderre, and Marlena Martins Stachowiak; the entire Pawtucket School Committee (members James Chellel Jr., Chair, Kimberly Grant, Deputy Chair, Joanne Bonollo, Jennifer Carney, Gerard Charbonneau, Erin Dube, and Marsha Fernandes); as well as Central Falls Officials Robert Ferri (City Council President), Tatiana Baena (City Council At Large), and Hugo Figueroa (School Board Member and former City Councilor); North Providence Councilors Dino Autiello (Town Council President), Steven Loporchio, Ronald R. Baccala, Jr, and Ken Amoriggi; Bristol Town Council Member Timothy Sweeney; and Portsmouth School Committee Juan Carlos Payero (Vice Chair); Cumberland Town Council Members Lisa Beaulieu and Bob Shaw; Cumberland School Committee Member Mark Fiorillo; former Cumberland Town Councilors Jim Higgins, Stephanie Gemski, and Thomas Kane; Jamestown School Committee Members Kristine Lapierre (Chair) and Agnes Filkins (Clerk).