From Globetrotters to First Timers, Travelers are Seeing the World in 2023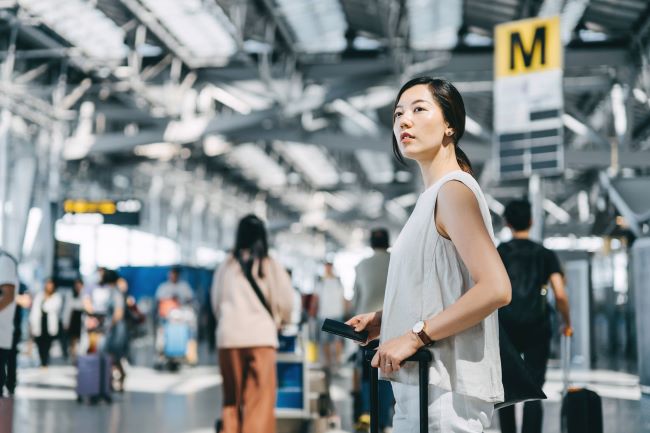 AAA shares booking data, top destinations, and travel advice
Providence, RI (April 4, 2023) — International trips are on the rise this year. According to AAA booking data, international travel is up more than 200% compared to 2022. Hotel bookings are seeing the biggest jump, up more than 300% over last year. The spike in demand is driving up airfares. Ticket prices for international trips are up more than 30%.
"Travelers are making up for lost time and willing to spend more to see the world," said Cyndi Zesk, Vice President of Travel at AAA Northeast. "If you do your homework and rely on travel experts, like AAA travel advisors, there are deals to be had. But the key is giving yourself plenty of time to plan ahead."
Europe and Canada are the most popular international destinations, per AAA's data. London tops the list, with a nearly 350% increase over last year. Rome, Paris, Dublin, and Barcelona are other European hot spots. Vancouver, Toronto, and Calgary are the most popular Canadian destinations. "There's nothing like going abroad," Zesk added. "There's excitement this year for international travel but also a lot of questions about everything from passports to travel insurance."
10 Ways to Prepare for International Travel
1. PRIORITIZE YOUR PASSPORT
You can't travel internationally without a passport. If you don't have one, apply ASAP! The U.S. Department of State issues passports, and routine service normally takes 8 to 11 weeks. But pandemic-related application backlogs coupled with a surge in travel demand are leading to longer wait times, anywhere from 10 to 13 weeks. Even some expedited services are seeing delays of about 7 to 9 weeks. If you already have a passport, check the expiration date. Some countries require passports be valid for six months beyond your departure date from the United States. Your destination might also require a travel visa. To give you peace of mind, work with a travel advisor who can ensure you're not missing any steps. AAA members get exclusive rates on expediting services for U.S. passports and global travel visas with RushMyPassport.
2. DON'T KNOW WHERE TO VISIT? START HERE
Choosing an international destination can seem daunting. One way to get inspired is by browsing trending destinations or curated trips on Trip Canvas, AAA's free online travel tool for dreaming, planning, and booking trips. Or turn to AAA travel advisors in person, online, or by phone to brainstorm ideas and create itineraries.
3. FOLLOW THE LEADER
First-time travelers – or people who haven't been abroad in years – greatly benefit from guided tours, where an expert is the one leading the way. Guided tours are a great way to explore the world without the stress of planning daily itineraries. According to AAA Member Choice Vacations, the most popular tours for new travelers are London & Paris, Italy and Ireland.
4. BEEN THERE, DONE THAT? TRY THIS
For travelers who've already checked Europe off their list and are craving something different, trips focused on adventure and local culture are rising in popularity. Club Adventures by AAA, which focuses on small group tours, says Antarctica, Costa Rica, Iceland, Peru, Morocco, and Vietnam are destinations in high demand. They say more travelers are seeking authenticity and connection on their international trips. "Today's travelers are reshaping what it means to connect with a destination. They are seeking authenticity and understanding, they long to see the world through a local lens," said Allison Villasenor, Club Adventures Managing Director.
5. UNPACK ONCE, SEE THE WORLD
Travelers wanting to experience multiple destinations without staying at multiple hotels are booking cruises. This year, cruising is in high demand. AAA booking data shows cruises departing from international destinations are up 30% compared to 2022. Cruises sailing in Northern Europe, the Caribbean, and the Mediterranean are among the most popular. European river cruises and ships sailing in the Persian Gulf and Southeast Asia are also high on the list.
6. RENTING A CAR? YOU'LL NEED THIS
Many countries require an International Driving Permit (IDP) to drive legally. An IDP is a valid form of identification that includes your name, photo, and driver information. Even if a country doesn't require an IDP, your rental car company might. An IDP must be issued in the same country as the driver's license of the traveler and may not be issued more than six months before the desired effective date. AAA is one of only two private entities in the U.S. authorized by the U.S. Department of State to issue an IDP.
7. PROTECT YOUR INVESTMENT
Travel insurance is always a good idea but even more so if you're traveling internationally. Protecting your trip is highly recommended in case of trip delay, expenses incurred from missed flights, lost luggage, or medical expenses due to illness or injury. The best way to determine what type of coverage you need is by reaching out to a trusted travel advisor. That person will help you choose the right plan to gain a clear understanding as to which policy (your personal health coverage or your travel insurance company's coverage) is primary or secondary. It's important to know how much coverage the policy offers and what is and is not covered.
8. WAYS TO SAVE
One of the best ways to save money on international travel is to be flexible with your dates. Traveling during the off-season can mean better deals and fewer crowds. For example, going to Europe in October or February can save you money on airfare and lodging. Another way to spend less is flying on Tuesdays and Wednesdays. Mid-week flights tend to be cheaper, as many airlines add weekend surcharges. When booking a hotel, try to avoid properties in the city center, which tend to be pricier. Also, find out how much the hotel charges in resort fees, parking, and internet — all of that adds up!
9. ENROLL IN STEP
Download the State Department's Smart Traveler app for detailed information regarding countries around the world and up-to-date travel advisories. While you're on the app or on the State Department website, enroll in STEP (Smart Traveler Enrollment Program) to notify the State Department of your trip, so they can alert you of any unrest or advisories at your destination.
10. TAKE IT FROM THE PROS
Connect with a AAA Travel advisor! They are well traveled and will make sure you maximize your international travel experiences. Here are some tips for international travel from our pros:
"Notify your credit card company of your trip and check foreign transaction fees. Use ATMs instead of exchange houses and always choose local currency if given the choice with credit card transactions."
"Take a photo or make a copy of your passport and keep that with you. Secure your physical passport in the hotel safe while you're sightseeing."
"If traveling with a significant other or close friend, split your clothes into two bags, so if one suitcase is delayed or lost, you both have clothing. If traveling alone, put a few clothing items in your carry-on."
"Put a large paper with your name, address, and contact information inside the front pocket of your checked suitcase in case your luggage tag is removed or falls off. This will give you a better chance of having your bag returned to you."
"If you're checking a suitcase and carrying on a roller bag, put the heaviest items in your carry-on. That way, you avoid paying an overweight fee on your suitcase, and if the airline forces you to check your carry-on anyway because there's no overhead bin space, you won't have to pay a checked bag fee either."
"Compression socks for the flight!"
"Make sure you know how you are going to get to the hotel from the airport once you arrive, and if possible, arrange your transportation ahead of time."
"Divide your cash into separate purses or pockets. In the unlikely event you are robbed, all your money won't be taken."
"To help with jet lag: Avoid caffeine and alcohol on the flight. If it's daylight when you arrive, stay outside as much as possible to get natural light exposure. Avoid naps and try to stay awake until a normal sleeping hour at your destination."