Girl Scouts of Southeastern New England Enjoyed 2023 Leading Women of Distinction Awards Breakfast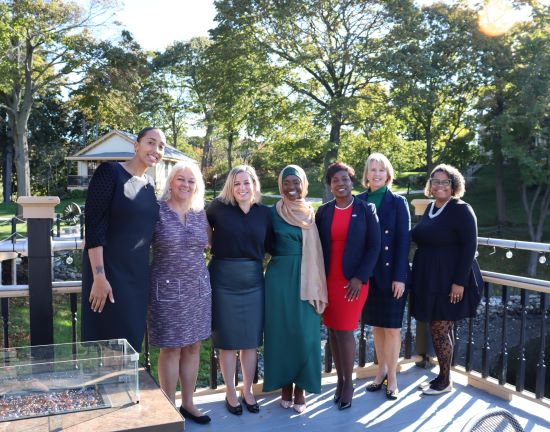 WARWICK, RI (October 19, 2023) — On October 19, 2023, Girl Scouts of Southeastern New England celebrated our Leading Women of Distinction Awards at the Squantum Association in East Providence.
Our 2023 Leading Women of Distinction honorees have made incredible contributions throughout our local community. All are amazing women who have made a significant, positive impact in an impressive array of fields. These honorees represent diversity of leadership in the community and beyond and promote inclusion and opportunity for girls and women. This group of inspiring women serve as exemplary role models for the leaders of tomorrow.
This year's Honorees were:
Anita Bruno, CEO/Founder, RI Women in the Trades
Lisa Guillette, Executive Director, Foster Forward
Dr. Deb Myers Meilun, Department of Obstetrics & Gynecology, Women and Infants Hospital
Ayana Melvan, Senior Director of Strategic Partnerships for Mission Programs, Mystic Aquarium
Dimetra Nettles, Chief Clinical Laboratory Scientist, State of Rhode Island
Monsurat Ottun, Cybersecurity Advisor, U.S. Department of Homeland Security
Lisa Ranglin, President/CEO, Rhode Island Black Business Association
Amy Walsh, Executive Director, JPMorgan Chase
Girl Scouts of Southeastern New England CEO Dana Borrelli-Murray, stated, "We want our Girl Scouts of today to see women who show up as full human beings, who have experiences across sectors and geographies, diverse backgrounds, and upbringings… and who have excelled. At Girl Scouts, our mission is revelatory. And through the Worldwide Association of Girl Guides and Girl Scouts, we are a global Movement who are all deeply connected to each other. Our mission's words—courage, confidence, and character—are our instruments for peace, for making the world a better place. Our Leading Women are examples of this mission."
Thank you to our incredible emcee, Alisha Pina, the founder of Inner Wingspan and a 2022 Leading Women honoree. We would also like to thank our generous sponsors, Amica, Delta Dental, Edward Jones, Ruggieri Family Fund, Women & Infants Hospital, Alera Group, Beacon Mutual, Eastern Bank, JPMorgan Chase, Locke Lord, Wave Federal Credit Union, Blue Cross Blue Shield of Rhode Island, Centreville Bank, Don Zambarano, KPMG, Monsurat Ottun Coaching and Consulting Agency, and Rhode Island Black Business Association.
Since 2015, the GSSNE Leading Women of Distinction Honorees have been a direct reflection of what Girl Scouting stands for—they are both impressive and inspiring. GSSNE hopes that through positive, girl-led, girl-centric experiences and exposure to strong female role models, all girls can thrive in the direction of their ambitions and lead lives full of courage, confidence, and character.
To learn more about the 2023 Leading Women of Distinction Awards visit gssne.org/leadingwomen.
We Are Girl Scouts
Girl Scouts bring their dreams to life and work together to build a better world. Through programs across Southeastern New England, Girl Scouts of all backgrounds and abilities can be unapologetically themselves as they discover their strengths and rise to meet new challenges—whether they want to climb to the top of a tree or the top of their class, lace up their boots for a hike or advocate for climate justice, or make their first best friends. Backed by trusted adult volunteers, mentors, and millions of alums, Girl Scouts lead the way as they find their voices and make changes that affect the issues most important to them. To join us, volunteer, reconnect, or donate, visit gssne.org. follow @gssne on Instagram, follow @GirlScoutsofSNE on Twitter, and like us on Facebook at www.facebook.com/GSSNE.