Gov. Dan McKee Puts Rhode Island On Path of 100% Renewable Energy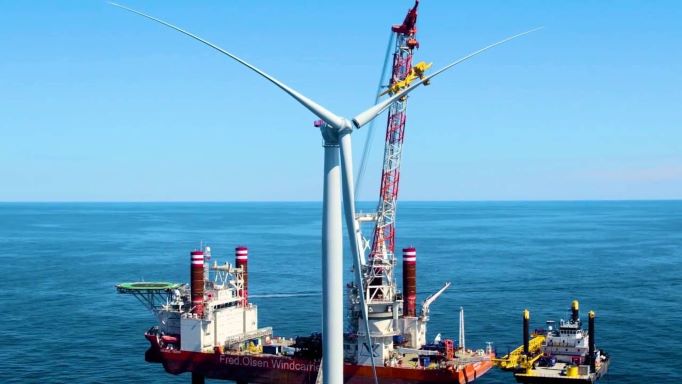 The Project Will Meet Bold Climate Objectives and Save Consumers Money 
Gov. Dan McKee is making a critical investment in additional offshore wind energy to help Rhode Island meet its goal of 100% renewable energy by the end of the decade. Gov. McKee today announced legislation that jumpstarts the process to create an additional 600 megawatts of offshore wind energy. When completed, the new project, in conjunction with the other wind projects already completed or underway, would cover 50 percent of Rhode Island's projected energy needs.
Today's announcement comes in addition to the more than $150 million Gov. McKee has proposed in his FY 2023 budget to combat climate change by reducing harmful greenhouse gasses, investing in port infrastructure to support offshore wind development, and expanding the state's network of electric vehicle charging stations.
"Gov. McKee's bold plan of action does more than just tackle the climate crisis — it creates jobs and saves consumers money," said DGA Senior Communications Advisor Christina Amestoy. "Rhode Island continues to set an example as a leader in renewable energy, thanks to Gov. McKee's leadership." 
Read more on Gov. McKee's bold plan to transition Rhode Island to renewable energy:
The Providence Journal: RI plans to buy more offshore wind power to help meet goal of 100% renewable energy
Gov. Dan McKee is moving ahead with a plan to ramp up Rhode Island's supply of power from offshore wind farms that would be developed off the coast of Southern New England.
Legislation introduced in the General Assembly at the request of the McKee administration would require that a request for proposals be issued this summer for another 600 megawatts of offshore wind energy.
Three of Deepwater Wind's turbines stand in the waters off Block Island.
Rhode Island is already home to the first offshore wind farm in the nation — a 30-megawatt demonstration project near Block Island that went online five years ago — and National Grid has signed a contract to buy another 400 megawatts of capacity from the Revolution Wind project that is awaiting federal permission to begin construction in Rhode Island Sound.
If the new procurement goes forward as planned, it would mean that more than 80% of Rhode Island's electricity would be renewable, putting the state within reach of a proposed target of getting all of its power from wind, solar and other non-fossil fuel sources by the end of this decade.
Offshore wind is key to making that goal, as well as to a more ambitious objective of reaching net-zero greenhouse gas emissions across all sectors of the economy, including heating and transportation, by 2050. In small and densely populated Rhode Island, there are no other in-state renewable energy options that would be able to deliver the same amount of power.
How the increase in offshore wind supplies could affect rates is unclear, but, judging by recent contracts in Rhode Island and other Northeastern states, it could potentially save consumers money in the long run.
Even though Rhode Islanders are paying hundreds of millions of dollars in above-market costs for the Block Island Wind Farm, the Revolution project, by displacing oil-burning power plants and other more expensive generators, is expected to yield net savings of $90 million — or about 50 cents a month for the typical ratepayer. And contracts for larger projects in Massachusetts have come in with even lower prices than the Revolution agreement.
The legislation requires the procurement process to start by Aug. 15. Any contracts negotiated as a result would go before the state Public Utilities Commission for approval.
National Grid says it's still reviewing the legislation and has yet to take a position. But in general, the company "is committed to helping Rhode Island and the region meet its clean energy goals and we believe off-shore wind is an integral path to help meet those aspirations," spokesman Ted Kresse said.