Governor McKee and Department of Housing Outline Winter Strategy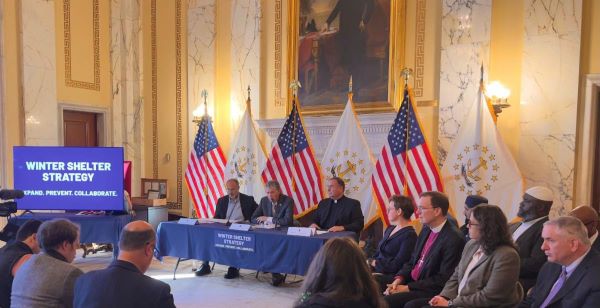 Plan is anchored in the concepts of prevention, expansion and collaboration.
Alongside faith and community leaders, state issues call to action for continued partnership and progress in preventing and addressing homelessness.
PROVIDENCE, RI – Governor Dan McKee and Housing Secretary Stefan Pryor today outlined Rhode Island's strategy for addressing homelessness through expanded shelter options and other services as winter approaches. Anchored around prevention, expansion and collaboration, the state's strategy already features a more than 30 percent increase in shelter bed capacity when compared to January of last year, new opportunities for local communities to create winter emergency hubs that are available on days of extreme weather, and an expanded homelessness prevention and problem solving program designed to reduce homelessness in Rhode Island.
As designed, the multi-pronged program features collaboration with cities and towns, faith leaders, community foundations, and landlords that have brought forth suggestions and innovative ideas for new shelter locations and services.
"This winter, Rhode Island is taking an all-hands-on-deck approach to preventing and addressing homelessness," said Governor Dan McKee. "I am grateful to the service providers, faith leaders and municipalities who have answered the call to identify new locations for shelter and services, and who are working closely with state agencies to ensure we keep Rhode Islanders warm and safe this winter."
"Protecting Rhode Island families from homelessness is our top priority this winter, starting with the hundreds of new shelter beds our administration and our municipal leaders have created this year," said Lieutenant Governor Sabina Matos. "This plan does more than increase the size of the safety net—it will also help Rhode Islanders at risk of falling into homelessness through crucial programs like legal services support. I'm grateful to our statewide network of partners who have joined us to create this comprehensive winter shelter plan."
"We are pleased that Rhode Island nonprofits, property owners, and houses of worship are stepping up in recognition of the need for more shelters and services as the winter approaches," said Secretary of Housing Stefan Pryor. "We will continue the active collaborations which, thankfully, have even more potential to add beds and supports in the coming weeks — beyond what is being announced today."
Specific components of the State's winter strategy include:
Expansion:
Expanding shelter beds
To meet the growing need for shelter, the state is adding an additional 318 beds to the system beyond the number that existed last 
winter
. This will represent a 30 percent increase in shelter capacity compared to levels last winter. Thanks to municipalities, service providers, and houses of worship that have answered the call to identify additional shelter sites throughout Rhode Island, there is the potential for up to a couple hundred additional beds in the pipeline. This would bring the potential number to over 500 beds more than last winter. Some of these additional beds may be utilized to replace more expensive beds in the system.
Deploying pallet shelters
In addition to adding shelter beds to the system, the State is also piloting new rapidly deployable shelters (pallet shelters) in Pawtucket or Providence. These sites would be available for 30-45 rapidly deployable, temporary shelter units. Experienced service providers such as House of Hope will partner to provide services to those piloting pallet shelters.
Creating emergency winter hubs
In addition to the shelter beds and pallet shelters, the Department of Housing is partnering with the Rhode Island Emergency Management Agency and local municipalities to open emergency winter hubs across Rhode Island. Next week, the Department of Housing will issue an RFP that would allow the Department to fund municipalities that opt to stand-up regional winter emergency hubs that are accessible and available overnight. The plan for emergency winter hubs is a more intentional approach to extreme weather than previous years in which waiting rooms and public buildings were offered, some of which were not open when the weather is coldest. These regional hubs will be a resource for people experiencing homelessness as well Rhode Islanders whose homes lose heat or power. Later today, the Department of Housing will be holding an informational session for municipalities on this topic.
Prevention:
In addition to creating new shelter beds, it's also important to prevent homelessness when possible. As part of its strategy, the State is utilizing initiatives to support individuals and families before they begin to experience homelessness. This includes:
Investing $750,000 in flexible financial assistance plus $1 million in counseling for housing problem solving to help Rhode Islanders experiencing homelessness rapidly exit their homelessness – often before a shelter stay is necessary. Housing problem solving seeks to empower households to identify alternative housing options to avoid homelessness or to exit homelessness as quickly as possible. Rather than focusing on which programs a household might be eligible for or whether they are willing to enter shelter, housing problem solving focuses on helping Rhode Islanders resolve the crisis they find themselves in. Sometimes this can mean reconnecting with friends or family, accessing mainstream benefits or supports, or accessing financial resources like application fees, first month's rent, move-in supplies, or help with groceries. This initiative will aim to help more than 350 households prevent or end their homelessness. Specific awards are anticipated to be announced later this month.
Working with the Rhode Island Foundation to stand up a giving opportunity that would supplement the state's investment in housing problem solving and provide an opportunity for Rhode Island's nonprofits, corporate citizens and others wishing to make a donation to support this cause. We plan to share more information on that next week. Our hope is that Rhode Islanders will donate to support neighbors and friends who are struggling to stay in their homes.
Continuing financial support for legal services to prevent evictions through the work of Rhode Island Legal Services, the Center for Justice, Direct Action for Rights and Equality and Housing Works RI. Through this program, any Rhode Islander who earn less than 80% of Area Median Income can access these services free of charge.
Naming Libby Kimzey to lead efforts to collaborate across State agencies via a new position based at the Department of Housing and in partnership with the Executive Office of Health and Human Services and the Department of Administration with a focus on addressing family homelessness.
Collaboration:
A linchpin of the State's winter shelter strategy is to involve municipal and faith leaders in assisting Rhode Islanders in need this winter. Specifically, faith leaders are calling upon houses of worship across the state to provide additional support this winter to support unsheltered Rhode Islanders. Faith leaders are working closely with the Department of Housing to identify possible properties for winter or temporary use. That collaboration has already yielded the expansion of Emanuel House in Providence by 41 beds as well as the preliminary identification of some sites for the emergency winter hub program.
In attendance at today's news conference were Monsignor Albert Kenney of the Catholic Diocese, Bishop Nicholas Knisley of the Episcopal Diocese, Iman Abdul-latif Sackor of the Islamic Center of Rhode Island, Imam Mufti Ikram Haq of Masjid al-Islam and Rabbi Sarah Mack of Temple Beth-El.
Additionally, through the active involvement of the Rhode Island League of Cities and Towns, municipal leaders have been asked to identify locations for shelter and warming center bed expansion. That collaboration is yielding possibilities in potential locations such as Cumberland and Coventry. Jordan Day, Associate Director of the RI League of Cities and Towns, was in attendance for today's announcement.
"The additional funding for shelter beds in Washington County is a game changer," said Russ Partridge, Executive Director of WARM. "I am pleased to see that the plan for this winter is not just about shelter, but also about preventing homelessness before it starts."
"We are glad to be expanding services at Emmanuel House and opening another site in Woonsocket," said Monsignor Kenney of the Catholic Diocese. "I am also excited about the collaboration with other faith leaders across denominations to find new opportunities to step forward in assisting those without permanent or stable shelter this winter."
Many of the seasonal shelters and new beds are supported by the Consolidated Homeless Fund Partnership, which recently shared funding decisions of $10 million to support 66 projects proposed by 27 organizations.