Governor McKee Announces Community Based COVID-19 Vaccination Clinics Scheduled for Friday, February 5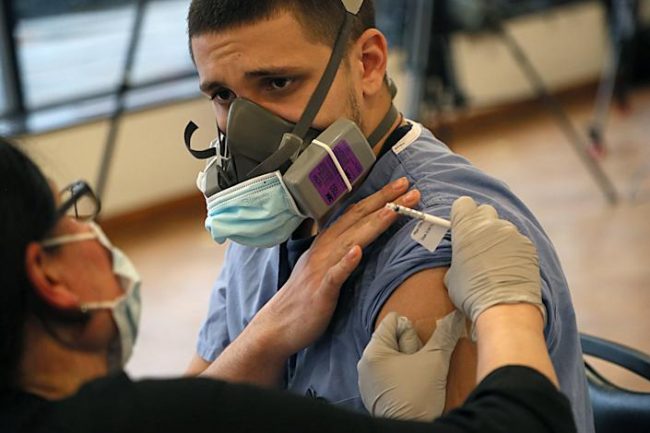 COVID-19 Vaccines and Booster Doses Available at Local Clinics Throughout Rhode Island
PROVIDENCE, RI – The McKee Administration today announced the community based COVID-19 vaccination clinics scheduled for tomorrow, Saturday, February 5.
Community based COVID-19 vaccination clinics will be held Saturday, February 5 in Harrisville, Lincoln, Newport, Smithfield, Warwick, Providence, South Kingstown, Cranston, Central Falls, and Chepachet. Registration is recommended for these clinics. To register, visit C19VaccineRI.org and click "Upcoming Community Vaccination Clinics."
In addition, the COVID-19 vaccine and booster doses are available at state vaccination sites including Sockanosset Cross Road, in many healthcare providers' offices and pharmacies throughout Rhode Island. More information about COVID-19 vaccination locations can be found at C19VaccineRI.org.
36.9 percent of Rhode Islanders have received a booster dose.
Community Based COVID-19 Vaccination Clinics for February 5:
| | | | | |
| --- | --- | --- | --- | --- |
| 10:00am-2:00pm | Burrillville Middle School | 2220 Bronco Highway | Harrisville | Moderna, Pfizer (12+) |
| | | | | |
| --- | --- | --- | --- | --- |
| 10:00am-11:30am | CCRI – Lincoln | 1762 Old Louisquisset Pike | Lincoln | J&J, Moderna, Pfizer (12+) |
| | | | | |
| --- | --- | --- | --- | --- |
| 1:00pm-2:30pm | CCRI – Newport | 1 John H. Chafee Boulevard | Newport | J&J, Moderna, Pfizer (12+) |
| | | | | |
| --- | --- | --- | --- | --- |
| 10:00am-2:00pm | Old County School Road | 200 Old County Road | Smithfield | Pfizer (5-11) |
| 12:00pm-1:30pm | CCRI – Warwick | 400 East Avenue | Warwick | J&J, Moderna, Pfizer (12+) |
| 9:00am-11:00am | South Road Elementary | 1157 South Road | South Kingstown | J&J, Moderna, Pfizer (12+), Pfizer (5-11) |
| 2:00pm-4:00pm | Knight Memorial Library | 275 Elmwood Avenue | Providence | Pfizer (12+), Pfizer (5-11) |
| 9:00am-10:45am | St. Peter's & St. Andrew's Church | 70 Pemberton Street | Providence | J&J, Moderna, Pfizer (12+), Pfizer (5-11) |
| 9:00am-12:00pm | Western Hills Middle School | 400 Phenix Avenue | Cranston | Pfizer (12+), Pfizer (5-11) |
| 10:00am-12:00pm | William Hall Library | 1825 Broad Street | Cranston | Pfizer, Pfizer (5-11) |
| 11:00am-12:00pm | Calcutt Middle School | 112 Washington Street | Central Falls | Moderna, Pfizer (12+) |
| 1:30pm-3:00pm | East Smithfield Library | 50 Esmond Street | Smithfield | Moderna, Pfizer (12+), Pfizer (5-11) |
| 9:00am-12:00pm | West Glocester Elementary School | 111 Reynolds Road | Chepachet | Pfizer (5-11) |