Governor McKee Announces Nationwide RFP for New, Innovative Downtown Transit Center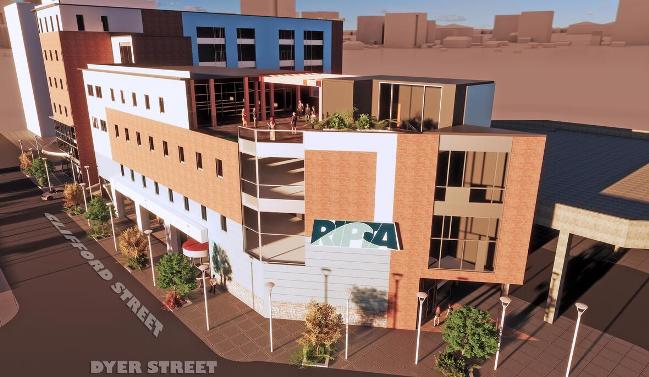 PROVIDENCE, RI – Governor Dan McKee announced today that the Rhode Island Public Transit Authority (RIPTA) will be launching a Request for Proposals on January 17, 2023, for the joint development of a new, modern 
Transit Center
 on Dorrance Street in Downtown Providence. The RFP will be released via 
Ocean State Procures
 (OSP), the State procurement portal. RIPTA is seeking the expertise of private developers across the country for bold, innovative ideas to guide the design, construction and operations of the new facility.
"The new Transit Center will modernize Rhode Island's transportation system, improve the experience for riders, lessen our impact on the environment and create a more functional downtown," said Governor McKee. "Bringing our transit system into the 21st century will attract more riders, reduce cars and emissions on our roadways, and create more opportunities for mixed-use development. A modern transit system is a key factor in attracting businesses with new jobs and economic development to our state."
"We are excited to move ahead with a state-of-the-art transit center that will benefit our passengers, the environment and our economy," said Scott Avedisian, RIPTA CEO. "This progressive RFP model will allow us to tap into the expertise of industry experts to develop a world-class transit center to accommodate a growing transit system while also maximizing the opportunity for community input regarding the project."
The RFP invites qualified and experience entities from the private sector to submit proposals to design, build, finance, operate and maintain the Transit Center through a progressive joint development project delivery model. Responses are due April 17, 2023 and a winning bid will be selected in the spring. From there, a robust period of public dialogue and input with the selected partner will begin the process of creating designs for the new center.
The new transit center will serve as RIPTA's central bus depot, with Kennedy Plaza serving a reduced number of routes. Initially serving three million transit users annually, and considering anticipated growth, the transit center will feature a state-of-the-art temperature-controlled passenger arrival and seating area, and amenities including multi-modal accommodations for bicyclists. RIPTA is also weighing the creation of a public meeting space with an open-air terrace, as well as other amenities to serve the community at large. In contrast to the current sprawling footprint of Kennedy Plaza, spread out across an urban park, the Transit Center will provide a single organized location.
Overall, the proposal envisions a mixed-use development that will include an enclosed intermodal transit center and RIPTA administrative offices, as well as an adjacent mixed-use transit-oriented development (TOD). The TOD is envisioned to include first-floor retail and residential housing on the upper floors, offering economic development opportunities for the city.
RIPTA has been engaged in numerous, lengthy discussions over the past year with state, local and community leaders about the possibility of building a new, multistory, mixed-use transit center at the intersection of Dorrance and Dyer Streets. The proposal has garnered broad-based public support. The project, in part, is supported by a bond referendum to improve RIPTA transit services via a new transit center in the downtown area, and was incorporated into RIPTA's long-range Transit Master Plan, "
Transit Forward RI 2040
".