Governor McKee, Commissioner Infante-Green Announce New Collaborative Efforts, Incentives, and Enhanced Data Tools to Address Chronic Absenteeism and Foster Community Engagement

State Leaders Call for All-Hands on Deck Push to Improve School Attendance; State Sees 5.2% Decrease in Chronic Absenteeism from 21-22 to 22-23 School Year 
NORTH PROVIDENCE, R.I. – Governor Dan McKee, Commissioner Angélica Infante-Green, and North Providence Mayor Charlie Lombardi today joined North Providence School District administrators, educators, and students at Stephen J. Olney Elementary School to detail new efforts and incentives to address staggering chronic absenteeism happening nationwide in the wake of the COVID-19 pandemic. With this focus on improving attendance statewide, RIDE has launched the Attendance Matters RI campaign which will inform stakeholders of the importance of daily attendance and the consequences of chronic absenteeism and energize students, families, and educators to promote good attendance.
Research shows that chronic absenteeism, defined in Rhode Island as missing 10% or more of the school year (typically 18 days or two a month), is associated with a number of negative consequences for students, including lower achievement, disengagement from school, course failure, and an increased risk of dropping out. In addition to new efforts and incentives, RIDE announced new and improved data tools that shed light on trends and will help schools, districts, community, and city and town leaders statewide develop and launch targeted interventions.
"Addressing chronic absenteeism is an all-hands-on-deck effort. It is our collective responsibility to reinforce the importance of regular school attendance and inspire students to stay engaged in their education. That is exactly why we launched Learn365RI," said Governor Dan McKee. "We share our gratitude with the families, school, district, municipal, state, business, and community leaders who are working diligently to increase outreach and incentives to boost attendance and improve student outcomes. My administration encourages all Rhode Islanders to spread the message, explore RIDE's data tools, and join this critical effort to make sure our kids are learning and can succeed."
According to 
research out of Stanford University
 [osf.io]
, chronic absenteeism during the COVID-19 pandemic soared nationwide by 13.5 percentage points, meaning 6.5 million additional students were chronically absent. Unfortunately, Rhode Island is no exception. During the 2022-2023 school year, approximately 28.9% of Rhode Island students were chronically absent. While that is an improvement with a decrease of more than 5 percentage points from 34.1% during 2021-2022, the statistics are concerning. The percentages of chronically absent students are even greater in Rhode Island's urban core (Central Falls, Newport, Pawtucket, Providence, Woonsocket), where between 64% to 83% percent of students are considered economically disadvantaged and most impacted by the pandemic.
Recognizing the importance of this all-state approach, Rhode Island businesses are stepping up to encourage and reward student attendance. From exclusive coupons to special privileges, businesses such as Geoff's Superlative Sandwiches, Wright's Creamery, Knead Doughnuts, and Burger King have signed on to spread the message about attendance and promote good attendance habits. Troop/Lost Valley Pizza for example, will host a pizza party for Providence high school students with good attendance at the end of the school year. A list of statewide incentives will be updated and shared with schools and families on the RIDE website as businesses join the effort.
"An educated and engaged community creates an environment in which students are more likely to thrive," said Chair of the Board of Education Michael Grey. "On behalf of the Board, I extend my gratitude to Governor McKee and Commissioner Infante-Green for prioritizing cross-sector collaboration and innovative data tools that, when used effectively, can help improve outcomes and prepare students for success. Additionally, we are tremendously grateful for the businesses who are promoting good attendance. Every effort counts, as each gesture, no matter how small, reflects a commitment to the wellbeing of our kids and our state."
"As a former school counselor, educator, and administrator, I am acutely aware of the systemic issues that impact student attendance, which were exacerbated by the COVID-19 pandemic," said Chair of the Council on Elementary and Secondary Education Patti DiCenso. "It is heartening to see the Rhode Island community come together to address this issue and, in particular, improve and enhance public-facing data. By examining absenteeism data on a granular level, our communities will become even more empowered to address the issue head-on."
Further, to curb chronic absenteeism, Commissioner Infante-Green has convened a Chronic Absenteeism Working Group, which will be made up of a diverse body of stakeholders from various sectors, including but not limited to education, health, government, business, law enforcement, and community organizations. The first meeting, where members will discuss best practices, resources, strategies, and initiatives, will be held later this month. Additionally, beginning this month, the Governor's Office and RIDE will highlight the top elementary, middle, and high schools with the highest attendance rate each week.  A partnership with the Boston Globe will also highlight high school students with perfect attendance quarterly.
"In the wake of the COVID-19 pandemic, Rhode Island is transforming the way we address student attendance issues and promoting active participation from students, families, and communities across the state," said Commissioner Infante-Green. "Attendance matters and it is cool to be in school! To truly move the needle and improve student outcomes, everyone – from community organizations to pediatricians to local businesses – needs to join in this statewide attendance campaign and ensure our families understand the importance of regular attendance and are equipped with the resources they need. I extend my gratitude to the RIDE staff members who have worked diligently to provide the public with critical, real-time data, as well as the many Rhode Islanders investing their time, money, and resources to support our kids."
New and enhanced data tools, detailed individually below, provide a comprehensive overview of attendance and absenteeism rates across a variety of demographics and feature real-time reporting capabilities and interactive visualizations. With detailed data analysis, schools and other stakeholders can pinpoint the students most at risk of chronic absenteeism and develop targeted interventions to address their unique needs.
"We all have to play a part in getting our kids to schools so they can learn, grow, and be productive members of our communities," said Mayor Charlie Lombardi. "The Town of North Providence understands that our children need to be in class every day to be able to achieve at high levels. My office is committed to raising awareness and better informing our community members of why attendance matters."
"The North Providence School District is committed to increasing student attendance because the data clearly shows that students who attend school regularly outperform those who do not," said Superintendent Joseph B. Goho. "We are very encouraged by the early data at Stephen Olney Elementary School and throughout the district which indicates that our attendance efforts already are having a positive impact. We look forward to working with our teachers, administrators, families, and students to continue to improve our attendance and ensure that our kids succeed."
"At Troop and Lost Valley Pizza, we understand that chronic absenteeism not only has an impact on academic outcomes but also the future of our workforce and economy," said Amar Kapadia, co-owner TROOP PVD and Lost Valley Pizza. "As a local business, we are here to support and encourage our kids to go to school every day. We look forward to celebrating student success this school year!"
Additionally, RIDE staff, in partnership with the Governor's Innovation Office, developed the Attendance Tool in 2018. Unique to this suite of tools is the Attendance Nudge, a mobile application that allows principals to communicate with families when student absences become a concern. Piloted in East Providence, the Attendance Tool is now used in more than 261 schools across 59 school districts.
Data Tools
The Rhode Island Community Dashboard
This attendance dashboard, 
available within RIDE's Data Center,
 uses students' home addresses to present chronic absenteeism on maps based on census tracts and block groups. RIDE has also mapped demographic information by census tract and block group to see whether certain characteristics of the community may be impacting student attendance, including:
·        Percentage of families living under the poverty line
·        Percentage of families living 185% under the poverty line
·        Percentage of single-family households
·        Percentage of population over 25 years of age with bachelor's degree or higher
·        Homeownership rate
·        Percentage of households without internet
There are marked differences when users look at a school at the census tract or block group level. Where there are pockets of high absenteeism, school communities and other stakeholders can arrange walking school buses, plan coffee meetings with parents, target a media campaign, create incentives for students and families, and identify support services located in that area, among other efforts.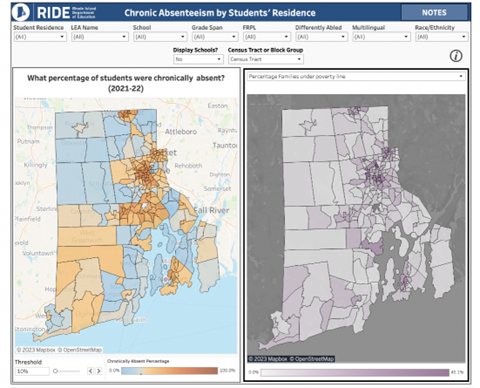 Note: All images serve as example only. View live dashboards for up-to-date figures.
The Historical Absence Dashboard
This dashboard, 
located here
, allows users to track chronic absenteeism rates by year, local education agency, school, grade span, gender, free and reduced lunch status, race, and whether or not the student is differently-abled and/or a multilingual learner.
Bar graphs depict chronic absenteeism in three ways:
·        Frequently Absent: Absent between 10% and 20% of school days (between 18 and 36 days);
·        Extremely Absent: Absent between 20% and 50% of school days (between 37 and 90 days); and
·        Mostly absent: Absent more than 50% of school days (more than 90 days)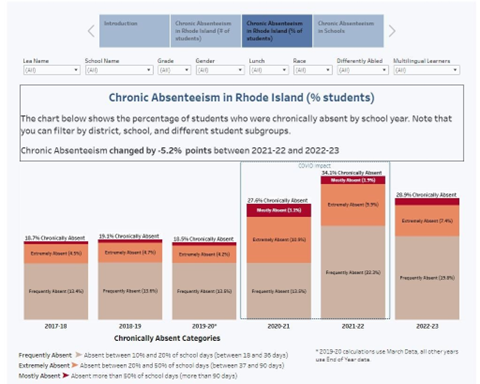 The Attendance Leaderboard
The leaderboard, available at 
www.ride.ri.gov/attendanceleaderboard
, is updated daily, helping school leaders to identify attendance issues early and often. Users can see total student enrollment at each school, as well as both the number and percentage of students on track to be chronically absent. The dashboard captures students who have been absent for 10% or more of the school year so far, and numbers will fluctuate throughout the school year. The leaderboard also allows you to compare the current percentage of those on track to be chronically absent to the percentage of those chronically absent at the same time last year.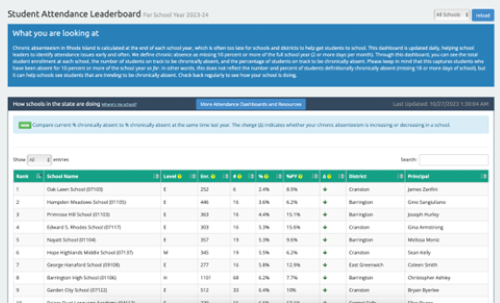 Achievement and Chronic Absenteeism Dashboard
This 
dashboard
 (found under "More Attendance Dashboards and Resources") shows math and ELA performance on RICAS and SAT assessments by levels of chronic absenteeism. Users will see as chronic absenteeism increases, student proficiency and ELA declines. The dashboard allows users to filter by district, school, and various subgroups.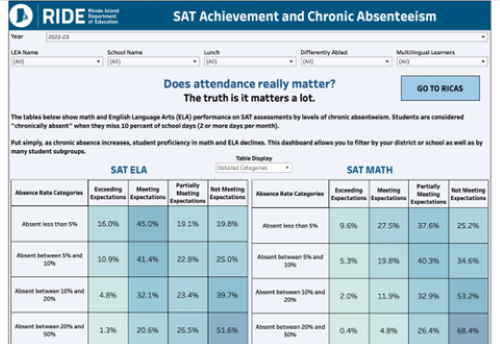 Real-time Attendance Dashboards
This 
set of dashboards
 (found under "More Attendance Dashboards and Resources") lets users dig deep into real time data. The site refreshes daily. Users can examine changes from this year to last, examine attendance by multiple subgroups, look at monthly attendance trends, and track early dismissals and tardies.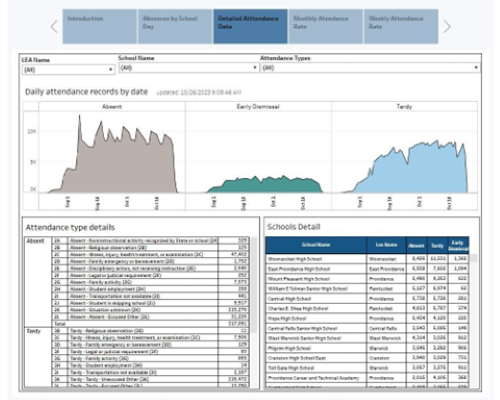 2023-2024 Chronic Absenteeism Dashboards
This 
dashboard
 (found under "More Attendance Dashboards and Resources") shows the number and percentage of students who are chronically absent so far this academic year. The figure is based on data that local education agencies submit to RIDE. Districts are expected to submit attendance to RIDE daily.