Governor McKee Continues #RIReady Budget Tour by Highlighting Proposed Investments in Pre-K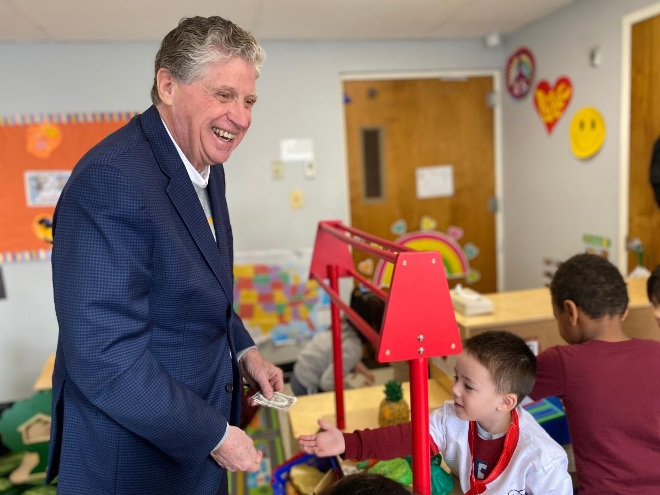 Governor McKee's #RIReady Budget Includes $7M to Preserve 800 Pre-K Seats in Rhode Island
CENTRAL FALLS, RI – Governor Dan McKee on Thursday morning continued his #RIReady Budget Tour at The Children's Workshop, an early education child care facility in Central Falls, where he outlined the proposed investments in Pre-K in his FY24 budget. He also discussed how Rhode Island Pre-K builds on the strength of the existing early learning landscape, while supporting small businesses and minimizing transitions for children and families.
"As I said during my State of the State address, and said again earlier this week, Rhode Island is ready. And part of being ready means we are ready to improve education outcomes for our students," said Governor McKee. "The investments we are making in our proposed budget will give children every opportunity to succeed, while at the same time meeting the needs of their families."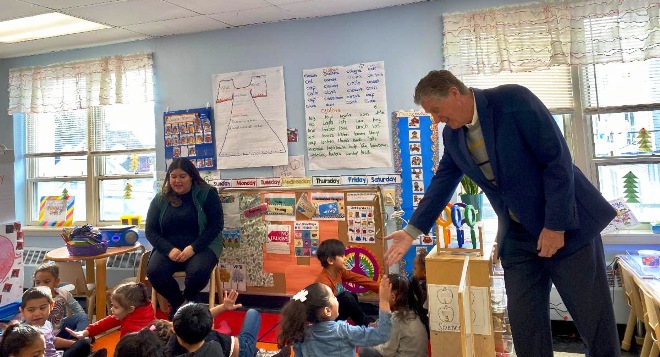 After touring The Children's Workshop, Governor McKee announced that the FY24 #RIReady budget he submitted to the General Assembly last week proposes investing $7 million to preserve 800 Pre-K seats that are currently funded with expiring federal funds, and otherwise would close after this school year without state investment. The Governor's budget also invests $1.3 million to prepare additional classrooms to be ready to provide Pre-K in the 2024-25 school year, if future operational funding is available.
"Thanks to federal funding, 800 students a year have been able to get an important head start on their education. The RI Ready budget ensures that the children just behind them will be able to enjoy that same benefit," said Lt. Governor Sabina Matos. "This funding is good news for parents, children, and child care providers alike."
"By investing in early childhood education, we are setting our children up for lifelong success," said Commissioner Angélica Infante-Green. "RIDE looks forward to working alongside our state partners and providers to ensure our youngest learners and their families receive the free, equitable, and high-quality early learning opportunities they deserve."
"It's my goal to support Rhode Islanders so they can be healthy and thriving– and this includes our youngest learners," said Acting Secretary of the Executive Office of Health and Human Services Ana Novais. "We know there are opportunity gaps for children of color in early education that are part of what drive the disparities we see in K-12 education outcomes – that's one of many reasons why access to equitable, high-quality early learning is so important."
"High quality early learning happens in a variety of settings – public schools, family child care, and child care centers," said Department of Human Services Director Acting Director Kimberly Merolla-Brito. "We know that early learning starting in infancy and continuing through pre-kindergarten sets children up for success as they enter kindergarten and schooling in the years ahead. We all have a role to play in ensuring that families and children can access early learning here in Rhode Island, creating a path for long-term success and opportunity."
Governor McKee's FY24 RI Ready budget proposal focuses on maintaining a trend of fiscal responsibility with no broad-based tax increases, while proposing a nearly $100 million tax relief plan, critical investments in K-12 education to support improving student outcomes, and key investments to strengthen Rhode Island's economy and increase access to good-paying jobs.
View Governor McKee's full budget submission 
here
.