Governor McKee, Federal, State, and Local Partners Mark Opening of New Pawtucket-Central Falls Transit Center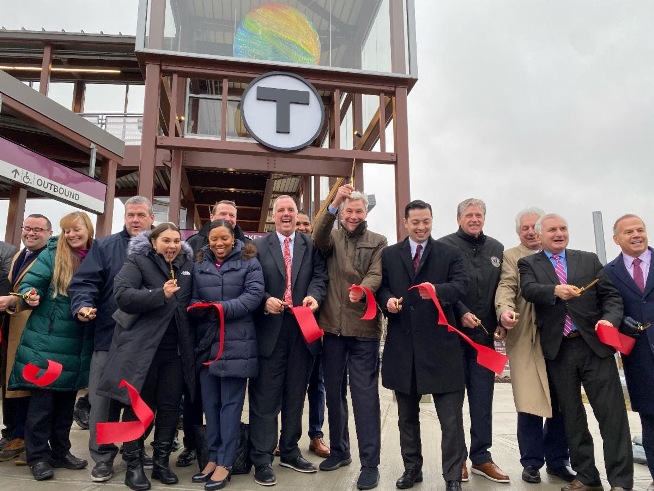 PROVIDENCE, RI – Governor Dan McKee, Lieutenant Governor Sabina Matos, U.S. Senators Jack Reed and Sheldon Whitehouse, Congressmen David Cicilline and Seth Magaziner, Federal Transit Administration (FTA) Region 1 Administrator Peter Butler, Federal Highway Administration (FHWA) Rhode Island Division Administrator Derek Torrey, Rhode Island Department of Transportation (RIDOT) Director Peter Alviti, Jr. and Rhode Island Public Transit Authority (RIPTA) CEO Scott Avedisian today joined with other federal, state and local officials to celebrate the opening and first day of service for the new Pawtucket-Central Falls Transit Center.
The rail-bus transit center will provide a robust combination of commuter rail and bus service in an emerging area of transit-oriented economic development in Pawtucket and Central Falls. It will allow riders to switch modes of transportation easily between commuter rail operated by the Massachusetts Bay Transportation Authority (MBTA) and RIPTA's statewide bus network – making it easier and more convenient for many Rhode Islanders traveling to and from Boston and other destinations in Massachusetts.
The opening of the Pawtucket-Central Falls Transit Center is the culmination of years of planning and completion of a $63 million design-build project that RIDOT began four years ago. More than two-thirds of the project cost, approximately $43 million, was paid for with federal funds. This includes a $13.1 million Transportation Investment Generating Economic Recovery (TIGER) grant and a $7 million Bus and Facilities Grant, both from the FTA, as well as $20 million in funding as part of the FTA's Congestion Mitigation and Air Quality (CMAQ) Improvement Program. In each instance, Rhode Island's Congressional delegation was instrumental in guiding these funds to Rhode Island.
"I want to thank our Congressional Delegation and all the federal, state and local partners who helped make this day a reality," Governor McKee said. "This new station is a major addition to Pawtucket, Central Falls and all of Blackstone Valley, supporting economic development efforts in these communities while providing tremendous transit options for all Rhode Islanders and those visiting our great state."
"This long-awaited station is a key link in a broader economic development strategy for Pawtucket and Central Falls. I am proud to have led efforts over the last two decades to deliver federal investments to complete this state-of-the-art transit hub. In addition to providing efficient, reliable transportation options for commuters, it will drive private investment, economic growth, and opportunity for the whole area," said Senator Reed, who first secured a federal earmark for the station planning in 2004 and who helped create the competitive TIGER grant program as a way to spur tough-to-finance projects like this that have a significant impact on a region or metropolitan area.
"The delegation worked for years to secure over $40 million in federal funding for this project, which will significantly improve Rhode Island's public transit system," said Senator Whitehouse. "The Pawtucket-Central Falls Transit Center will increase access for passengers and support economic growth in the Blackstone Valley for generations to come."
"I'm thrilled to have helped deliver approximately $43 million in federal funding for this project alongside my colleagues in the Congressional delegation. This station will provide new rail and bus service options for residents, improving the quality of life and transit connections for those in Central Falls, Pawtucket, and the Blackstone Valley," Congressman Cicilline said. "The hub will also help spur economic development and contribute to the sustainability of our state and regional transit system, reducing congestion on our roads and lowering greenhouse gas emissions. Congratulations to everyone involved in this years-long project. I encourage all Rhode Islanders to explore this and other public transit options in our state."
"The new Pawtucket-Central Falls Transit Center will catalyze economic growth for the entire region," said Congressman Magaziner. "By establishing a new commuter rail stop and enhancing bus service, this station will revitalize the surrounding neighborhoods, reduce air pollution, and make it easier for Rhode Islanders to get to work. I applaud federal, state and local officials who guided this project and the working men and women who have made it a reality."
"This new station will create new economic opportunities for Rhode Islanders, and it's also a major opportunity for travelers to get to know one of the best parts our state," said Lt. Governor Sabina Matos. "Riders disembarking at Pawtucket-Central Falls will get to dive right into the food, art, and culture that make these cities unique! Investments in robust public transit makes it easier for visitors to discover and fall in love with our state."
"The Pawtucket-Central Falls Transit Center represents the economic revival of Rhode Island," said General Treasurer James Diossa. "From the moment I was Mayor of Central Falls, I collaborated with Pawtucket Mayor Don Grebien on establishing an equitable transportation system for the community. Together, we worked on this project that will stimulate financial growth while cultivating civic pride for residents. This center will now serve as a model for future investments in our state's infrastructure so that no Rhode Islander gets left behind when the train leaves the station."
"On behalf of the City of Pawtucket, I am thrilled that is day is finally here. This project has been in the works for many years, with the help of Council members, our state and federal delegation, community partners, and RIDOT," said Pawtucket Mayor Donald Grebien "This transit hub will open so many doors for both Pawtucket and Central Falls, whether it be new housing units, retail spaces, and beyond – this truly is a tremendous opportunity."
"FTA was proud to support the new transit center with federal funds, part of our work to expand and modernize public transportation to ensure everyone who wishes to ride can do so," said FTA Regional Administrator Butler. "With commuter rail and bus hub connections, it will provide seamless connections to jobs and opportunities in Boston and communities throughout Rhode Island."
"RIDOT is forever grateful for the efforts of our Congressional Delegation and other federal partners for providing us the funding so we could build this new transit center," Director Alviti said. "This station with its built-in bus hub provides many options for commuters locally and across Rhode Island to make quick and easy connections to their destinations. It also will help mitigate congestion on our highways and reduce greenhouse gas emissions in Rhode Island and Massachusetts."
"We are excited to be a vital part of this project, with our buses enabling people from all over the state to easily make the connection to rail travel," said RIPTA CEO Avedisian. "The more convenient public transit is, the more people are likely to leave their cars behind. This eases traffic congestion and also reduces carbon emissions – a winning combination for our state."
"The MBTA is excited to broaden the reach of our Commuter Rail network as we offer this additional transit option for our current Pawtucket-area passengers and welcome new riders to the system," said MBTA Interim General Manager Jeffrey Gonneville. "The Providence/Stoughton Commuter Rail Line will make regular and convenient stops on weekdays and weekends at the new Pawtucket-Central Falls Transit Center, offering efficient service to and from South Station in downtown Boston. We encourage riders to check out the service schedule available on 
mbta.com
."
The additional commuter rail station at Pawtucket-Central Falls will supplement three other stations (Providence, T.F. Green and Wickford Junction) serviced by the MBTA, with numerous stops in Massachusetts on the route to South Station in Boston. MBTA will make 40 weekday stops and 18 weekend stops at the new Transit Center. The one-way fare between Pawtucket and Providence is $2.75 and $3.25 each way between Pawtucket and T.F. Green Station. The cost of a train ticket to Boston is $12.25 each way.
In addition to the rail service, the new bus hub built adjacent to the train station will serve the many bus commuters in the Pawtucket, Central Falls and greater Blackstone Valley area with RIPTA's 1, 71, 72, 73, 75, 76, 78, 80, QX and the R-Line stopping at the transit center starting on January 23. The cash fare is $2 per boarding or $2 for one hour of unlimited rides when paying with 
Wave
, RIPTA's smart fare collection system. RIPTA allows riders with MBTA monthly passes to board RIPTA buses at no cost. This allows riders the option of picking the most convenient schedule options for the traveler.
The transit center is located at 300 Pine Street, near the intersections of Pine Street and Goff Avenue in Pawtucket, close to I-95. It includes dedicated platforms for northbound and southbound service, connected by a glass-enclosed pedestrian bridge, elevators, ramps and stairs. Its elegant design utilizes state-of-the-art composite panels with covered waiting areas. The train station also has a separate drop off area and set of stairs and ramps to the platform on the Barton Street side of the rail corridor.
The bus hub includes five berths with covered shelters for passengers, with arrivals and departures every two to five minutes during peak hours. The hub connects to a transit emphasis corridor, which includes dedicated bus lanes and bike lanes along Exchange Street and Goff Avenue, linking the new transit facility to the heart of Downtown Pawtucket. Bicycle storage racks are available in the bus hub plaza area.
Adjacent to the center, RIDOT will operate a secure, well-lit 200-car parking lot, and RIPTA will operate restroom facilities. Radar-enhanced pedestrian detection crosswalks link the parking lot, bus hub and train station.