Governor McKee Highlights Construction Progress on Revolution Wind – Rhode Island and Connecticut's First Utility-Scale Offshore Wind Farm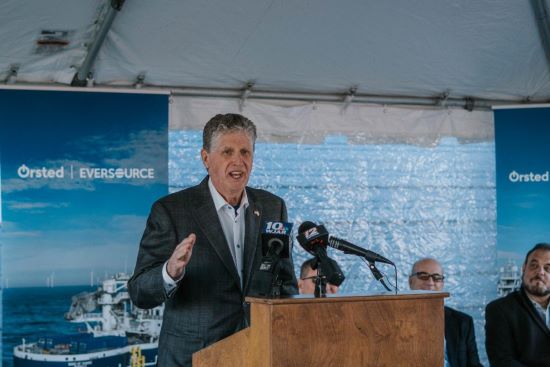 NORTH KINGSTOWN, RI – Joint venture partners Ørsted and Eversource are accelerating the full scope of construction of Revolution Wind and joined Rhode Island Governor Dan McKee and local leaders today at the Quonset Business Park to check on the progress of this first utility-scale offshore wind project for Rhode Island and Connecticut.
State, business, community and union labor leaders joined the Governor to highlight progress on Revolution Wind's onshore, underground transmission system at Quonset. Onshore work is ramping up now, with this scope alone creating approximately 100 local union construction jobs.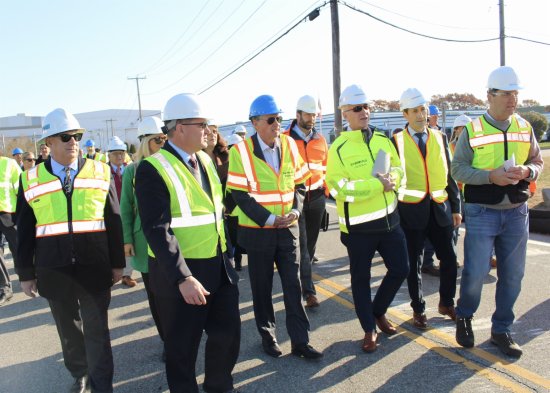 "Here in Rhode Island, we continue to capitalize on one of our state's most abundant natural resources to create good-paying jobs and meet our clean energy goals," said Governor McKee. "The progress we're seeing on the construction of Rhode Island's first utility-scale offshore wind farm is an encouraging sign of Rhode Island's momentum in this crucial economic sector."
"Rhode Island's leadership in offshore wind offers up a national model to help strengthen American energy independence and boost our competitiveness in the race toward a cleaner energy future," said U.S. Senator Jack Reed. "Clean energy infrastructure projects bring good-paying jobs and environmental benefits and will help to reduce long-term energy costs for Rhode Islanders."
"Rhode Island's leadership on offshore wind created a blueprint that is now being scaled up with Revolution Wind," said Senator Whitehouse. "Construction progress is underway, which means well-paying jobs being created on the path to powering Ocean State homes and businesses with reliable, affordable clean energy."
"Rhode Island is a leader in offshore wind, which has created good-paying union jobs and will lower the cost of energy for working people in our state," said Representative Seth Magaziner. "I am pleased that, after a thoughtful and comprehensive process, Revolution Wind has received the final approval it needs to proceed with construction and take a significant step toward achieving our state's goal of achieving 100% power from renewable energy by 2033."
Revolution Wind will create thousands of direct, indirect, and induced jobs, as well as permanent operations and maintenance jobs across both Rhode Island and Connecticut. Once complete, the 704-megawatt Revolution Wind will deliver 400 megawatts of clean, affordable offshore wind power to Rhode Island and 304 megawatts of the same to Connecticut, powering more than 350,000 homes across the two states and helping the states reach their ambitious climate goals.
Home to more than 13,000 jobs at 229 companies, including 1 in 5 manufacturing jobs in Rhode Island, Quonset is the region's leading engine of job growth and economic development. Quonset's Port of Davisville, Rhode Island's only public port, is one of the Top 10 auto importers in North America. Significant investments by Gov. McKee and the General Assembly have been crucial to establishing Quonset as an emerging hub for the offshore wind industry in the North Atlantic.
"We're leveraging our rich natural resources to drive job creation and achieve our renewable energy objectives," said Rhode Island Secretary of Commerce Liz Tanner. "The development of our state's inaugural large-scale offshore wind project not only underscores our commitment to sustainable growth but also solidifies Rhode Island's commitment to maintaining its leadership position in the clean energy sector."
"Our mission at Quonset is inspired by our U.S. Navy Seabee heritage and their 'Can Do' motto," said Steven J. King, P.E., managing director of the Quonset Development Corporation, who welcomed today's guests. "With the support of Governor McKee and the General Assembly, we've put that 'Can Do' spirit to work by developing and implementing the Port Master Plan that is preparing Quonset's Port of Davisville to serve as a key hub for offshore wind in the coming decades."
King acknowledged the flexibility of the Quonset tenants who worked with QDC to make way for the cable landing and substation at the Business Park. He also noted that the start of offshore wind construction has already led to a significant increase in port activity.
Eversource and Ørsted selected New England contractor BOND Civil & Utility Construction as the general contractor to install the underground duct bank system and build the onshore substation for the 704-megawatt Revolution Wind offshore wind project. This work is covered by a Project Labor Agreement (PLA) with the Rhode Island building and construction trades to ensure this work would be completed by local union labor.
"Revolution Wind is now in full construction mode of the onshore transmission system, which connects the offshore wind farm to the local grid, delivering clean renewable energy to over 350,000 homes in Connecticut and Rhode Island," said Joe Nolan, Chairman, President, and Chief Executive Officer of Eversource Energy "With Eversource's decades of experience building transmission systems combined with BOND Civil & Utility Construction's expertise, we are leading the way to create a modernized and reliable energy grid, while at the same time delivering many well-paying local union jobs for Rhode Island skilled workers."
"Rhode Island is the birthplace of American offshore wind, and the investments we're making in local union job creation for Revolution Wind builds upon the legacy of the Block Island Wind Farm," said Troy Patton, Head of Program Execution, Americas at Ørsted. "We're proud to once again partner with the Rhode Island building trades on this important scope of work to deliver Revolution Wind's clean energy to the regional grid. It's just the latest example of our commitment to standing up a new American industry, with union labor at its core."
"Thanks to projects like Revolution Wind, the offshore wind industry has provided a job-creating, economic engine for Rhode Island for the better part of the last decade," said Michael Sabitoni, President, Rhode Island Building and Construction Trades Council. "Our local workforce is well-trained and experienced in this highly specialized, complex sector, and we are ready to continue to play our part in building the state's and the region's clean energy future."
Revolution Wind's underground transmission cable will come ashore at Quonset Business Park in North Kingstown, R.I., and deliver energy from the wind farm to the electric grid following a one-mile underground route located entirely within the business park and avoiding residential streets.
"Since the inception of this process, Eversource and Ørsted have been very respectful of the North Kingstown community. They solicited input and kept local neighbors and council members informed every step of the way," said Gregory A. Mancini, President, North Kingstown Town Council. "The town appreciates their efforts in making this challenging and important economic and environmental project a success."
"BOND is eager to support Eversource and Ørsted on the Revolution Wind project with a supply of clean renewable energy, not just for our generation, but for generations to come," said Kane Cuddy, President of BOND Civil and Utility. "This is an important project that we're honored to be a part of and builds on our growing practice within the renewables sector."
Meanwhile, Revolution Wind is making progress on the project's advanced foundation components at Ørsted and Eversource's regional assembly hall at ProvPort.
Ørsted and Eversource took final investment decision (FID) on Revolution Wind in October. This FID results in the joint venture's official commencement of the full scope of construction of the 704-megawatt offshore wind project.
Revolution Wind received its Record of Decision in August from the U.S. Department of the Interior's Bureau of Ocean Energy Management (BOEM), paving the way for the project to begin onshore construction. Revolution Wind expects to receive approval from BOEM on its construction and operations plan in November, the final approval required in the agency's review of the project. Offshore construction will begin in 2024, with the project expected to be operational in 2025.
About Ørsted
A global clean energy leader, Ørsted develops, constructs, and operates offshore and land-based wind farms, solar farms, energy storage facilities, and bioenergy plants. Ørsted is the first energy company in the world with a science-based net-zero emissions target as validated by the Science Based Targets initiative.
In the United States, the company has approximately 700 employees and a growing portfolio of clean energy assets and partnerships that includes offshore wind energy, land-based wind energy, solar, storage technologies and e-fuels. A leader across the renewable energy sector in the United States, Ørsted holds the top position in offshore wind energy with approximately 5 gigawatts in development and operates America's first offshore wind farm, located off the coast of Block Island. Ørsted has a total U.S. land-based capacity of 5 gigawatts across wind, solar, storage technologies and e-fuels. To learn more about the Ørsted U.S. business, visit us.orsted.com or follow the company on Facebook, Instagram, and Twitter (@ØrstedUS).
About Eversource
Eversource (NYSE: ES), celebrated as a national leader for its corporate citizenship, is the #1 energy company in Newsweek's list of America's Most Responsible Companies for 2023 and recognized as one of America's Most JUST Companies. Eversource transmits and delivers electricity and natural gas and supplies water to approximately 4.4 million customers in Connecticut, Massachusetts and New Hampshire. The #1 energy efficiency provider in the nation, Eversource harnesses the commitment of approximately 9,900 employees across three states to build a single, united company around the mission of safely delivering reliable energy and water with superior customer service. The company is empowering a clean energy future in the Northeast, with nationally recognized energy efficiency solutions and successful programs to integrate new clean energy resources like solar, offshore wind, electric vehicles and battery storage, into the electric system. For more information, please visit eversource.com, and follow us on X, Facebook, Instagram, and LinkedIn. For more information on our water services, visit aquarionwater.com.