Governor McKee Kicks Off #RIReady Budget Tour at East Providence Small Business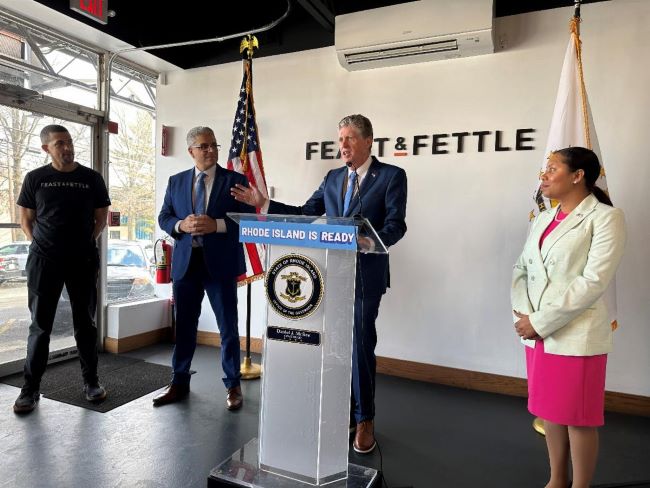 Governor McKee's #RIReady Budget Includes an Additional $2.6M Small Businesses Can Access Capital
EAST PROVIDENCE, RI – Joined by state and local leaders, Governor Dan McKee on Tuesday morning kicked off his #RIReady Budget Tour at Feast & Fettle, a small business in East Providence that has grown exponentially thanks in part to the Small Business Assistance Program operated through Rhode Island Commerce.
"Rhode Island's small businesses have long served as the backbone of our statewide economy, and supporting this community is one of my Administration's top priorities," said Governor McKee. "This program provides critical financing to small businesses that would not otherwise be able to access capital, helping to address one of the greatest needs that we hear from the small business owners of this state."
After touring Feast & Fettle, Governor McKee announced that the FY24 #RIReady budget he submitted to the General Assembly last week proposes investing an additional $2.6 million for the Small Business Assistance Program (SBAP) operated through Rhode Island Commerce. With this increased investment, the Governor is requesting a total of $3.25 million for the program.
Feast & Fettle is a recipient of one loan and one microloan through the SBAP program which they used to support business expansion, finance equipment purchase, and make leasehold improvements. Through these loans, Feast & Fettle was able to create and/or retain 65 jobs.
"A credit score is not the sum of a person's worth or a reflection of their full potential. There's no better proof of that than the hundreds of local businesses who have been able to succeed with the help of the Small Business Assistance Program, even when traditional institutions turned them away," said Lieutenant Governor Sabina Matos. "The RI Ready budget increases our investment in this important program and creates new opportunities for hundreds of Rhode Islanders."
"The Small Business Assistance Program is vital to small businesses which, like Feast & Fettle, are at the core of our economic engine," East Providence Mayor Bob DaSilva said. "We are thankful to Gov. Dan McKee and his team's continued focus and investment in small businesses in Rhode Island."
"The SBAP program is a vital tool in our efforts to support and empower small business owners in Rhode Island. It is a shining example of how government can work hand-in-hand with the private sector to drive economic growth and job creation in our state," said Rhode Island Secretary of Commerce Liz Tanner. "I am proud to be a part of this innovative financing program and I would like to thank Governor McKee for recognizing the tremendous value of this program and for supporting it with additional funds. We look forward to seeing its continued success in the years to come."
Launched in FY2016, the SBAP provides loans and micro-loans to businesses with fewer than 200 employees that are having difficulty obtaining financing from traditional lending organizations. The program focuses on women- and minority-owned enterprises, as well as those in Rhode Island's underserved communities.
Since its launch, the SBAP has leveraged a total loan value of $27.6 million against the State's allocated $7.2 million to provide loans to 211 small businesses through December 2022. More than half of the loans made through the program have gone to minority- or women-owned business enterprises. The program has helped to create and/or retain 380 jobs and has so far seen $2.1 million in loan repayments.
Governor McKee's FY24 RI Ready budget proposal focuses on maintaining a trend of fiscal responsibility with no broad-based tax increases, while proposing a nearly $100 million tax relief plan, critical investments in K-12 education to support improving student outcomes, and key investments to strengthen Rhode Island's economy and increase access to good-paying jobs.
View Governor McKee's full budget submission 
here
.
More information about the Small Business Assistance Program, including contact information for small businesses to apply, can be found at: 
https://commerceri.com/financing/
.