Governor McKee, Lt. Governor Matos, RIDE Highlight Multilingual Learner Investments in #RIReady Budget Proposal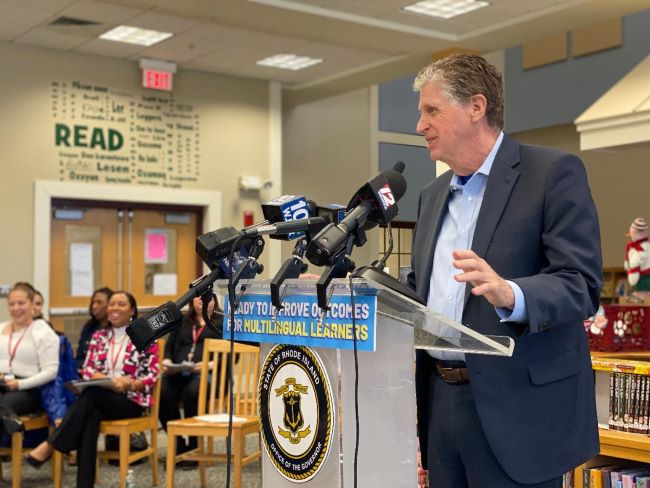 RIDE awards $322,899 in Multilingual Learner Success Grants to 10 organizations to support high-quality instruction & family engagement; releases "Know Your Rights" videos for families
PROVIDENCE, RI – Governor Dan McKee, Lt. Governor Sabina Matos, Commissioner Angélica Infante-Green, Woonsocket Superintendent Patrick McGee, Latino Policy Institute Director Marcela Betancur, RI Kids Count Executive Director Paige Clausius-Parks, and school leaders from across Rhode Island gathered at Villa Nova Middle School on Wednesday morning to highlight multilingual learner investments included in Governor McKee's #RIReady FY24 budget proposal. State leaders also announced the awardees of RIDE's Multilingual Learner (MLL) Success Grants, which will provide $322,899 to 10 local education agencies (LEAs) to support the implementation of the State's 
Blueprint for MLL Success
.
"My administration is laser-focused on making sure all Rhode Island students have access to a high-quality education, and my #RIReady budget makes significant investments to make it happen," said Governor McKee. "The learning disruption of the pandemic had a severe impact on students that have historically been underserved such as multilingual learners. It is our duty to ensure that these students have the support and resources needed to get ahead – and we're doing this by investing directly into our school communities with high impact MLL Success Grants and a proposed increase in the MLL categorical."
Governor McKee's proposed budget for FY 2024 proposes to increase funding for the multilingual leaner categorical by $7.8 million from FY 2023, reflecting the need to invest in the fastest growing student population in the state. Increased budget funding will support the implementation of the Blueprint for MLL Success and help LEAs target supports for teachers and administrators – both MLL and general education teachers – who support the State's MLL students to build their capacity to service these unique learners with highly effective research-based practices.
"We must give our schools the resources they need to follow our state's comprehensive road map for multilingual learner education," said Lieutenant Governor Sabina Matos. "The RI Ready budget's significant investments in multilingual learning will help students across the state become fluent in multiple languages, whether they're an MLL learning English or a native English speaker learning from their classmate in a dual-language setting."
Rhode Island is home to an estimated 24,000 current and former MLL students who speak over 100 languages and comprise 16 percent of the total student population. National and local data indicates that the pandemic had a more severe impact on vulnerable students such as MLLs. In April 2021, RIDE released 
the Learning, Equity & Accelerated Pathways (LEAP) Task Force's final report and recommendations
 to help guide accelerated learning opportunities to rebuild Rhode Island's educational system post-pandemic. To truly move the system forward, the group noted there was a need to elevate and center the needs of historically underserved students: those who are multilingual, differently-abled, and who live in the urban core. Further, federal guidance for American Rescue Plan Act (ARP) Elementary Secondary School Emergency Relief Funds (ESSER) III, directs states to prioritize addressing the disproportionate impact of COVID-19 on underrepresented student subgroups. In alignment with this focus on vulnerable student populations, RIDE launched the MLL Success Grants program which is funded by ESSER III funds.
"Rhode Island must make strategic investments to get our MLL students back up to speed and prepare them for success in college and career," said Council on Elementary and Secondary Education Chair Patti DiCenso. "The Council recognizes that there is critical need to invest in our most vulnerable students to move our entire state education system forward, and we commend Governor McKee and RIDE's commitment to enhancing student supports across the state. We also congratulate the districts that have worked hard to secure grant funding to improve student outcomes."
"Multilingual learners who live across Rhode Island will benefit from the investments we're making with RIDE's MLL Success Grants and proposing as part of Governor McKee's RI Ready Budget," said Education Commissioner Infante-Green. "In our efforts to accelerate learning statewide to improve student outcomes, we have to ensure that students most in need are not forgotten. I thank Governor McKee for his commitment to better serving multilingual learners throughout the Ocean State and congratulate awardees who have been recognized for putting forth innovative, equitable, and high-impact proposals that will benefit our MLLs."
To receive MLL Success Grants, LEAs committed to either building capacity of local MLL families to serve on school and district improvement teams, developing or enhancing a classroom walkthrough system, professional learning, and/or a collaborative instruction planning system. Woonsocket Public Schools, which hosted the event, will receive nearly $25,000 from the program. The District, in partnership with University of Rhode Island faculty, will incorporate MLL "look-fors," which are specific indicators of effective teaching and learning that can be observed during a classroom visit, into its classroom walkthrough protocols at Hamilton and Villa Nova Middle School. The district will also conduct observations and leverage data to provide targeted coaching and professional learning on effective instructional practices for MLLs.
"The Woonsocket Education Department is grateful to receive the MLL Success Grant to continue our push to improve outcomes for our multilingual learners at all grade levels," said Woonsocket Superintendent Dr. Patrick McGee. "We look forward to implementing a strategic and data-driven proposal, which will benefit educators and students alike."
Community and family engagement is an identified priority in RIDE's strategic plan for K-12 education. In line with this priority area, the Providence, Newport, Johnston districts will also partner with RIDE and Parents Leading for Education Equity (PLEE), a parent-led, grassroots advocacy organization working to improve public education, to pilot communication and training resources designed to empower multilingual families in the school and district improvement process.
"As the fastest-growing student population in Rhode Island, Multilingual Language Learners are an integral part of the future of our state," said PLEE Executive Director Ramona Santos Torres. "Although we have a long way to go to repair the harm and educational neglect committed against MLL students for decades, we are excited to see much more intentional approaches to investments and strategies by the state and school districts."
"With the right support and guidance, we know that all of Rhode Island's multilingual learners can thrive in school and beyond," said LPI Director Marcela Betancur. "For nearly two decades the Latino Policy Institute has been working to promote social, economic, and educational equity for marginalized community members knowing that our entire state moves forward when we open doors for everyone. While we know a lot of work remains ahead, the State investments highlighted today will move us in the right direction."
"Our Multilingual Learners and families are an incredible asset to all of Rhode Island, however, data shows that we have much work to do to ensure these students have what they need to succeed," said Rhode Island Kids Count Executive Director Paige Clausius-Parks, EdM. "Investment in our multilingual students and families is good for kids, for our communities, and for the economic prosperity of our state. We have no time to waste."
In addition to the hundreds of thousands in grants awarded, RIDE released new bilingual "Know Your Rights" videos to help raise awareness of rights and resources available to families of multilingual families.
Additional information on MLL Success Grant awardees and proposals:
International Charter School, $18,141
To enhance instructional coherence with newly adopted high-quality curricula, ICS will amplify existing partner language arts materials for its Spanish and Portuguese strands.
Johnston Public Schools, $35,108
Johnston will expand its MLL growth-focused fellowship at the middle and high schools to non-English to Speakers of Other Languages (ESOL) certified educators so language and content teachers can work alongside one another to support MLLs' educational outcomes.
Lincoln Public Schools, $21,322
Lincoln will design and implement a structured walkthrough protocol for ELA at the Middle School that builds on curriculum-embedded walkthrough tools and centers priority practices for MLLs—scaling to other content areas if successful.
Newport Public Schools, $22,446
In partnership with the Newport Community School, Newport Public Schools will host wellness fairs and work with the RI Community Food Bank to bring multilingual marketplaces to Newport.
Nuestro Mundo, $37,899
In partnership faculty from URI and RIC, Nuestro Mundo and Providence Public Schools will offer professional learning on translanguaging to dual language educators as well as structured opportunities for collaborative planning across LEAs—all designed to enhance students' biliteracy development.
Pawtucket Public Schools, $19,150
In partnership with URI faculty, Pawtucket Public School will incorporate MLL "look-fors," which are specific indicators of effective teaching and learning that can be observed during a classroom visit, into its classroom walkthrough protocols at Shea and Tolman High Schools, conducting observations and leverage data to provide targeted coaching and professional learning on effective instructional practices for MLLs.
Paul Cuffee School, $31,700
Paul Cuffee will expand its collaborative planning structures to three teams across all three schools, in addition to designing and implementing a student discourse walkthrough protocol to refine schoolwide instruction.
PPSD, $50,000
PPSD will develop a professional learning series on MLLs for Community Based Organizations serving Providence youth, as well as a parent leadership network across 12 schools with the aim of elevating multilingual families' voices to senior leadership.
Smithfield, $47,630
Smithfield Public Schools will build educators' capacity to implement evidence-based practices for MLLs through job-embedded coaching and structured collaborative planning time, drawing on practices from its summer MLL professional learning academy.
Woonsocket, $24,379
In partnership with URI faculty, Woonsocket Public Schools will incorporate MLL "look-fors" into its classroom walkthrough protocols at Hamilton and Villa Nova Middle School, conducting observations and leverage data to provide targeted coaching and professional learning on effective instructional practices for MLLs.