Italy Begins Lifting COVID-19 Restrictions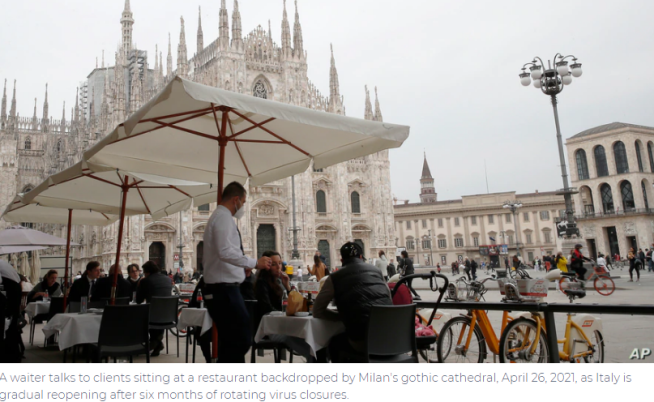 By VOA News
Italy began lifting COVID-19 restrictions on bars, restaurants, theaters and museums in much of the country Monday, as one of the nations hit earliest and hardest by the coronavirus pandemic tries to reopen.
Of the country's 20 regions, 15 have been designated yellow zones, meaning there is a relatively low risk from the virus. Five are classified orange, and one, Sardinia, is still red.
In the yellow zones, coffee bars and restaurants are now allowed to serve customers outdoors after a near-total shutdown of about six weeks. Outdoor amateur team contact sports were also allowed again. The reopening of pools and gyms will be phased in over the next few weeks, with strict social distancing rules in force.
Theaters, cinemas, museums and cultural heritage sites reopened, albeit with limited capacity of no more than 50% for those indoors. Many also required online reservations in order to control the flow. A curfew, however, is still in effect, beginning at 10 p.m.
The gradual reopening comes the same day as Italian Prime Minister Mario Draghi is presenting a $268.6 billion coronavirus recovery plan to parliament, aiming to revive the economy from the pandemic and enact "epochal" reforms to address structural problems that long predated COVID-19.
Italy has the biggest share of the European Union's $907 billion recovery pot, with $231.6 billion of its six-year plan financed by EU funds.
As of Monday, Italy has nearly 120,000 deaths from COVID-19, out of nearly 4 million total cases, according to Johns Hopkins University.