KENNY VALLEJOS, 1ST RIC STUDENT TO LAND PAID WHITE HOUSE INTERNSHIP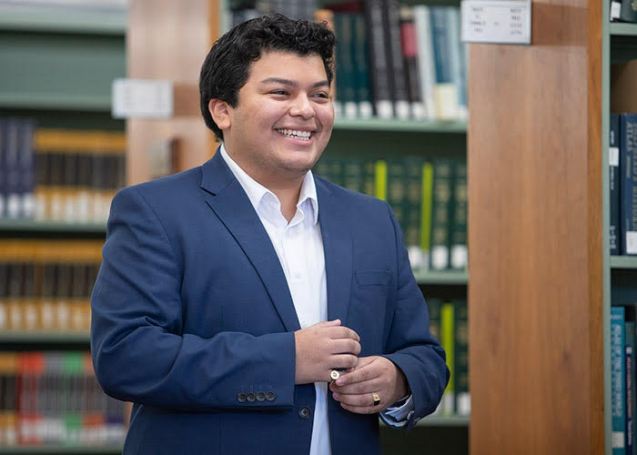 Kenny Vallejos, a Rhode Island College student, was scrolling down his Instagram page, when an announcement made him take pause. President Biden just announced that the White House Internship Program is now a paid internship program and is open to emerging leaders across the country.
"I'm not a political science major. I go to a small college in one of the smallest states in the country. And I've never worked in a government job. I figured getting into this internship would be a long shot," Vallejos says. "Then I remembered this quote I heard: You miss 100 percent of the shots you don't take. I guess you could say I took the shot."
In fact, the smallness of Rhode Island College gave him an edge. He received personalized support in filling out the application from Margarida Dagraça, project director of the McNair Scholars program of which Vallejos is a member. He received recommendations from education professors who knew him well – Dr. Cara McDermott-Fasy and Dr. Karen Capraro. Then you add to that his strong interview, his commitment to his community and his warmth, and Vallejos easily earned a spot in the program.
From Sept. 12-Dec. 16, 2022, the 21-year-old lived on his own in Washington D.C., while working in the Office of Presidential Personnel, an office that recruits, vets and nominates thousands of political appointees who want to work for the Biden-Harris Administration.
"My job included doing public record searches on the candidates," Vallejos says. "Our main goal is to make sure that the candidates who are applying are committed to public service. President Biden also wanted an Administration that looks like America.
"At first, I wasn't sure what that meant. America, for some people, is white. Others see America as a country of diversity.
"When I got to Washington, it was clear what he meant. I felt a sense of belonging at the White House that I had never felt before. There were people there from all over America. And the office I worked in had the most diverse team I had ever been a part of.
"I've been asked why an education major would apply for an internship in government. I applied for the White House Internship Program because I realized that politics [public service] is intertwined with everything I do. My parents are migrants from Honduras. I witnessed the immigration process and how difficult it can be. As I got older, I taught English to people who had just arrived in the country. I found this big whiteboard in the basement and taught them the basics of English. Ultimately, I've always had this drive to help people."
Vallejos found a reflection of himself in U.S. Secretary of Education Miguel Cardona. "I met him at the Department of Education in Washington. He's from the northeast, Latino and began his career as an elementary school teacher. It was like I was seeing my future self," Vallejos says.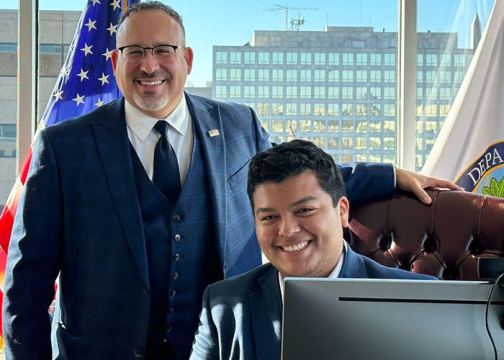 He also met Dr. Anthony Fauci and the Secretary of the Department of Health and Human Services Xavier Becerra, the first Latino in the history of the United States to hold this office.
"You see yourself in these people and realize that you can do this work, too," says Vallejos. "Through my education courses at Rhode Island College, I was able to see some of the policies regarding education that didn't make sense to me. I believe if there's any other way I can make a difference aside from teaching, it's going to be in the political world."
"But teaching is something I have to do," he emphasizes. "It's something I've wanted to do since the age of five. I don't want to be someone who works in the U.S. Department of Education but who hasn't worked in the schools. A lot of times these people are put into leadership positions, but they really don't understand what goes on in a classroom on a day-to-day basis."
Vallejos was inspired to a life of leadership by President Obama. "I was in second grade when he won the 2009 presidential election. It was the first time in our country's history that a person of color held such a high office. It was a really emotional moment for me when he walked out on stage with his wife and daughters after finding out that he had won. It was very motivating. It made me think that if he can do this, I can do it, too."
Five years later, Vallejos had the opportunity to see President Obama in person at Rhode Island College, where he was giving a speech. "I was 13 years old and running a project for homeless families at my school – Times2 STEM Academy. I had put together a team to collect items for a homeless shelter. The dean of my school saw my commitment and selected me and a few other kids to see Obama. "It's an experience I'll never forget," he says.
And then last year he saw in person First Lady Jill Biden, who addressed a small group of education majors at Rhode Island College.
"What resonated for me during her talk was her passion for education," he says. "She kept emphasizing the need for more teachers. As a McNair scholar, my research focused on how to get more people of color and more male representation in the field of education. In my education classes I'm usually the only male and the only person of color in the room."
Despite the problems in America's educational system and the divisiveness within American government, Vallejos says he has never been more optimistic about the future of this country.
"When Obama left office, I lost faith in our future," he says. "But there's never been a time when I felt more hopeful than when I was at the White House. There are really great leaders out there."
"To my family, friends, faculty and staff here at Rhode Island College, thank you for believing in me, and thank you to all the teachers out there who are creating the next leaders of tomorrow."
Kenny Vallejos is presenting talks about his White House experience at local elementary schools to encourage the next generation.