Lincoln Signs Learn365RI Municipal Compact, Commits to Increasing Out-of-School Learning Opportunities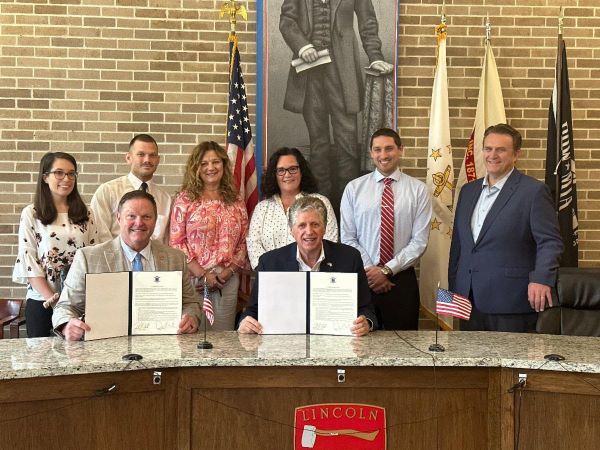 LINCOLN, RI – Governor Dan McKee and Lincoln Town Administrator Philip G. Gould signed the Learn365RI Municipal Compact.
"With Lincoln joining the Learn365RI Municipal Compact, Town Administrator Philip G. Gould, town leaders and school officials are showing their commitment to making sure our students receive the very best education," said Governor McKee.
"The Town of Lincoln is extremely pleased to be part of the Governor's Learn365RI initiative. The Town is very proud of the work being done by the Lincoln School District and the partnership we have with them. We also understand that raising educational outcomes takes more than just the fine work the school does. It truly "takes a village" and with the Governor's support, relationships we have with our Family Literacy Center, our Parks and Recreation Department, and the Cumberland Lincoln Boys and Girls Club, we are confident that we can have a very positive impact on raising educational achievement," said Lincoln Town Administrator Philip G. Gould.
Learn365RI seeks to improve student learning outcomes to reach Massachusetts levels in three key metrics: RICAS math and English Language Arts scores, student attendance, and FAFSA completion.
Lincoln is the 14th community to commit to partnering with the state to improve student achievement levels through increasing out-of-school learning time, joining Newport, Bristol, East Providence, East Greenwich, Providence, Warren, Smithfield, Pawtucket, North Kingstown, Jamestown, Cranston, Coventry, Hopkinton.