Lt. Governor McKee Accepts AT&T's $10,000 Donation to the Rhode Island Military Family Relief Fund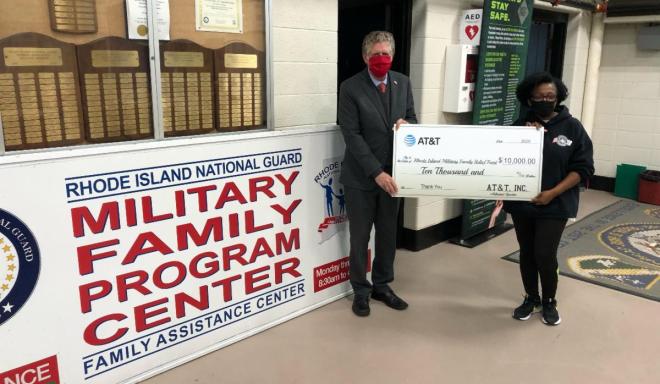 Lt. Governor Dan McKee is joined by Lieutenant Colonel Sharon Harmon to accept AT&T's donation to the Rhode Island Military Family Relief Fund at the Schofield Armory in Cranston. (Photo taken pre-Pause.)
CRANSTON, RI – Lt. Governor Dan McKee today announced a $10,000 donation from AT&T to the Rhode Island Military Family Relief Fund. AT&T's donation will help provide emergency financial assistance grants to local military families in need.   
The Lt. Governor accepted the donation ahead of the statewide Pause at the Schofield Armory in Cranston where he was joined by Lieutenant Colonel Sharon Harmon, Director of the Rhode Island National Guard State Family Program. 
"We are extremely thankful for AT&T's support of the Rhode Island Military Family Relief Fund. One hundred percent of their donation will go directly to helping military families cover cover rent, mortgage payments, utility bills, medical services, car insurance and other critical costs," said Lt. Governor Dan McKee. "While military families may not wear our nation's uniform, we know they serve selflessly every single day. During these difficult times, I am deeply grateful to AT&T for stepping up to help our heroes at home." 
In October, the Lt. Governor kicked off a campaign to raise $50,000 for the Rhode Island Military Family Relief Fund by the end of the year. The campaign was launched to prepare for a potential increase in financial need from Rhode Island National Guard families following the activation of nearly 700 guard members to support the state's COVID-19 response. Some guard members leave higher paying jobs when activated which can put a significant strain on household budgets. 
"For nearly 100 years, AT&T has been committed to supporting military personnel, veterans and their families. As a company, it is an honor to support those who have done so much to protect our country and our freedoms, and this contribution is one small way we can express our thanks," said Patricia Jacobs, President – AT&T Northern Region. "The Rhode Island Military Family Relief Fund is a critical resource for military families, who share in the sacrifice made by our nation's service members. We are grateful to everyone at the Rhode Island Military Fund Relief Fund, and to Lt. Governor McKee, for their unwavering commitment to Rhode Island's military members and their families." 
Since former Lt. Governor Charles Fogarty launched the Rhode Island Military Family Relief Fund in 2004, 300 military families have received grants totaling over $600,000. All grants are funded entirely by individual and corporate donations. 
How to Donate: Donations can be made by credit card online at www.ltgov.ri.gov/MFRF or by check to the below address. Checks should be made payable to the program's nonprofit fiscal agent, American Red Cross, and should include "Operation Holiday Cheer" in the memo line. Only donations made by check are tax deductible at this time.