Mage Wins Kentucky Derby in Wake of Death of 7 Horses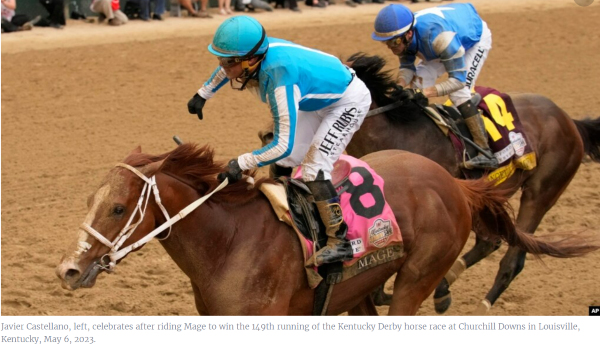 AP/VOA News
LOUISVILLE, KENTUCKY — Two more horses died in the hours before 15-1 shot Mage won the Kentucky Derby by a length on Saturday, making it seven in all and casting a shadow over the 149th edition of the world's most famous race.
Mage had only one victory in three previous races before holding off Two Phil's in the stretch while covering 1 1/4 miles in 2:01.57 under Javier Castellano. The Hall of Fame jockey snapped an 0-for-15 skid in the Derby. He and trainer Gustavo Delgado are from Venezuela.
Forte, the early favorite, was scratched in the morning with a bruised foot, one of five horses that dropped out in the days leading to the race.
Two Phil's was second and 4-1 favorite Angel of Empire was third in front of a crowd of 150,335 on a warm and partly cloudy day at Churchill Downs.
Mage paid $32.42, $14.58 and $9.08.
Two Phil's returned $10.44 and $6.52 at 9-1 odds. Angel of Empire paid $4.70 to show.
Earlier Saturday, two more horses died, making it seven in all, before the Kentucky Derby was run Saturday, and early favorite Forte was scratched with an injury in another series of blows to a sport already reeling from doping suspensions and breakdowns.
"This is part of racing and it's the cruel part," Mike Repole, co-owner of Forte, said in an interview with FanDuel TV.
Chloe's Dream, a 3-year-old gelding, and Freezing Point, a 3-year-old colt, were injured in their races on the Derby undercard, becoming the sixth and seventh horses to have died at Churchill Downs in recent days. Forte was the fifth scratch from the Derby in the run-up to the $3 million race for 3-year-olds.
The string of horse deaths cast a pall for some Derby-goers on a mostly cloudy and warm day.
"It's concerning, and I hope they're quickly trying the best they can to correct whatever's going on," said Michael Freeze, who along with his friend dressed up as jockeys. "They need to do whatever is best for the horses, and the sport in general."
Chloe's Dream got hurt in the second race Saturday. The horse was taken off in an equine ambulance with a right front knee injury and was euthanized, trainer Jeff Hiles confirmed to The Associated Press.
"He just took a bad step out there," Hiles said. "They could do the same thing running in the field as they could on the track. So it's very unfortunate. That's what we deal with."
Freezing Point suffered a left ankle injury in the Pat Day Mile and was euthanized, trainer Joe Lejzerowicz told the AP. He said Fort Bragg, who finished third, came over and slammed into Freezing Point during the race.
"He just got bumped in the backstretch," Lejzerowicz said. "He never took a bad step or bobble. He had a big heart."
New antidoping and medication rules enforced by a central governing body of the sport are scheduled to take effect May 22.
"There's something going on," said Pat Murtha, who was attending his first Derby. "They need to find out and set some rules and regulations to protect these animals."
Hall of Fame trainer Bob Baffert, a two-time Triple Crown winner, is nearing the end of a two-year ban issued by Churchill Downs Inc. One of his horses, Medina Spirit, crossed the finish line first in the 2021 Derby and failed a post-race drug test. The horse was disqualified, and Baffert was punished.
In 2019, more than 30 horse deaths occurred at California's Santa Anita racetrack, rattling the industry and leading to safety reforms. Kentucky Derby-winning trainer Rick Dutrow had his license revoked in 2011 for 10 years by New York officials. Regulators found syringes loaded with unauthorized medication in a desk in his barn. Dutrow reopened his stable last month.
Forte had been the early 3-1 favorite; his absence reduced the field to 18 horses.
Repole said veterinarians from the Kentucky Horse Racing Commission diagnosed Forte with a bruised foot. He said the colt had developed the bruise a few days ago. The colt stumbled during a workout Thursday, although trainer Todd Pletcher had downplayed it publicly.
Behind the scenes was a different story.
"We did X-rays, we brought in vets, the state vets came in and they watched him every single day," Repole said in the interview. "He's fine. He probably needs a couple more days (to recover)."
The horse deaths included Derby contender Wild On Ice. Two of the horses were trained by Saffie Joseph Jr. He was indefinitely suspended by the track, although investigators have yet to determine a cause for the deaths of his horses.
"It doesn't make me happy to see a horse get euthanized," said racegoer Joe Conforto, wearing jockey goggles and a stuffed horse on his head. "But I think a lot of it is bad luck. Most race horses are taken better care of than human beings."
Four horses were scratched — Practical Move, Lord Miles, Continuar and Skinner — in recent days. Practical Move and Skinner had fevers, while Continuar wasn't in peak condition, according to his Japanese trainer. Lord Miles was Joseph's Derby horse.
Forte was last year's 2-year-old champion and has a five-race winning streak.
"You can only be a 3-year-old colt on the first Saturday in May one time in your life," Repole said. "I feel bad for the horse.